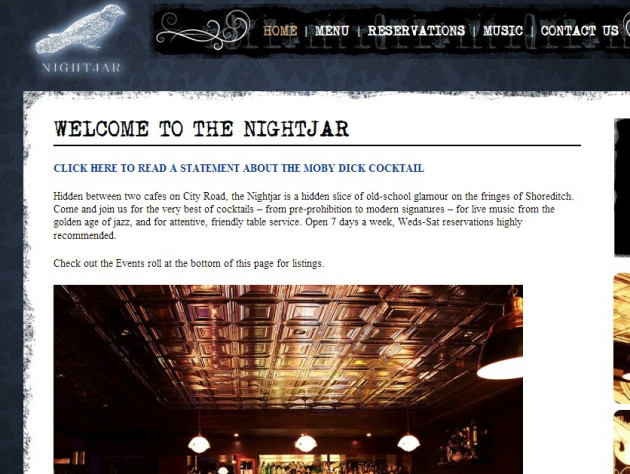 A bar in a trendy part of east London has been raided for selling a tipple containing a forbidden animal product.
Specialist wildlife crime and customs officers stormed the Nightjar in City Road, Hackney and confiscated the controversial cocktail, which was said to contain a "whale skin infusion".
The raid followed reports that the bar was advertising a drink named "Moby Dick" on its menu.
"We received an allegation that whale skin was being sold at a premises," said a Scotland Yard spokesman. "One item was seized and we are awaiting the results of analysis."
No arrests have been made.
Nightjar advertises itself as a "hidden slice of old-school glamour," located in Hoxton.
Bar boss Edmund Weil admitted that a banned whale product was used by the bar to garnish a fancy cocktail.
He said staff were ignorant of strict import regulations covering almost the whole of Europe, which prohibits the sale of whalemeat and other by-products from whales. The substance was bought last year in Japan, he added.
The drink had been struck off the menu, added Weil.
"Until the police visit, neither ourselves nor our employees were aware of the legislation under which the bottle was seized," he said.
"In hindsight we realise that regardless of the legal framework around such products, it was an error of judgment on our part to include this on our menu, and we would like to offer our apologies to anyone who may have been offended by it.
"We have removed the drink entirely from our menu."