What is Beats and Why Did Apple Pay $3BN for it?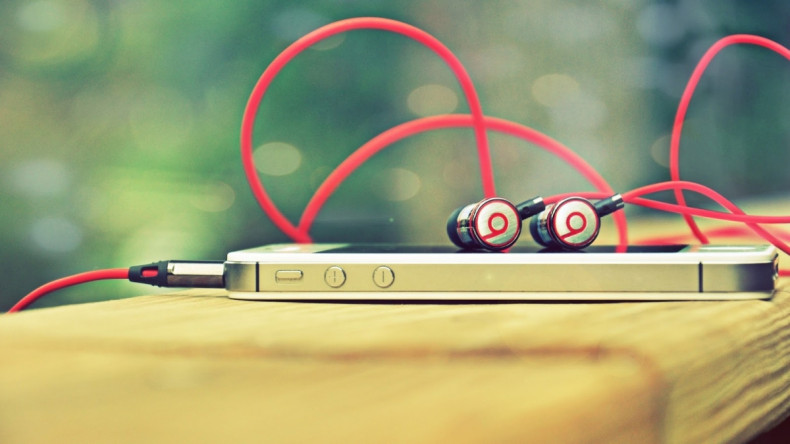 Beats is a company which makes garish, loud, oversized headphones.
Apple is a company which prides itself on minimalist, clean design.
The two seem like very strange bedfellows and yet....
Apple has just confirmed what had been widely rumoured for the last month - that it will pay $3 billion (£1.8bn) to acquire Beats Music streaming service and Beats Electronics headphone business.
The big question on everyone's lips is WHY? - but first let's answer another question.
Just who or what is Beats?
Beats Electronics was founded in 2008 when music industry mogul Jimmy Iovine (he is Interscope-Geffen-A&M Records chairman) approached uber-produer and rapper Andre Young(better known by his stage name Dr. Dre) to start a new headphone brand.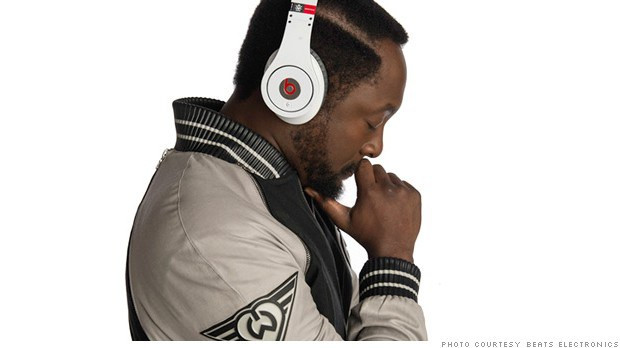 The pair approached another well-known artist William Adams (better known as Will.i.am) who agreed to join as a silent partner - but one who would aggressively promote the brand in the coming years.
The venture initially sold headphones manufactured by Monster Cable but Beats eventually began making its own hardware in-house in 2012.
Prior to that, in 2011, HTC took a controlling 50.1% stake in the company for $309 million, valuing the company at $588m. As part of the deal Beats 'technology' was integrated into HTC's phones and the Beats logo (a lower case b) was embossed on the devices.
The deal never really did anything for HTC, and with the Taiwanese company struggling for cash, it sold back its stake over the course of 2012 and 2013 for a combined total of $530m.
At the same time, the Carlyle Group invested $500m, with the company's valuation at the time just topping $1 billion.
During its first four years the company became hugely successful, capturing more than a quarter of the overall headphone market, and over 50% of the lucrative premium headphone market.
Profile
Partnerships with high profile artists such as Lady Gaga, Lil Wayne and Nicki Minaj as well as sports stars like LeBron James, Serena Williams and Brazilian football star Neymar have helped propel the brand to global recognition.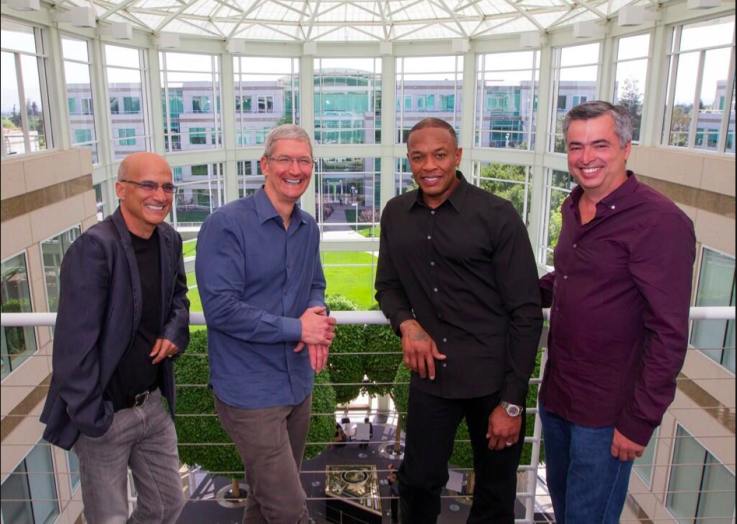 Beats co-founders Jimmy Iovine and Dr. Dre with Apple CEO Tim Cook and vice president Eddy Cue.
The success of the headphones has come despite many reviewers criticising the headphones for their bass-heavy sound and high prices.
In January of this year Iovine and Young launched the Beats Music streaming service, a paid-for service giving users access to 20 million music tracks as well as its big selling point - curated lists of music.
It is available as an app on iOS, Android and Windows Phone smartphones.
Wednesday's confirmation by Apple of the $3bn deal comes less than 10 months after the Carlyle investment valued the company at $1bn.
And so to the big question, WHY?
The short answer is that no one really knows.
It makes absolutely no sense logically, yet there has been a lot of speculation in recent weeks ahead of the confirmation on Wednesday as to why Apple was making this deal.
Let's first look at the headphone part of the Beats business.
Apple already offers the Beats headphones in its online and high street stores, and it is likely that this business makes a healthy profit. But Apple is sitting on a cash mountain of about $160bn, so it's not like the company needs to worry about liquidity in the short term.
The loud and in-your-face Beats headphones just don't work with the rest of Apple's design aesthetic, so on this front I'm afraid we're stumped as to why Apple would want this business.
Owning music is dead
Moving on to the streaming business and this is where things get a little more interesting.
Many believe that Tim Cook is willing to break the bank on this deal because he can see the writing on the wall - people just don't want to own music anymore.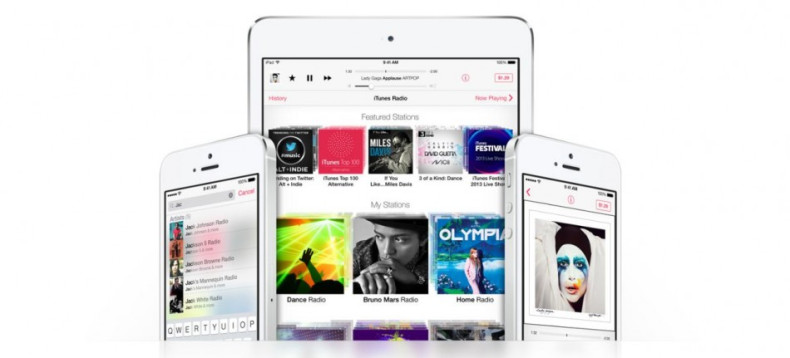 According to a recent report on Billboard, music downloads have declined by 15% while streaming services now contribute 21% of the US music industry's revenue.
Apple may have revolutionised the music industry with the iPod, and iTunes may still be the biggest music store in the world, but things are changing and if Apple doesn't do something to mirror this change, it will be left behind.
Its first attempt was iTunes Radio, a streaming service it launched in the US last year (and subsequently Australia and New Zealand) with the aim of driving sales of music through iTunes. However just 1%-2% of listeners are clicking through to buy.
Beats Music may be struggling to get significant traction in the market at the moment (it is reported to have a paid subscriber base somewhere in the low six figures after its first 100 days) but it has all the right deals in place.
Bagged a bargain?
With Apple's resources combined with the industry expertise of Iovine and Young, Beats Music could soon have the likes of Spotify and Pandora worried.
Remember that Apple has now become an Android and Windows Phone app developer, meaning that as well as pushing the service to its millions of iPhone and iPad customers, it has a foothold on the other two major smartphone platforms.
With Apple's resources, the Beats brand and ubiquidity across all platforms, Apple could have just bagged a bargain in its $3bn acquisition of Apple.