South Korea's new president Moon Jae-in said on Wednesday (10 May) that he is willing to travel to Pyongyang and meet North Korea's dictator, Kim Jong-un, to try to bring lasting peace to the peninsula.
After winning a landslide victory in Tuesday's election, Moon vowed to work closely with the US and address relations with North Korea, marking a radical shift from the hardline stance of his conservative predecessor Park Geun-hye, who is awaiting trial on charges of corruption and bribery after she was impeached in December 2016.
Moon, South Korea's first liberal president in almost a decade, said that he is prepared to meet with US President Donald Trump, China's President Xi Jinping and Japan's Prime Minister Shinzo Abe, as soon as possible to discuss Pyongyang's nuclear and ballistic missile programme.
"I am willing to go anywhere for the peace of the Korean peninsula if needed. I will fly immediately to Washington, I will go to Beijing and I will go to Tokyo. If the conditions are right, I will go to Pyongyang," he told the National Assembly in Seoul on Wednesday.
He also said that he would engage in "serious negotiations" with the US over its controversial anti-ballistic missile system Thaad designed to thwart attacks by North Korea, which was deployed last week despite angry protests from China.
Moon's willingness to engage with Kim Jong-un marks a seismic shift in South Korea's policy towards Pyongyang. He is the first leader in almost a decade to adopt a more conciliatory approach in dealing with North Korea's nuclear threat.
But a difficult road lies ahead for the liberal politician who must find a way to reach out to Kim Jong-un without angering President Trump.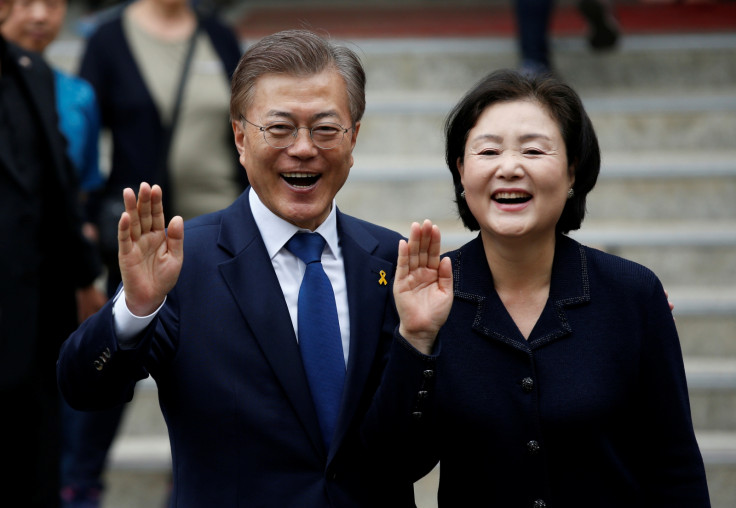 Moon determined to make 'sunshine' again with North Korea
South Korea's new president is a proponent of the Sunshine Policy, the foreign policy established under Kim Dae-jung in 1998 which encouraged interaction between the North and the South and aimed for peaceful co-existence between the two countries. Kim's successor, Roh Moo-hyun, continued with the policy.
Moon worked as Roh's chief of staff and seems determined to breathe new life into the Sunshine Policy. During a parliamentary debate in April, Moon argued that the revival of the policy could persuade Kim Jong-un to suspend his nuclear weapons programme.
"I am confident to lead the diplomatic efforts involving multiple parties, which will lead to the complete abandonment of the North Korean nuclear programme, and bring the relationship between South and North to peace, economic cooperation and mutual prosperity," he said.
Moon has also called for the reopening of the Kaesong Industrial Zone, a flagship joint project which was hastily closed by President Park in February 2016 after Pyongyang defied international warnings and tested a long-range missile.
Dr John Nilsson-Wright, a senior research fellow for the Asia Programme at Chatham House, told IBTimes UK, that Moon's progressive camp is made up of natural inheritors of the Sunshine Policy who favour talks to military action.
"They believe there is merit in discussion and are less wedded to the idea of using pressure and military deterrents as the key tool to getting Kim Jong-un around the negotiating table," he said.
Caught between a rocket and a hard place
Moon's approach differs from Washington's stance towards Pyongyang. President Trump threatened last month to take unilateral action against North Korea if China does not put pressure on Kim's regime.
"Although Trump has said recently that he isn't averse to talks [with North Korea], he has also said in the past that he is keeping all cards on the table and has threatened to take military action," Nilsson-Wright said.
"For South Korea it is all about sequencing and balance," he said. "Moon's base find greater engagement with North Korea attractive and will push him for a public declaration of South Korea's priorities in dealing with Pyongyang."
But Moon will have to tread carefully and avoid establishing an adversarial relationship with Washington, his closest ally, according to Nilsson-Wright.
Moon has understood that the only way to resolve crisis on the Korean peninsular is by talking, said Nilsson-Wright. "The question is what are you willing to give up in order to get the North Koreans to discuss things seriously?"