It was the greatest love affair in the history of technology. Arm in arm like star-crossed lovers, Intel and Microsoft were behemoths bestriding the globe. In 2006, Apple – still then a floundering technology company and one of the few to hold out against Intel's hegemony in providing the chips for desktop computers – finally crumbled to their control, it looked like the world was Intel's.
What a difference a decade makes.
With Intel announcing 12,000 layoffs, saving the company $750m ($1.1bn) this year, strategic blunders have been laid bare. This isn't the first time that Intel has been forced to make mass lay-offs. Between 2005 and 2009 the California-based company shed 20,000 jobs, more than 20% of its workforce. In 2014 it announced 5,000 job losses, last year another 1,000 or so.
Why is Intel cutting jobs?
The smartphone train left the station, and Intel wasn't on it. Focussing its efforts on its love affair with Microsoft and the desktop (and who in the late 1990s would bet against Microsoft?) under the previous CEO Paul Otellini, Intel was blind to the threat from mobile.
When I interviewed Otellini back in 2012, he baulked at suggestions Intel had missed the mobile train. "We were catching other trains," he said. The problem is they appear to have got on a local slow service parked in a siding, while the smartphone express rocketed past.
In a gloomy report last year, analysts IDC Research said 2015 was the worst year on record for PC sales, dropping below the 300 million unit mark for the first time since 2008 and declining at around 10%. At the same time, smartphone sales topped 1.4 billion, growing at 10.1% compared to 2013.
In a moment that will go down in tech folklore, Otellini actually turned down the opportunity to make chips for Apple's iPhone ahead of its 2007 launch.
On his last day as CEO in May 2013, Otellini confessed to the The Atlantic: "The thing you have to remember is that this was before the iPhone was introduced and no one knew what the iPhone would do... At the end of the day, there was a chip that they were interested in that they wanted to pay a certain price for – and not a nickel more. That price was below our forecasted cost. I couldn't see it."
The problem for Intel is that its x86 chip architecture is a power-devouring beast. In the hugely constrained environment of a smartphone, where battery life is everything, it has struggled. In 2012 it launched a more mobile-friendly chip – the Atom – but that has failed to gain significant traction.
Instead it was left to the UK's ARM Holdings to power the smartphone revolution. The Cambridge-based company, unlike Intel, produces no chips of its own. Instead it licenses its low-power designs to other manufacturers, including Apple and Samsung. Intel's share of the smartphone market is found mainly on Lenovo today, with the Chinese maker remaining loyal with a few Intel-powered smartphones. Good luck trying to find one, though.
It looks increasingly unlikely that there is a way to correct Otellini's mistake and get back into the smartphone market. South Korea's Samsung recently announced a $14.3bn investment in new chip production facilities. While it has struggled to make a profit in its handset business, the operating profit of its semiconductor unit has rocketed, up 50% in first quarter year-on-year.
Are servers Intel's saviour?
But where Otellini picked the right train was the company's focus on the server market. Servers are high-power computers, typically collected in hundreds and thousands of units in "farms" or data centres that power the gargantuan tech companies of today like Google, Facebook and Amazon.
Intel reigns supreme. The company's Xeon chips, based on the company's x86 chip architecture, drive in excess of 95% of the world's servers. In an analysts' call last year, outgoing chief financial officer Stacy Smith said Intel's data centre group took over in the first quarter of 2015 as the biggest provider of operating profit for the company.
However, ARM also has the highly lucrative server market firmly in its sights. While the Cambridge company has been slow in getting products to market, ARM Holdings chief technology officer Mike Muller told the ARM TechCon earlier this year that they aim to take 25% of the server market by 2020. This ambitious target has raised eyebrows, given the problems the company has had in getting products to compete.
ARM's strategy no longer appears to be tackling Intel head on. Where ARM and its legions of chipmakers hope to chisel away at Intel's hegemony is in providing other services that don't require raw computing muscle, such as storage. There is more to a server farm than just crunching. It is around the edges that ARM hopes to build its toehold.
Intel has no intention of sitting back and letting that happen. Expect to see CEO Brian Krzanich splashing out more cash to snap up other chipmakers to shore up its position, or break into new ones. Last year he splashed out an eye-watering $16.7bn to bag Altera Corp. Altera makes a different kind of chip, known as FPGAs (field programmable gate arrays). Intel hopes the flexibility of these chips, combined with the processing power of its own devices, will provide significant opportunities and help defend its dominant position in the server market, while at the same time opening up new areas.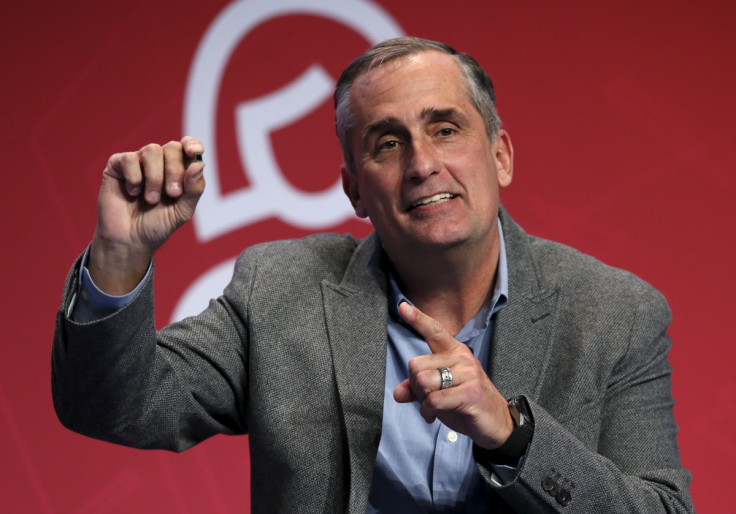 Also of ever-nearing concern is that Moore's law (named after the founder of Intel), which states that the power of a chip doubles every 18 months, may be coming to the end of its incredible 50-year run. Current devices have feature sizes as small as 10 or 14 nanometres. Intel has said it can get down to 5nm, the thickness of a cell membrane – but at some point those annoying laws of physics are going to get in the way.
Where does this leave Intel?
While its cash cow business, the desktop PC, is in a slow, inexorable decline, Intel has made important headway in new areas such as the Internet of Things, where sales were $651m, up 22% from a year ago. The data centre unit delivered first quarter revenue of $4bn, up 9% from a year ago.
Let's not be too quick to write off Intel. It still projects revenues of $13.5bn in the second quarter with gross margins of about 61%. By contrast ARM Holdings this week announced somewhat more modest figures for the first quarter of 2016: revenue was up 14% to $398m.
Times may be tougher for Intel than in its halcyon days, but with those kind of revenues and margins it can take its time to find another express. The Intel train still has plenty of steam.
Ben Rooney is the former technology editor of The Wall Street Journal in Europe.