Lenard Nimoy had warned fans against smoking.
The iconic actor, who was best known as Mr. Spock in the long-running US TV series Star Trek, died from lung disease on Friday 27 February. He was 83.
His widow, Susan Bay Nimoy confirmed the news of his passing, and revealed the cause of death was end-stage chronic obstructive pulmonary disease. Nimoy had been a smoker for many years and developed the disease, despite giving up the habit thirty years ago.
He was hospitalized earlier this month due to complications associated with lung disease. The actor used his public profile to deter others from smoking and frequently took to Twitter with stark warnings, appealing to fans to stop smoking.
Don't smoke. I did. Wish I never had. LLAP

— Leonard Nimoy (@TheRealNimoy) January 11, 2015
On February 23, he tweeted: "I quit smoking 30 yrs ago. Not soon enough. I have COPD. Grandpa says, quit now!! LLAP." In an earlier tweet he revealed his regrets about smoking saying bluntly: "Don't smoke. I did. Wish I never had. LLAP." A few days later he reiterated the message writing: "Smokers, please understand. If you quit after you're diagnosed with lung damage it's too late. Grandpa says learn my lesson. Quit now."
How are my fellow. "Quitters" doing ? Stay smoke free!! LLAP — Leonard Nimoy (@TheRealNimoy) November 17, 2014
Describing his life and how he continued to be affected by the disease he said: "I'm doing OK. Just can't walk distances. Love my life, family, friends and followers."
Chronic obstructive pulmonary disease (COPD) is one of the most common lung diseases. It can cause difficulties with breathing; can lead to chronic bronchitis, symptoms of which include a protracted cough with mucus, and emphysema, which causes permanent damage to the lungs over time. Other physical symptoms include fatigue, shortness of breath and wheezing. Smoking is the main trigger for COPD.
People aged 65-74 are more likely to have COPD and there is a higher incidence of the disease amongst non-Hispanic white people, women and those with a history of asthma.
The Centers for Disease Control and Prevention estimates that about 15 million Americans have been diagnosed with chronic obstructive pulmonary disease which is the third leading cause of death in the U.S.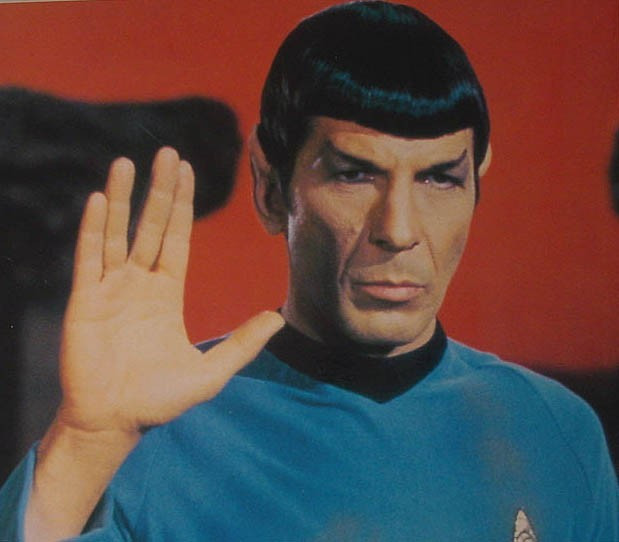 Portraying the half-human, half-Vulcan first officer of the Starship Enterprise, Mr. Spock's greeting "Live long and prosper" was embraced by a generation of devoted fans.
Since news of his death was made public, ardent Trekkies have been paying tribute to the much-loved actor. Nimoy's former Star Trek co-stars George Takei and William Shatner, who played Mr. Sulu and Capt. James T. Kirk, respectively, also expressed their condolences on social media
Shatner who shared a close relationship with Nimoy, emulating the on screen bond between Kirk and Spock, said: "I loved him like a brother. We will all miss his humour, his talent, and his capacity to love."
Nimoy is survived by his second wife, two children, Adam and Julie Nimoy, six grandchildren and a great-grandchild.