What is Nosai no Gi? Japan's Princess Mako prepares for traditional rite of betrothal to college boyfriend
Mako announced her engagement to Kei Komuro in September and the two are expected to get married in 2018.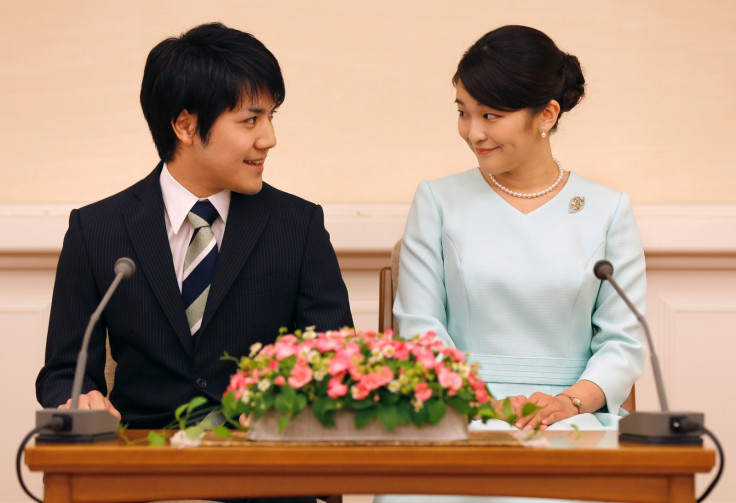 Japan's Princess Mako made headlines earlier this year when she announced her decision to marry her long-time boyfriend Kei Komuro. Following the formal announcement, a source within the Imperial Household Agency has revealed that the traditional rite of betrothal is expected to take place early next year.
News of the engagement between Mako, the daughter of Prince Akishino and Princess Kiko, and eldest granddaughter of Emperor Akihito and Empress Michiko, and her former university classmate first became public in May following which the princess confirmed the news in September.
According to Japan Times, the two families are expected to start off the marriage process with the Nosai no Gi in March 2018. According to tradition, a messenger from Komuro, who works as a paralegal, will visit the princess' Imperial residence with gifts of sake, sea bream and textiles to formally convey the proposal.
This will be followed by "Kokki no gi," in which his messenger will return to the royal home to notify Prince Akishino's family of the date of the wedding. During the "Choken no gi" or rite of the audience, Mako will officially greet her grandparents, the Emperor and Empress.
The date of the wedding will be confirmed following this ceremony, and according to the Imperial Household Agency source, that should take place later in 2018.
According to a controversial Japanese law, female imperial family members are forced to forfeit their status upon marriage to a "commoner", a rule that does not apply to male members. Mako, 26, confirmed as much during her September press conference.
"While I've worked to help the emperor and fulfil duties as a royal family member as much as I can, I've been cherishing my own life," she said at the time.
The government will decide on a lump sum allowance to be given to her at the time of her departure.
Despite the controversy, the marriage is a highly anticipated event in the royal calendar. This will be the first time in modern Japan that an emperor will take part in his grandchild's marriage ceremony and Mako will be the first "naishinnō" princess, (daughter or granddaughter of the Emperor), to marry since the Emperor's only daughter Sayako Kuroda in 2005.
Mako is currently pursuing a doctorate and works as a museum researcher.