Imagination Technologies has unveiled its first set of IP cores at the Consumer Electronics Show-2012 in Las Vegas.
By introducing the path-breaking PowerVR Series6 GPU core, the company has added a new dimension to parallel processing.
The PowerVR G6200 and G6400 GPU IP cores are the first of their kinds in the new PowerVR Series6 family. Quite strategically, Imagination has chosen Bristol for its latest PowerVR Design Centre.
Based on the Rogue architecture, the PowerVR Series6 sets a new benchmark for high performance computing on ultra-low power GPU cores ranging from smartphones to tablets and escalating to high-end gaming computers.
Building on the maturity and success of the preceding five generations of graphical computing with PowerVR, Imagination shifted the focus to ultra-realistic gaming and sophisticated augmented reality.
Compute clusters are the smallest units of the programmable computing elements within the GPU that are aimed at attaining the highest performance on embedded systems alongside optimum power efficiency.
Expect the application of PowerVR GPU technology beyond smartphones, tablets, PC, console, automotive, and DTV in the near future. As the chipset form factor (nm) declines over time, expect tiny gadgets - PDAs, pocket PCs and so forth inherit such powerful technologies.
A couple of reasons for the escalating success of the aforementioned technology could be due to its minimal power consumption and bandwidth usage.
Accordingly, the company has revealed two parameters of measuring performance - GFLOPS/mm2 and GFLOPS/mW. The former parameter measures performance with respect to the reducing chipset or die size while the latter measures performance against power consumption.
However, it's better to note that power consumption and die size are inversely proportional. It could also mean cramming of more and more APUs in a smaller space as the need for super-speed computing escalates in time.
The ability to process multiple instructions simultaneously with multi-core technology paves way for parallel processing attaining its pinnacle. Besides, the CPU tasks may be offloaded to the GPU for faster results during graphic-intensive game-play or running graphics-design software.
It is a known concept mostly accepted by the tech geeks that floating point instructions are better handled by GPU than a CPU. Henceforth, it would be no surprise if GPUs take over the mainstream computing in the days to come.
Imagination's PowerVR graphics technologies are the de facto standard for mobile and embedded graphics, with over 90 licenses accrued by leading semiconductor companies, and have shipped in more than 600 million devices to date.
What's Behind PowerVR Graphics?
PowerVR graphics technology is based on the concept - Tile Based Deferred Rendering (TBDR) as against the conventional Immediate Mode Rendering (IMR) used by most graphics engines across PC and game console worlds.
TBDR reduces the steps in processing required to render an image as early in the processing of a scene as possible, so that only the pixels that are required to be seen by the user are processed. This procedure might actually compromise partially on the game-world texture details, also known as hardware tessellation which redraws an image to avoid overlapping or gaps.
This approach minimizes memory bandwidth and power usage while enhancing processing throughput, but it is more complex.
What's PowerVR Video?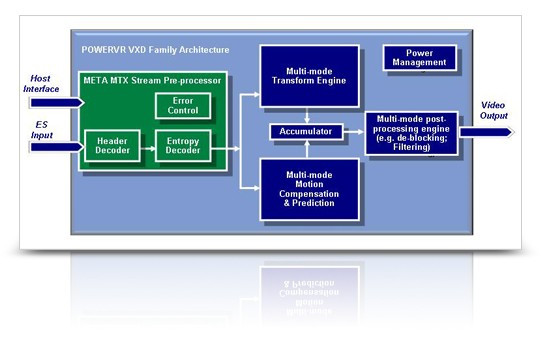 PowerVR video technology builds on the underlying architectural principles of PowerVR graphics: use the lowest power and memory bandwidth while delivering the highest performance. PowerVR VXD decoder and VXE encoder families comprise the heart of multi-standard video decoder standards.
For starters, the third-generation VXD IP cores use a series of multimode hardware engines controlled by a META MTX 32-bit embedded SoC Processor core capable of decoding dual HD streams in less than 150mW using a 65nm technology.
This exceptional capability translates to HD content being decoded and viewed on a mobile phone, or played from the phone directly on to a HD panel. Besides, you'll be able to watch the entire film, not just the first 30 minutes.
All VXD cores are multi-stream as well as multi-standard compliant, which means that a single core can decode multiple streams at the same time, depending on operating clock frequency. The header processor then identifies the appropriate standard and reconfigures the hardware engines on a frame-by-frame basis, such that multiple streams can also be multiple standards.
What's PowerVR Display?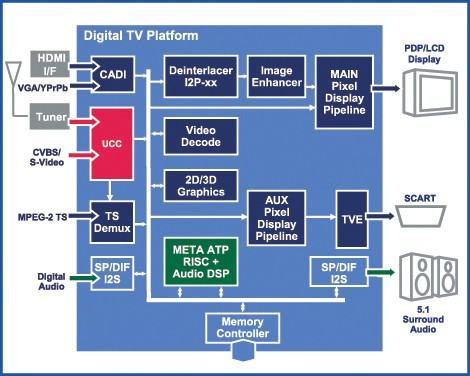 Imagination Technologies' long association with the TV industry has enabled it to cater to unrivalled range of display enhancement technologies for HDTV. From skin tone and blue/black stretch engines to state-of-the-art interlace-to-progressive scan conversion technologies; from frame rate conversion to TV output capabilities - PowerVR display technologies have them all.
Also Read:
AcerCloud Vs iCloud: How Much of a Clone?
Lenovo K800: First Android Smartphone to Debut Intel Atom Processor, PowerVR Graphics