A Swedish neo-Nazi drove his car at a crowd of Iraqi refugees who were demonstrating in the city of Malmo on Sunday night (11 June).
Miraculously, no-one was injured as the 22-year-old crashed into tree after driving over some protest materials.
The unnamed man then found himself in danger as the group of around 20-30 refugees tried to reprimand him.
He stayed barricaded inside his Volvo until the police arrived and arrested him. He has admitted to the offence.
The rear of the man's car was emblazoned with a Nazi symbol that featured a swastika.
Local media also report that he has links to the neo-Nazi group Nordic Resistance Movement.
"He said he's doing it to make a point. That he does not think they should be in the country," Sandra Persson, a police hate crime investigator, said.
"We are prioritizing this. It is a clear hate crime with many people affected. And it happened at this site, outside the Migration Agency," she added.
The refugees were grouped outside the Migration Agency in Malmo protesting against new, stricter asylum rules that have been introduced by the Swedish government.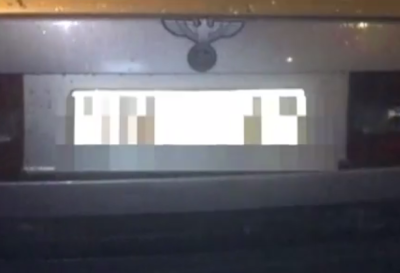 Malmo has been at the centre of well documented tensions between refugees and native Swedes in the last 15 years, including attacks on the police by gangs of youths.
Donald Trump and the US alt-right have used Sweden as an example that typifies what they see as European civilisation being damaged or destroyed by an Islamic invasion.
Former UKIP leader Nigel Farage said Malmo had become the "rape capital of the world" as a result of the refugee influx.
However, this claim is not supported by analysis.
Despite the most recent attack being committed by a neo-Nazi against refugees, social media was awash with claims that the car had been driven by a "Muslim terrorist".
The man has been charged with the hate crime of agitation against an ethnic group as well as illegally carrying a weapon, and illegally carrying a knife and assault.