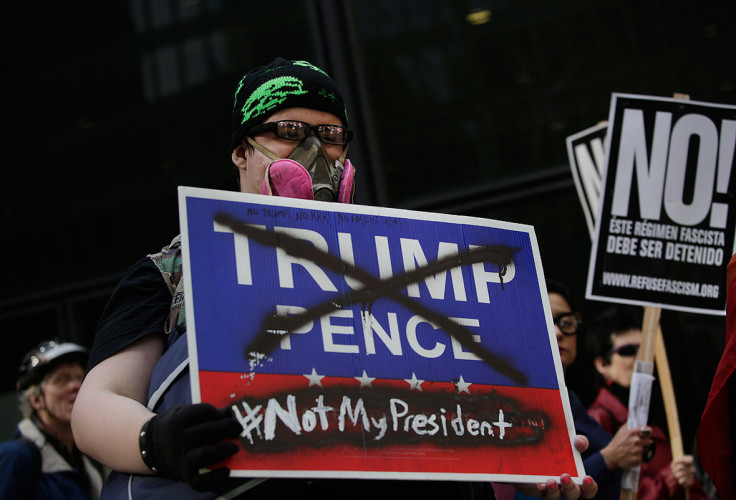 Demonstrations are set to take place in London today (Monday 20 February) to demonstrate against Donald Trump's upcoming state visit, which will take place later this year.
More than 10,000 people are expected to demonstrate. The demonstrations are planned to coincide with a parliamentary debate on a petition calling for the state visit to be cancelled.
More than 1.8 million people signed the petition against the president's visit, but one supporting it received only 310,000.
The Stop Trump Coalition, a group of activists, MPs and celebrities who have organised the demonstration, are calling for a "nationwide day of action" against Donald Trump's "hatred, racism and division".
The demonstration will take place in coordination with One Day Without Us, who are protesting for migrants' rights.
Back in January, women's protests took place around the world on the first day of Trump's presidency, attracting more than three million people.
When does the protest start?
According to the Stop Trump coalition, Londoners will gather at Parliament Square at 5pm for the march. Speakers include MP Caroline Lucas, activist Salma Yaqoob and Iranian comedian Shappi Khorsandi.
MPs will spend up to three hours debating whether or not Trump should be allowed a state visit from 4.30pm, in Westminster Hall in the House of Commons.
Who are the Stop Trump Coalition?
The Stop Trump Coalition is a group of organisations and individuals who have come together to protest Donald Trump's planned state visit to the UK.
Supporters include former Labour leader Ed Miliband MP, Tulip Siddiq MP, Caroline Lucas MP, Mhairi Black MP, Liberal Democrats leader Tim Farron, Rail Maritime and Transport union general secretary Mick Cash and Trade Union Congress general secretary Frances O'Grady.
A number of celebrities support the Stop Trump Coalition, including Frankie Boyle, Brian Eno, Lily Allen, Paloma Faith, Caitlin Moran and Akala. Charities, NGOs and protest groups include Amnesty International, Sisters Uncut, CND, Global Justice Now and Friends of the Earth.
The Stop Trump Coalition states Trump's presidency is "dangerous and divisive".
"The rhetoric of his campaign, and his early executive orders, have sparked a wave of fear and hatred. Those who are often already marginalised and discriminated against – particularly Muslims – have been particular targets for Trump," the website states.
"Trump directly threatens steps towards tackling climate change, fighting discrimination, inequality, peace and disarmament. At the very moment when the world needs more solidarity, more cooperation, and a greater commitment to justice, he proposes to build walls and wants to turn us against each other."