Democrat Congresswoman: 'Where are the women' in Trump abortion order picture?
The US president faced criticism over the lack of female representation.
A Democrat congresswoman has asked Donald Trump "where are the women" in a picture that showed the president signing an executive order that will limit access to abortions for women around the world.
Carolyn Maloney, representative from New York, raised the question in the House on Tuesday (24 January), holding up a picture of Trump as she asked about female representation.
The president can be seen signing the executive order that will prohibits US funding from going to NGOs that provide abortion services, surrounded by male politicians and staff. The image has been criticised for its lack of female representation, particularly given the subject matter.
"Look at this picture. Where are the women?" Maloney said, holding up a picture of the president signing the order that reinstated the Mexico City policy.
"Yesterday, the president signed an executive order affecting and restricting healthcare for millions of women across the world while no woman was present."
"Clearly he did not hear the voices of the millions of women who marched for their rights and for their healthcare this past weekend," she said, in reference to the Women's March on Washington and sister marches in cities across the world.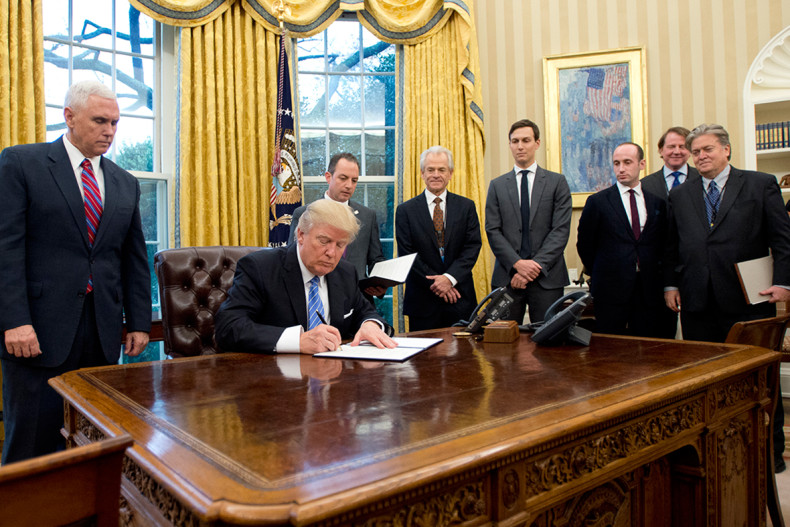 But Trump's spokesman suggested it should come as no surprise that the Republican will be taking steps to instigate pro-life policies.
"The president, it's no secret, has made it very clear that he's a pro-life president," White House Press Secretary Sean Spicer said in a press briefing.
"He wants to stand up for all Americans, including the unborn, and I think the reinstatement of this policy is not just something that echoes that value, but respects taxpayer funding as well."
Mahoney has previously asked the same question in 2012, The Hill reported, when discussions were taking place about whether insurance should cover contraception – with no women called as key witnesses at the House Oversight Committee hearing.