Hundreds of thousands of demonstrators armed with witty posters, energy and pink p****y hats flooded the streets of Washington DC on Saturday (21 January) in one of the largest protests against President Donald Trump ever seen. Millions of women also participated in sister events around the US and the world.
Advancing the rights of all women
Protesters marched for a myriad of causes, including LGBT rights, immigration, gun control and climate change. Participants unable to attend the rally—which included speakers at the National Mall—marched around the protest route holding mini demonstrations.
IBTimes UK spoke to protesters from throughout the US who shared their motivation for participating and their message for Trump.
Alix Dobkin of New York said it was important for her to participate in the march. The American folk singer told IBTimes UK that she wants Trump to realise he has "a lot of people that need to be listened to". The Old Lesbians Organizing for Change (OLOC) member added, "We outnumber him."
The march also included a number of Latino organisations that voiced their concerns in both English and Spanish.
Cindy Benavides from Virginia told IBTimes UK that it was "absolutely important" for her to participate "as a Latina, as an immigrant...it's important not to stand in the sidelines, to be silent and to show up and to show America we're here to contribute."
Benavides, who marched with Latino civil rights organisation LULAC, pleaded with Trump to "be careful in terms of the policies that you enact".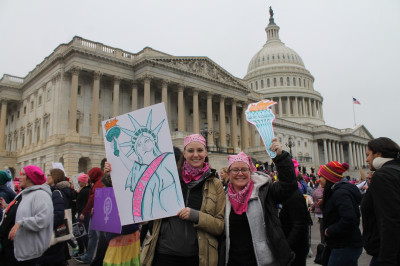 Next Generation
Unlike other protests, the Women's March had plenty of children participating. Parents brought children of all ages, with many young girls chanting and holding up signs alongside their mothers. Fathers, sons and brothers also joined the women of their family in solidarity.
Ian Smith of Maryland attended the march with his mother and younger sister, he told IBTimes UK. "Women's rights are just as important as men's rights," Smith said. "And to have a president right now that doesn't feel the same way I do, and doesn't want to protect my sister and my mom, that hurts."
Smith looked on protectively towards his younger sister as he noted her excitement to participate in the march. "She made her sign last night," he said. Smith added he wants Trump to know that there will be "resistance" to his beliefs and that he is responsible for the women of the country.
Melanie Yoder Salim of Pennsylvania was also joined by family, her husband and 11-year-old daughter. Yoder Salim told IBTimes UK she wanted to participate in the protest and be "surrounded by people who were like-minded ... to point out that Americans are not one thing."
She said she wanted Trump to know that he "can't separate us," adding that "we're individuals but we're all together. Like Smith, Yoder Salim said it was "extremely important" for her to bring her daughter, who was eager to join protesters.
"I wanted her to see the power that there is around others and I also wanted her to learn at a young age that she can stand up for herself and for her rights," she said as she choked back tears.
Dan Welch of New York was also eager to show his support for all women. Welch held a sign featuring Hillary Clinton's campaign slogan "I'm with her" but with a twist. "There's so many girls and women here that are amazing that I'm with her, her, her, and her, and her," he said.
The Women's March on Washington, which city officials estimate reached over 500,000, was intended to send the new US president a message, but it may have also sent a powerful message to the world: women will unite and fight for their rights.