Donald Trump met for a brief audience with Pope Francis in the Vatican this morning (24 April), during the third leg of his first overseas trip as president.
It is difficult to imagine a meeting between two more contrasting characters. Pope Francis is a Jesuit who has made it his mission to help the poor and vulnerable in society. Donald Trump is a property developer who has reaped the rewards of capitalism and has surrounded himself with billionaires in his cabinet.
Although they had not met before today, the two have not seen eye to eye in the past. They have sparred on issues ranging from climate change to immigration and the treatment of refugees.
Pope Francis told reporters earlier this month that he planned to keep an open mind and not draw foregone conclusions before his meeting with the US president.
"I will say what I think and he will say what he thinks. There are always doors that are not closed. We need to find the doors that are at least partly open, go in, and talk about things we have in common and go forward, step by step," he said.
While their brief meeting today is likely to have been cordial, it is preceded by tense exchanges and public disagreement.
Refugees and immigration
The pope, who comes from an Italian family that migrated to Argentina, has called for compassion to be shown to migrants and refugees. In his first month as president, Trump tried to ban Syrian refugees from entering the US.
During a visit to Mexico in 2016, the pope condemned Trump's election pledge to build a wall on the Mexico-US border.
"A person who thinks only about building walls, wherever they may be, and not building bridges, is not Christian," he told the crowd.
President Trump described the pope's comments as "disgraceful. No leader, especially a religious leader, has the right to question another man's religion or faith," he told reporters.
He accused the Mexican government of "using the pope as a pawn. They should be ashamed of themselves, especially when so many lives are involved and illegal immigration is rampant and bad for the United States."
The pope claimed that he did not intend to sway American voters with his comments. "I am not going to get involved in that. I say only that this man is not Christian if he has said things like that," said the pontiff.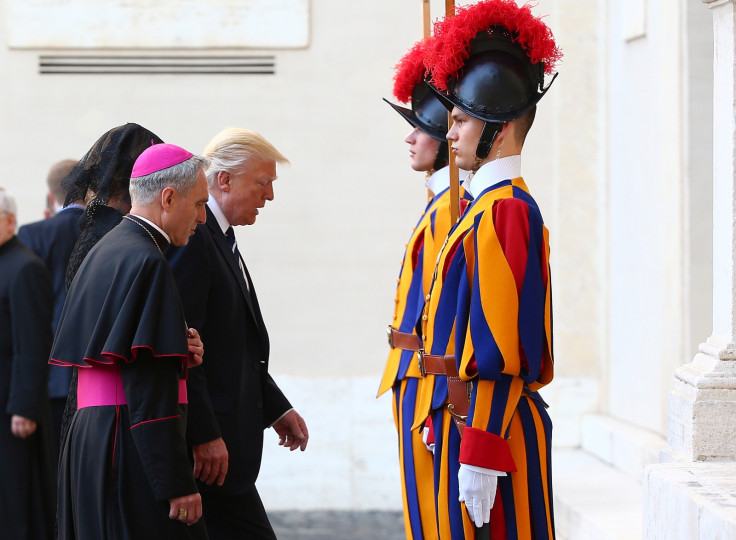 Climate change and the environment
Trump has threatened to pull out of the Paris climate accord, a unilateral agreement to reduce global greenhouse gas emissions. In March, he signed an executive order to dismantle environmental protections introduced by Obama.
Pope Francis has called for urgent international action to deal with global warming and suggested that looking after the environment should be added to traditional Christian acts of mercy such as caring for the needy and visiting the sick.
The pope offered Trump a copy of his main writings, including "laudato si", his encyclical work on the environment which states his belief that climate change is largely man-made and must urgently be addressed.