Not to be confused with the regular season Most Valuable Player gong, Super Bowl MVP honours are traditionally bestowed upon the player deemed to have made the most positive impact on the NFL's annual championship clash. 80% of the award is decided upon by 16 media members present at the stadium, while the remaining 20% comes down to an in-game fan ballot.
Unsurprisingly given their profile, prestige and influence, quarterbacks have won 28 of the 51 Super Bowl MVP awards handed out to date. And, as we will see in a second, the relatively short list of multiple winners is currently a club exclusive to signal-callers.
Only 10 defensive talents have been voted as Super Bowl MVP since 1967, and just once has the prize been given to a player from the losing side.
Who has won the most Super Bowl MVP awards?
4 - Tom Brady
3 -Joe Montana
2 = Bart Starr, Terry Bradshaw, Eli Manning
Full list of Super Bowl MVPs
LI (51) - Tom Brady, quarterback (New England Patriots)
L (50) - Von Miller, linebacker (Denver Broncos)
XLIX - Tom Brady, quarterback (New England Patriots)
XLVIII - Malcolm Smith, linebacker (Seattle Seahawks)
XLVII - Joe Flacco, quarterback (Baltimore Ravens)
XLVI - Eli Manning, quarterback (New York Giants)
XLV - Aaron Rodgers, quarterback (Green Bay Packers)
XLIV - Drew Brees, quarterback (New Orleans Saints)
XLIII - Santonio Holmes, wide receiver (Pittsburgh Steelers)
XLII - Eli Manning, quarterback (New York Giants)
XLI - Peyton Manning, quarterback (Indianapolis Colts)
XL - Hines Ward, wide receiver (Pittsburgh Steelers)
XXXIX - Deion Branch, wide receiver (New England Patriots)
XXXVIII - Tom Brady, quarterback (New England Patriots)
XXXVII - Dexter Jackson, safety (Tampa Bay Buccaneers)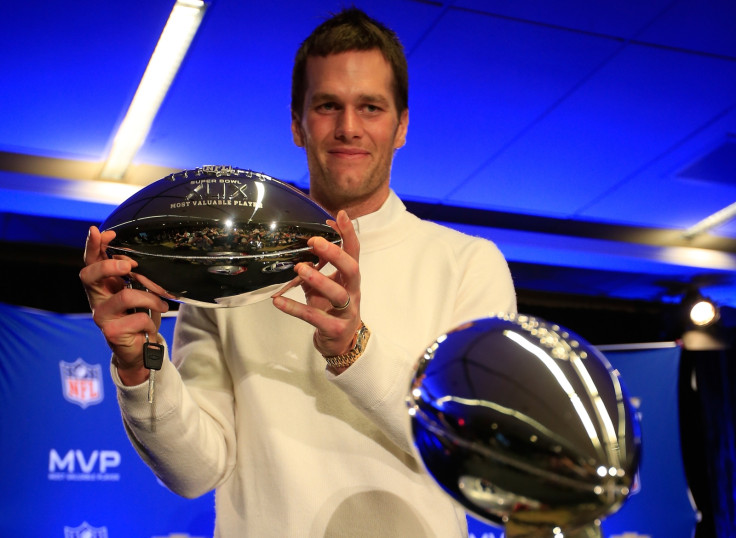 XXXVI - Tom Brady, quarterback (New England Patriots)
XXXV - Ray Lewis, linebacker (Baltimore Ravens)
XXXIV - Kurt Warner, quarterback (St. Louis Rams)
XXXIII - John Elway, quarterback (Denver Broncos)
XXXII - Terrell Davis, running back (Denver Broncos)
XXXI - Desmond Howard, kick returner (Green Bay Packers)
XXX - Larry Brown, cornerback (Dallas Cowboys)
XXIX - Steve Young, quarterback (San Francisco 49ers)
XXVIII - Emmitt Smith, running back (Dallas Cowboys)
XXVII - Troy Aikman, quarterback (Dallas Cowboys)
XXVI - Mark Rypien, quarterback (Washington Redskins)
XXV - Ottis Anderson, running back (New York Giants)
XXIV - Joe Montana, quarterback (San Francisco 49ers)
XXIII - Jerry Rice, wide receiver (San Francisco 49ers)
XXII - Doug Williams, quarterback (Washington Redskins)
XXI - Phil Simms, quarterback (New York Giants)
XX - Richard Dent, defensive end (Chicago Bears)
XIX - Joe Montana, quarterback (San Francisco 49ers)
XVIII - Marcus Allen, running back (Los Angeles Raiders)
XVII - John Riggins, running back (Washington Redskins)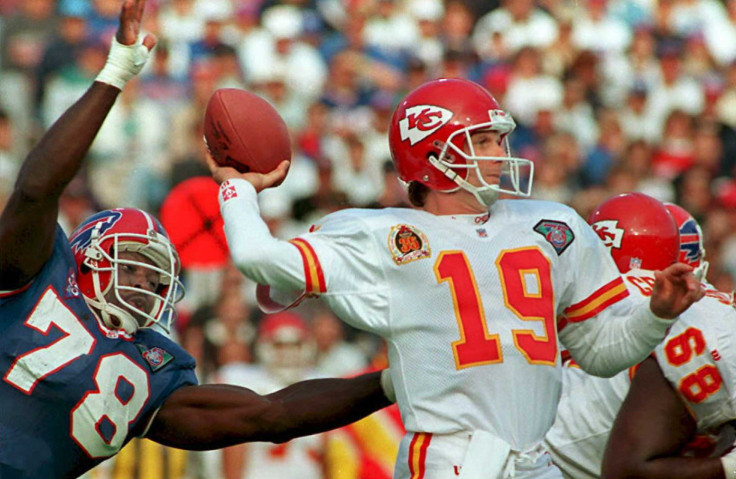 XVI - Joe Montana, quarterback (San Francisco 49ers)
XV - Jim Plunkett, quarterback (Oakland Raiders)
XIV - Terry Bradshaw, quarterback (Pittsburgh Steelers)
XIII - Terry Bradshaw, quarterback (Pittsburgh Steelers)
XII - Harvey Martin and Randy White (co-winners), defensive linemen (Dallas Cowboys)
XI - Fred Biletnikoff, wide receiver (Oakland Raiders)
X - Lynn Swann, wide receiver (Pittsburgh Steelers)
IX - Franco Harris, running back (Pittsburgh Steelers)
VIII - Larry Csonka, fullback (Miami Dolphins)
VII - Jake Scott, safety (Miami Dolphins)
VI - Roger Staubach, quarterback (Dallas Cowboys)
V - Chuck Howley, linebacker (Dallas Cowboys)
IV - Len Dawson, quarterback (Kansas City Chiefs)
III - Joe Namath, quarterback (New York Jets)
II - Bart Starr, quarterback (Green Bay Packers)
I - Bart Starr, quarterback (Green Bay Packers)