White House officials say it's too soon to determine if the Islamic State was actually behind the attack at the "Drawing Mohammed" event in Texas, even though the extremists have claimed responsibility for the operation.
"This is still under investigation by the FBI and other members of the intelligence community to determine any ties or affiliations that these two individuals may have had" with Isis or "other terrorist organisations around the world," said White House spokesman Josh Earnest, reports AFP.
He also cautioned that extremists sometimes take responsibility for violence for propaganda purposes "to try to communicate with individuals around the world, including inside the United States".
It's possible that the Isis provided more of an "inspirational" rather than "operational" role in the attack, a government source told Reuters.
The White House has definitively labelled the attack an "attempted terrorist act."
US officials will also investigate an apparent Twitter link between the shooters and British jihadi Junaid Hussain, who goes by the name Abu Hussain al-Britani.
Gunmen Elton Simpson, 30, and Nadir Soofi, 34, both of Phoenix, Arizona, were shot dead by a police officer when they opened fire outside the event in Garland. Simpson tweeted shortly before the confrontation: "May Allah accept us as the mujahideen. [Jihadi warriors]" He also pledged loyalty in another tweet to "Amirul Mu'mineen" (the leader of the faithful), referring to Islamic State self-styled caliph Abu Bakr al Baghdadi. He urged readers to follow al-Britani, who praised the shooters shortly after the attack.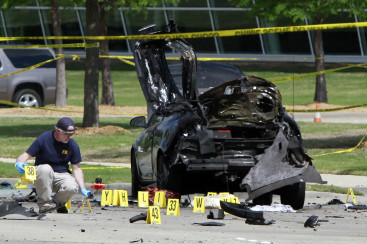 The Islamic State claimed responsibility for the action on its official Al Bayan radio station, based in the Syrian city of Raqqa. "Two of the soldiers of the caliphate executed an attack on an art exhibit in Garland, Texas," the terrorist group said. "We tell America that what is coming will be even bigger and more bitter, and that you will see the soldiers of Isis do terrible thing."
The announcement, however, offered no proof that it was responsible for launching the operation or that the men were following orders from Islamic State leaders.
Former FBI agent Tim Clemente told CNN he believes the gunmen likely plotted the attack without any direction from Isis.
"They may have had email communication or read communications from Isis, but I don't think they were directed by Isis," Clemente said. "I think it's the other way around — they were kind of applying for membership into Isis. And so they were doing this act, sent out the tweet in advance because if they know there's a possibility they're not going to make it out of this, then they can't give recognition to what they were trying to do after the fact."