White supremacist arrested after allegedly planning attack 'in the spirit of Dylann Roof'
Benjamin McDowell of South Carolina is said to have believed shouting 'white power' is not enough.
A white supremacist has been arrested after allegedly wanting to plan an attack "in the spirit of Dylann Roof".
Benjamin McDowell, 29, of South Carolina, came to the attention of Federal Bureau of Investigations (FBI) agents after allegedly posting messages targeting Jews on Facebook and threatening to attack a synagogue.
Court papers revealed that McDowell tried to buy a gun after believing that "screaming 'white power' was not getting the job done." He also said that although he has "the heart to do that shit, but I don't have the good training".
On 12 January, McDowell allegedly believed he was meeting with a man who "handled problems for the Aryan Nations" – a white supremacist group considered a terrorist threat – but instead was met with an undercover FBI agent.
The pair went to a hotel to discuss acquiring a weapon, but McDowell is also said to have shared his white supremacist views with the officer and potential ideas for an attack.
According to court papers, McDowell said: "I'm wanting to do this shit, and I got the heart to do this.
"I seen what Dylann Roof did and in my heart I reckon I got a little bit of hatred and I ... I want to do that shit. Like, I got desire. Not for nobody else ... it just, I want something where I can say, 'I f***ing did that'. Me personally."
He later added: "If I could do something on a f***ing big scale and write on the f***ing building or whatever, 'In the spirit of Dylann Roof'".
During the meeting, McDowell was sold a .40 calibre Glock handgun that had its firing pin filed down so that it could not be fired.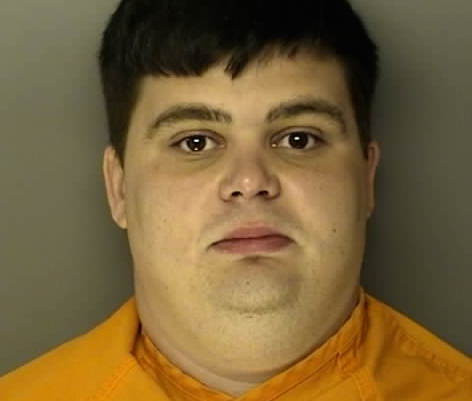 Benjamin McDowell is charged with possession of a firearm or ammunition.
J. Reuben Long Detention Center
Following the meeting, McDowell allegedly continued to post racially abusive messages on Facebook and later arranged to meet with the agent again on 15 February to buy hollow-point ammunition.
Shortly after the sale, McDowell was searched and arrested. He was charged with possession of a firearm or ammunition and a preliminary and detention hearing is scheduled on 21 February.
Roof, also from South Carolina, was in January sentenced to life in prison after he was found guilty of killing nine African Americans at the Emanuel African Methodist Episcopal Church.