As many as 60 mostly young women from the UK have gone to the Middle East to join Isis (Islamic State). Why would anyone voluntarily flee the relative safety and freedom of the UK for life in a war-zone?
According to the Daily Mail, Mujahidah Bint Usama, a 21-year-old medical student, has volunteered to work as a "terrorist doc" using her medical training. In one image she holds a man's decapitated head while wearing her white tunic as children stand by. Usama also posts graphic photographs from the region and celebrating 9/11.
According to think tank MEMRI (the Middle East Media Research Institution) the Al-Khansaa Brigade is composed of UK women based in Raqqa, Syria, who are responsible for punishing "un-Islamic behaviour" by other women.
Some of the women are said to be running brothels where sex slaves from the Yazidi tribe are held prisoner, according to the Mirror.
A key figure is thought to be privately-educated Aqsa Mahmood, 20, from Glasgow.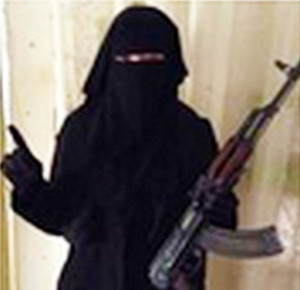 Twins Salma and Zahra Halane, 16, from Manchester are also known to be in Syria. Between them the twins have 28 GCSEs and were training as doctors. Zahra's tweets have included images of machine guns next to the Koran and concerns about a kitten which went missing when her "husband" threw it out.
Social media sites are becoming inundated with requests from UK girls hoping to meet Isis warriors, and Isis have explicitly called on women to come and join the caliphate in order for it to expand.
"Jihadi Jane" or "Bint Laden", wrote next to a photograph of James Foley being beheaded: "If this doesn't bring a bit of comfort and ease to your heart then #checkyourself."
Another young female, @UmmKhattab, who is thought to be 18, wrote: "In sha Allah [God willing] a day will come when David Cameron's head will be on a spike as he continues to wage war on the awilya [protectors] of Allah… and strike terror in the hearts of the kuffar."
Convert Umm Hussain al-Britani, formerly wannabe pop star Sally Jones, has tweeted about leaving Chatham for Raqqa and beheading Christians with a blunt knife.
As to why the women would want to go to a war-zone, where they have to remain covered up, obedient to their husbands and typically spend all day doing housework, from postings on social media it seems most simply believe this is the best way to serve Allah.