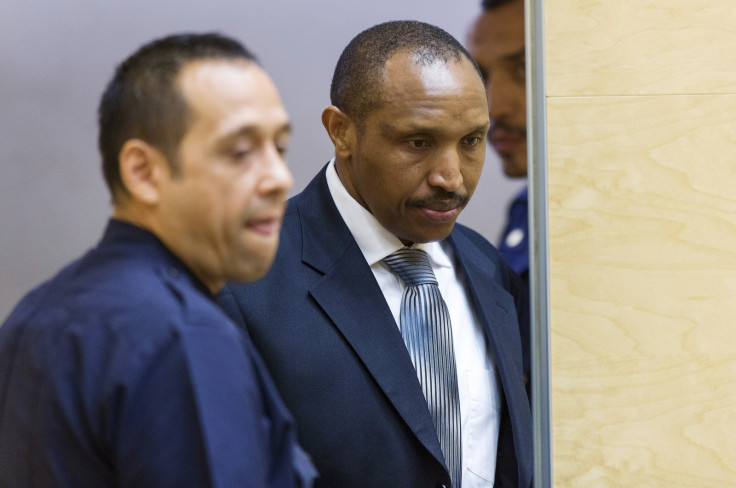 A former Congolese warlord and symbol of impunity, Bosco Ntaganda's long-awaited trial has finally opened at the International Criminal Court today (2 September). But who is the moustachioed figure commonly referred to as the "Terminator" and why is he on trial? IBTimes UK profiles the man.
An ethnic Tutsi, Bosco Ntaganda was born in Kinigi, Rwanda in 1973 and fled to neighbouring Democratic Republic of Congo (DRC) to escape the violence being directed at his racial group. He was only 17 when he embarked on what would become a bloody fighting career as a rebel and soldier and he is the fourth person to be tried before the ICC "for grave international crimes allegedly committed in the DRC". He gave himself up suddenly and voluntarily to the US embassy in Kigali, Rwanda in March 2013. His surrender was widely reported as an act of self-preservation after losing a power struggle in rebel group, M23.
He was part of the Rwandan Patriotic Front's (RPF) effort led by current President Paul Kagame to end the genocidal mass slaughter of ethnic Tutsis and moderate Hutus by members of the latter majority. He would go on to participate in the 1996 Rwandan military invasion of the DRC. Since the late 1990s, Bosco Ntaganda was a rebel leader in various armed groups in the mineral-rich, but restive eastern DRC. After moving between various militias, he would eventually join the Union of Congolese Patriots (UPC) in 2002 led by Thomas Lubanga. The group claimed to promote the interests of the ethnic Hema people in DRC's north-eastern Ituri district and in 2014, Lubanga became the only person to have been convicted by the ICC for recruiting and using child soldiers and was sentenced to 14 years' imprisonment.
What charges does Bosco Ntaganda face?
The ICC's first arrest warrant issued in 2006 charged Ntaganda with recruiting child soldiers in Ituri. A second arrest warrant was issued in 2012, containing additional charges. In total, Ntaganda faces 13 counts of war crimes and five of crimes against humanity that include murder and attempted murder, attacks against civilians, rape and sexual slavery, the recruitment and use of child soldiers, pillaging and persecution in the Ituri district. The alleged crimes all took place between 2002 and 2003.
"Much of the conflict in Ituri was linked to fights for control over the lucrative gold mines in Ituri district. During this period, Ntaganda's forces in the UPC were responsible for horrific attacks on civilians," explained Ida Sawyer, senior DRC researcher at Human Rights Watch (HRW).
With more than 2,000 victims cleared to participate in proceedings, the scale of the trial is huge and will include three child soldiers from Ntaganda's armed group, Patriotic Forces for the Liberation of Congo (FPLC).
How does the accused plead?
In short, the 41-year-old has pleaded not guilty to all charges. "Mr Ntaganda maintains his innocence in respect of every charge laid against him. He intends to present a thorough defence," Ntaganda's lawyer Stephane Bourgon, told a press conference at the ICC's headquarters on 2 September. He added that the accused is in good shape and is "looking forward" to the chance to present his case.
Chief Prosecutor Fatou Bensouda has likened Ntaganda to Ugandan warlord, Joseph Kony and said: "This trial is about Bosco Ntaganda and how he took advantage of the ethnic tensions in Ituri to gain power and money." His forces also kept girls as sex slaves.
Prosecutors plan to call more than 80 witnesses, including military insiders and former child soldiers in a protracted trial that is expected to last for months. If convicted, Ntaganda faces life imprisonment.
The former warlord is expected to make a short statement to judges later this week. The first witness is scheduled to be called on 15 September.