Gambia's opposition leader Ousainou Darboe, once detained and sentenced to three years in jail by the regime of previous leader Yahya Jammeh, has become the country's new minister of foreign affairs. Darboe, leader of the United Democratic Party (UDP), became a symbol of resistance after being apprehended for taking part in what the previous regime defined as "unauthorised protests" in the capital Banjul in April 2016.
Who is minister of foreign affairs

Ousainou

Darboe

?
Darboe was born in provincial Gambia in 1948. He belongs to the Mandinka, Gambia's largest ethnic group.
Regarded as one of the country's most prominent lawyers, Darboe studied law at the University of Lagos in Nigeria, and obtained a master's degree in law from the University of Ottawa, Canada.
Darboe returned to Gambia in the 1970s and started working as a state prosecutor. He also worked at the Attorney General's Chambers.
In 1980 he resigned and started working as a human rights lawyer and legal advisor to several companies. Following a failed coup against the then Dawda Jawara's government in 1981, Darboe defended several people involved in the botched overthrow, some of whom had been charged with treason and faced the death penalty.
He also served as the vice-president of the Gambia Bar Association (GBA) for several years and was a member of the National Advisory Committee on the selection of judges to the International Court of Justice.
Wha

are

Ousainou

Darboe

's political career highlights?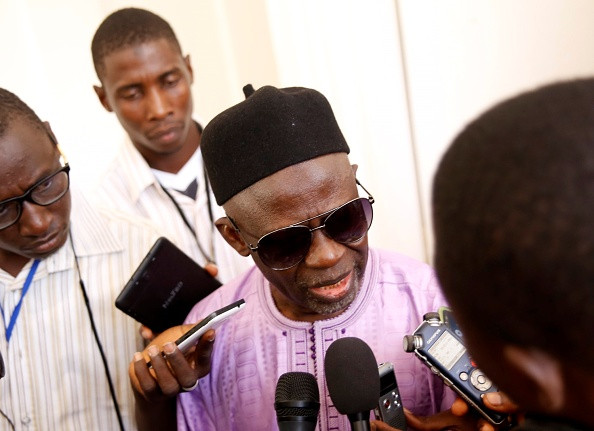 Darboe's political career started in 1996, when he founded the UDP. In the same year, he ran for president and lost to Jammeh, who obtained 55.77% of the votes.
Darboe ran against Jammeh again in 2001 and 2006. Both times he became second. In 2006, The opposition leader rejected the election result, claiming the vote was not free and fair and had been marred by intimidation.
Why was Darboe arrested in April 2016?
Gambia witnessed anti-government protests – a rare event under Jammeh's 22-year-long ruling – in the run up to presidential election held in December last year.
Protesters took to the streets to call for electoral reforms and the resignation of Jammeh, who had been in power since 1994. Authorities claimed the protest was illegal as demonstrators had failed to obtain permission from the police.
At least 50 people were arrested among fears that Solo Sandeng, UDP secretary, died alongside two others while being held in detention. Sanderg's alleged death triggered further demonstrations culminating in the arrest of Darboe.
The opposition leader and another 18 people were sentenced to three years in jail. The defendants were charged with conspiracy to commit a felony, among other things.
Darboe was running against Jammeh. Following his arrest, he was replaced by UDP member Adama Barrow, a former businessman who lived in London for three years.
Barrow, head of seven-party coalition, defeated Jammeh in what has been deemed as an historical vote. However, the country witnessed a political stand-off when Jammeh refused to relinquish power.
The outgoing president eventually agreed to step down and go into exile in Equatorial Guinea following pressure from world leaders and the intervention of foreign troops.
Barrow, who returned to Banjul in January, said in an exclusive interview with IBTimes UK he was ready to rebuild a New Gambia through democratic principles. Under his leadership, Darboe, along those arrested with him, were granted bail.
Earlier in February, Darboe met foreign diplomats in Banjul in a bid to strengthen ties that had been deteriorated during Jammeh's administration.