The official inauguration of The Gambia's President, AdamaBarrow, is due to take place in the capital Banjul on 18 February. The date also marks the country's 52nd anniversary since independence.
Barrow, 51, had already taken the oath of office at the Gambian embassy in Senegal, where he lived for about two weeks due to a post-election political crisis. Around 20 African leader are expected to attend the event.
Barrow was appointed as head of a coalition of opposition parties that then defeated veteran strongman YahyaJammeh, in an historic presidential election held in December 2016.
However, Jammeh's initial refusal to step down sparked a political crisis and a foreign military intervention that prompted Barrow – along with thousands of fleeing Gambians – to relocate temporarily to neighbouring Senegal amid fears of an imminent war.
Following week-long diplomatic talks that saw the involvement of several West African leaders and the deployment of Ecowas (Economic Community Of West African States) troops to Gambia's capital Banjul, Jammeh agreed to step down and go into exile to Equatorial Guinea.
As Gambians are set to celebrate the new leader, who vowed to build a new Gambia through democratic principles, IBTimes UK looks at what the leader has achieved since his return to Banjul in January.
He removed 'Islamic' from The Gambia's official name
In the first press conference held since taking over as leader, Barrow removed 'Islamic' from the official name of his country. The word 'Islamic' was added by Jammeh in 2015.
He reversed decision to leave the International Criminal Court (ICC) and Commonwealth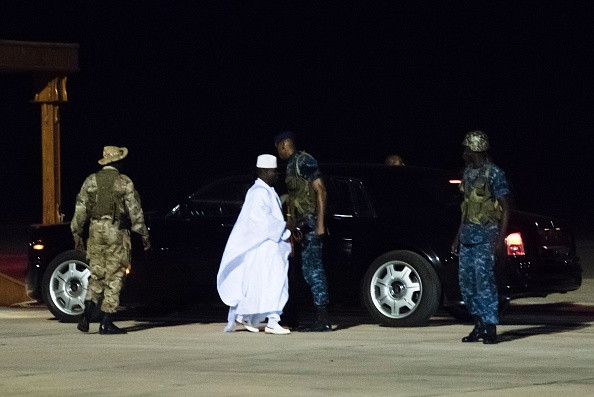 Barrow said he would overturn Jammeh's decision to pull out from the ICC, which some saw as a ploy to avoid a possible prosecution.
Jammeh, who ruled Gambia for 22 years, often attracted criticism for – among other things – persecuting homosexuals, activists and political opponents and inciting ethnic hatred.
However, the ICC told IBTimes UK it is not currently planning an investigation into alleged crimes committed byJammeh.
Barrow exclusively told IBTimes UK he wanted to strengthen relations between Gambia and the UK by, among other things, rejoining the Commonwealth and promoting foreign investments.
Gambia pulled out from the intergovernmental organisation in 2013, with the previous government claiming it wanted to abandon a "neo-colonial institution".
He appointed a Gambian UN prosecutor as Chief of Justice
Barrow appointed a Gambian UN prosecutor as chief justice of the Supreme Court, a position previously held by Nigerian-born Emmanuel Fagbenle. Jammeh was criticised for a series of appointments of foreign judges.
During the post-election political crisis, it was feared that Fagbenle "would take steps to extend the illegal regime of Jammeh," after the strongman had filed a petion to challgenge the election result.
The new chief of justice, Hassan Bubacar Jallow, served as a prosecutor of the International Criminal Tribunal for Rwanda in Arusha, Tanzania.
African troops deployed to The Gambia in January to resolve a post-election political crisis will be reduced from 7,000 to 500. A statement from President Adama Barrow's office said the scaling down would begin no later than 19 February.
He met with former Jammeh ministers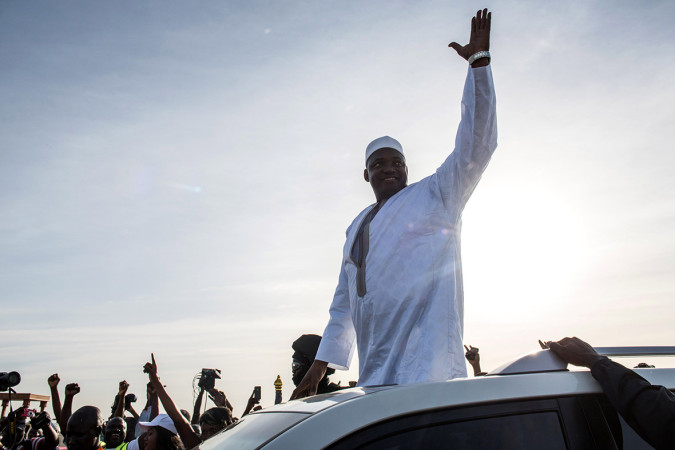 In a move that stirred some criticism in Gambia, Barrow met with former ministers in office during Jammeh's administration. Some of them had resigned following Jammeh's refusal to relinquish power.
Some people have been calling for the arrest and questioning of some of the former regime's officials over alleged human rights abuses, but Barrow said he would establish a truth commission to promote reconciliation.
He announced the scaling down of Ecowas troops
Barrow announced African troops deployed to Gambia in January will be reduced from 7,000 to 500. A presidential statement said the scaling down would begin no later than 19 February.