It was a hot morning in Dakar, Senegal, and the sun was shining on the faces of a group of soldiers patrolling the temporary residence of The Gambia's new President, Adama Barrow. From the main road in Pointe des Almadies, a wealthy neighbourhood and the western-most point of mainland Africa, came the incessant beeping of taxis and motorbikes.
It had been two weeks since Barrow, 51, moved to Dakar following a political standoff with the previous head of state, veteran strongman Yahya Jammeh, who lost the presidential election in December 2016 after ruling The Gambia for more than two decades.
When Jammeh conceded defeat, incredulity and irrepressible excitement swept across Gambia: it was the first time in the country's post-colonial history that an autocrat had been defeated through a democratic process. But just days later Jammeh reversed his decision and announced that he would challenge the election result, citing "unacceptable abnormalities".
His sudden U-turn sparked a political crisis and a foreign military intervention that prompted Barrow – along with thousands of fleeing Gambians – to relocate temporarily to neighbouring Senegal.
Sat on a white armchair, his head resting on his palm, Barrow looked exhausted as IBTimes UK arrived at The Gambia's consulate in Dakar: the political turmoil of recent weeks had clearly taken its toll. After members of his media team left us alone, Barrow raised his head and gave me a brief, almost imperceptible smile.
Due to security concerns, Barrow had to take the oath of office in Dakar. He had been unable to leave the Senegalese capital, not even to attend the funeral of one of his sons, mauled to death by a dog in Banjul, Gambia's capital, a few days earlier.
"Religion is helping me cope. In religion, you have to accept destiny," Barrow, a devout Muslim, explained.
"It is a very difficult situation, this kind of things happen and you have to be strong. You have to be committed," he continued. "It takes a strong character and strong beliefs. And that's why we were able to knock out Jammeh, because of our beliefs."
We met on Barrow's last day in Dakar. After Jammeh eventually agreed to step down and go into exile to Equatorial Guinea following pressure from world leaders and the refusal of his own army to fight to keep him in power, Barrow was preparing to return to The Gambia and take the lead of a country that has suffered years of repression, human rights abuses and economic stagnation.
In spite of the events of the past weeks, Barrow's eyes lit up when he spoke about "the new Gambia" he wanted to create: A Gambia free from repression and abuse, a Gambia where everyone can enjoy freedom and democracy, including his opponents, Jammeh loyalists.
On the eve of his return home, we spoke about human rights, tourism, economic development and relations with the UK. On this latter point, he seemed to relax. Barrow's links with the UK are strong, he lived in London for three years and once worked as a security guard at an Argos store in Holloway Road.
He spoke of his love for the British capital and the friend he used to visit in New Cross Gate, south east London. Barrow wants the UK to become one of Gambia's main partners and he intends to visit London soon.
"I will go and visit the Argos store where I worked," he told me, as we shook hands and posed for a picture together.
Gambians at home and abroad are eager to see the birth of a new Gambia free from repression, but they are also aware that Jammeh's departure does not automatically translate to peace.
Issues such as government accountability, ethnic tensions and electoral and constitutional reforms will all need to be addressed.
"Young Gambians voted for Barrow because they were looking for a change and they think he will bring changes," journalist and activist Sainey MK Marenah, who has been in exile in Dakar since 2014, told me.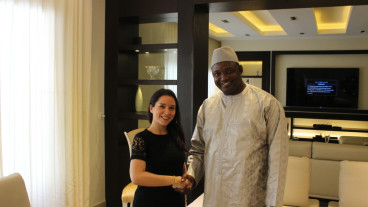 "I am hopeful that Adama will be able to bring together the divided Gambian populations under one roof, reconcile them and bring about reforms. Nothing is working in that country, Jammeh has destroyed it. The economy must be fixed and there must a be a total separation of powers, unlike Jammeh, who had total control over the judiciary," Marenah said.
Isamil Kenmei, a 47-year-old Gambian who fled the country with his family earlier in January, also believes the country is on the right path toward democracy. However, the journey, he says, will be a long one.
"If the situation normalises in Gambia, we will go back," he said. "The change we were praying for is here, but it is too early to say what we think about Barrow. He is here to tell us who he is. We have seen him as a man, as a presidential candidate, as a president-elect. He is to prove to us what he really is and prove that he can fulfil his promises."
Barrow is confident he will unify the nation through democratic practices.
"After 22 years of Jammeh, finally he is out," the new leader said. "If we work hard, we can make a difference. I am encouraging Gambians living abroad to come back. We will build our lives and we will build our nation."