Diana, Princess of Wales was linked to many men in her 36 years, with a loveless marriage to Prince Charles provoking media fixation as they indulged in extra-marital affairs.
And now 20 years after her death, new revelations about Diana's love life are emerging. In Channel 4 documentary Diana: In Her Own Words, she "fell deeply in love" with her bodyguard Barry Mannakee, but claimed she did not have sex with him. Prince Charles's close sources believe otherwise.
Diana candidly recalls the love affair and admits she was "playing with fire" and "got burned".
She said: "I was quite happy to give it all up... just to go off and live with him. Can you believe it? And he kept saying he thought it was a good idea too."
The royal became close to the married father-of-two in 1985, just one year after Prince Harry was born. Though she doesn't mention him by name it is clear that she is referring to Mannakee.
Diana added: "When I was 24, 25, I fell deeply in love with somebody who worked in this environment."
"And it was all found out and he was chucked out and then he was killed. And that was the biggest blow of my life I must say."
Diana went on to claim that she sought approval from her lover, continuing: "I was like a little girl in front of him the whole time, desperate for praise."
So who was Barry Mannakee?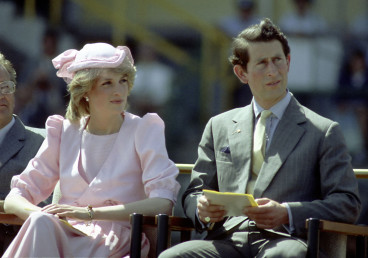 Born in 1947, he was a police officer with the Royal Protection Squad and bodyguard to Diana. He transferred to the Diplomatic Protection Group in central London in 1986 following what was described as an "inappropriate" relationship between the two.
Mannakee had a wife named Susan and two children. Diana claimed in the tapes recorded by voice coach Peter Settelen in 1992 that Mannakee had been "chucked out" from his role as her bodyguard following the suspicion that they were romantically involved.
When Mannakee died in a road traffic accident shortly after in 1987 – it lead to a conspiracy theory that his death was not an accident. Diana said in the tape that Mannakee had been "bumped off" by the security services.
On the night of 15 May 1987, Mannakee was killed when the motorbike he was riding as a passenger, driven by a fellow police officer Steven Peat, crashed into a Ford Fiesta driven by 17-year-old Nicola Chopp, who had only passed her driving test six weeks earlier. The collision took place in north east London and Mannakee was catapulted into the rear side window of Chopp's car, dying instantly after breaking his spine in two places.
Peat and Chopp both survived, and an inquest into Mannakee's death concluded it was an accident.
Diana: In Her Own Words airs on Sunday 6 August at 8pm on Channel 4.