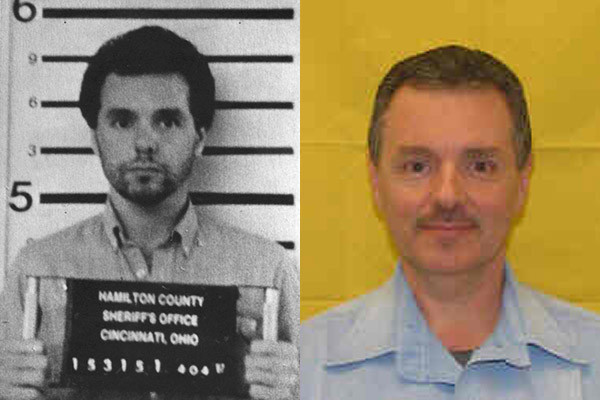 Who was 'Angel of Death' Donald Harvey?
Donald Harvey, a self-styled 'angel of death', was an American serial killer who murdered at least 37 people between 1970 and 1987. Most of his victims were patients at Ohio and Kentucky hospitals where he worked as a medical assistant.
Harvey was born in Butler County, Ohio on 15 April 1952. He died on 30 March 2017 after being badly beaten by a fellow inmate at at Toledo Correctional Institution. He was 64-years-old.
How many people did 'Angel of Death' Donald Harvey kill?
Harvey claims to have killed 87 people but this is disputed by authorities.
In 1987 his 17 year spree was brought to an end when he pleaded guilty to the murder of 37 people. Police believe it is possible he killed a further 20.
How did 'Angel of Death' Donald Harvey kill his victims?
In 1970, aged 18, Harvey took his first job as an orderly at Marymount Hospital in London, Kentucky. Despite remaining in the job for only 10 months, Harvey killed at least 12 patients. He suffocated two with pillows and killed a further 10 by connecting them to empty oxygen tanks.
From 1975 to 1985, Harvey worked in a number of roles at Cincinnati Veterans Administration Medical Center in Cincinnati, Ohio. He claims to have murdered 18 patients during his tenure.
At Cincinnati VA he continued to smother patients and cut their oxygen supplies but also introduced poison into his repertoire, employing cyanide and arsenic.
In 1986 Harvey began work as a nurse's aide at Drake Memorial Hospital in Cincinnati. He is believed to have murdered 23 more patients at the facility where he would finally be caught.
At Drake Memorial he focused his energies on injecting his victims with mixtures of arsenic, cyanide and industrial cleaner or slipping the poisons into their foods. He also turned off the life support machines of some infirm patients.
Outside of his hospital work, Harvey poisoned his male lover Carl Hoeweler and Hoeweler's father. He also poisoned two of his neighbours, killing one of them.
How was 'Angel of Death' Donald Harvey caught?
The 'Angel of Death' was finally caught in 1987 while working at Drake Memorial Hospital when a medic smelt arsenic on a corpse's body. A police investigation unearthed more suspicious deaths connected to Harvey throughout his career.
He avoided the death penalty by pleading guilty to 37 murders (although he would later claim more) in 1987. He received 15 life sentences for his crimes and would have been eligible for parole in 2043, at the age of 91.
Why did 'Angel of Death' Donald Harvey kill people?
Harvey has offered a range of explanations for his actions. He has variously that he was a mercy killer who wanted to help patients by putting them out of their misery and also that he enjoyed the power of deciding who got to live or die on his wards.
In a revealing interview with CBS News in 2003, he said: "The doctors go and spend all these years in school. And they'd always come in with this kind of superior attitude. You know: 'I know everything.' But yet, they didn't know nothing."
The simplest explanation for Donald Harvey's actions are that he was a psychopath. He leaves behind a legacy as one of the world's most notorious serial killers.