Serbia has history of severe corruption, imbalanced labour markets, and economic turmoil as the financial crisis still reverberates through the Eastern European region.
Furthermore, it goes without saying that it is still trying to move on from the Yugoslav war, which resulted in the genocide of 200,000 Bosnians, and paint itself as a repentant and reformed country so it can join the European Union.
It has not been an easy task to undertake but with the appointment of Alexsandar Vucic as the new Prime Minister, it shows that the country continues to trust tough reforms and austerity measures, to create a more stable country to live in, in the long term.
When I visited Serbia's capital Belgrade in October last year, I was surprised at how the new incumbent government, which was primarily made up of independents and the Serbian Progressive Party (SNS), was making major reforms, that would be immediately unpopular with the public and tycoons, but would be pushed ahead in the interest of shaking off the country's shady legacy.
Vucic, who is the leader of the Serbian Progressive Party (SNS), was the former Serbian deputy Prime Minister and was famed at being the government's work horse that was the spine behind the country's radical reforms.
Making Changes Not Just Pledges
When Vucic came into power he immediately pledged andto put an end to bumper public salaries and bonuses, kept humungous international bailouts at bay, and made a number of major efforts to boost the economy through the private sector.
Furthermore, his unbridled and scathing comments over Serbia's legacy and previous governments made it clear that the country was going to be turned around, no matter how painful his new reforms may be in the short term.
"We are experts in corruption and we're experts in extortion but this is now times gone past," said Vucic.
"We are putting an end to public-owned companies acting as if they are a state within a state and awarding themselves salaries and bonuses while still being subsidised by the government."
Vucic said that, years ago, parents would encourage their children to get a job in a public company, because civil service jobs paid 13% higher salaries and bonuses than the private sector.
"How is this possible? We are changing this. We have 25% unemployment and we have problems with our budget deficit. But how do you think we are going to cut this by 2% when we are wasting money elsewhere? Why, because we're hypocrites," said Vucica at the time to IBTimes UK.
"Experts have said we have to reform our economic policies for over 10 years, but when we try to do it we get stabbed in the back.
"I say, OK, go ahead. Go into the street and tell private companies that they have to pay 30% corporation tax and destroy the economy even more."
Boosting the Economy
Vucic was the driving force behind Serbia's major move away from socialism and, last year, a lot of the public were sceptical and outspoken about how the reforms were going to hit them hard.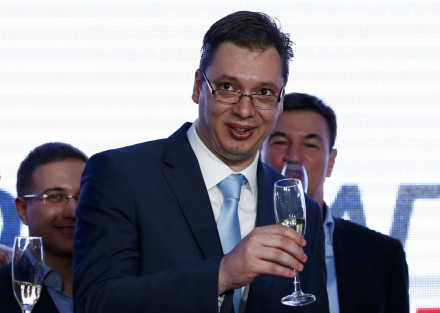 Vucic even hit back at critics at the time and said:
"We get criticised for making cuts but where would the critics suggest in taking it? If we increase VAT to 25%, we'll destroy our economy even further.
"People can sit in the coffee shops and tweet about how much they disagree with us, but they have too much time on their hands.
"I am not going to butter your bread. I am not interested in socialist self-management. We need to encourage the private sector and the future of the country lies in capitalism."
However, Vucic clearly got the public's vote after he was officially appointed Prime Minister by President Tomislav Nikolic, following a landslide victory for the SNS in the March parliamentary elections.
He has already reiterated how the revival of the economy, as well as job creation and the continual fight against corruption, will be at the top of his agenda and therefore will help bolster the country's bid to become an EU member by 2020.
"We have the strongest mandate for reform from the Serbian people in years and this is a fantastic opportunity to build a better future because the most important partnership is between the people and the government," said Vucic.
"We know the road ahead will not always be easy but with the necessary reforms, Serbia can once again become a regional champion of industry and agriculture as well as an outstanding destination for foreign investment."
"I look forward to working with my new Cabinet colleagues to realise our vision and make real strides towards a stronger economy and better opportunities for all."
Vucic already took some controversial steps to make this happen.
Last year, he was a key player in appointing Lazar Krstic, who is only 29 years' old, as Serbia's finance minister on his background as an analyst at one of the world's largest research groups.
The political gamble paid off as Krstic's 'four main priorities' to stabilise Serbia's economy and bring about financial growth has been gathered strong support from global leaders and the public.
The Reforms
Serbia is located at the crossroads of Central and South-Eastern Europe with a population of 7.12 million and became a stand-alone sovereign republic in the summer of 2006.
Serbia is the biggest and most diversified economy in the region with a GDP of €35.28bn.
Serbia has one of the most attractive tax systems in Europe, as workers only pay 10% tax on their salary while corporate profit tax stands at 15%, and value-added-tax at 20%.
However, around a quarter of the population remains unemployed and GDP growth has remained negative since the credit crisis.
Prior to 2008, Serbia recorded an average of 4% growth annually.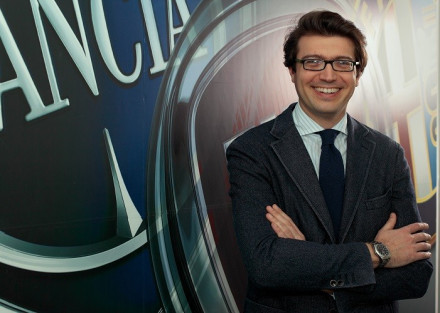 The current government is pushing for a shift away from predominantly state-owned enterprises to mass privatisation in a bid to bolster more foreign direct investment by fostering a better business environment.
Vucic's push to move the country away from socialism has led to around 60,000 public sector workers potentially losing their jobs over the next few months unless 179 state-owned companies manage to partner with foreign investors by June 2014.
While the government is confident that the groups will find these foreign investors, it has meant that Serbia is being serious about making changes and not just pledges, making it a lot more stable and attractive for overseas entities to invest in.
Cracking Down on Corruption
Meanwhile, as part of the Serbia's corruption legacy, Vucic and his right hand people have been making defiant strides against the country's tycoons that have clearly evaded taxes or operate in a 'grey economy'.
The 'grey economy' is often rife in emerging markets where smaller businesses continue to trade in legal goods but do not declare or pay taxes on their trade or who they employ. Services conducted in the grey economy are usually paid 'cash-in-hand'.
The Serbian government has highlighted how tax evasion in this area of the economy directly hurts the country's balance sheet and only exacerbates public debt.
In May 2013, Delta Holding owner Miroslav Miskovic, his son Marko Miskovic and Nibens Group owner Milo Djuraskovic were indicted by Serbia's Special Prosecutor's Office for Organised Crime over allegations of tax evasion and abuse of office in a case concerning road maintenance companies.
Prosecutors allege that Miroslav, Marko Miskovic, and Djuraskovic illegally obtained more that €30m.
This wasn't just a coup for the government's reform strategy but it was a clear message that Serbia was changing for good.