Over the course of seven episodes, viewers of HBO miniseries Big Little Lies have been enthralled by a captivating murder mystery, fierce female protagonists and the beautiful, ethereal scenery of the Californian town where the story is set. But, those with a particularly keen ear will recognise the brilliantly eclectic soundtrack as the real heart and soul of David E Kelley's hit drama.
Based on the bestselling book by Liane Moriarty, Big Little Lies sees Reese Witherspoon, Nicole Kidman – both of whom are producers – Shailene Woodley and Laura Dern playing mothers of young children attending an affluent school in the picturesque city of Monterey. A murder forms the thread of the seven-part series and, although appearing to have perfect lives, it becomes clear that Madeline (Witherspoon), Celeste (Kidman) and Jane (Woodley) are harbouring dark secrets beneath the surface.
WARNING: SPOILERS!
Without a doubt, the acting performances in Big Little Lies are exceptional – from Kidman's delicate portrayal of domestic violence to Witherspoon's sassy yet vulnerable alpha-female. However more often than not, Witherspoon's on-screen daughter Chloe, played by the talented Darby Camp, steals the show through her unexpectedly vintage taste in soulful music. Unlike other shows, the Big Little Lies soundtrack is cleverly integrated into scenes through playlists curated by the six-year-old.
Whether plugged into her iPod during car rides or playing her favourite songs through wireless speakers at her family's plush home, viewers hear exactly what Chloe is listening to at any given time.
It is thanks to Chloe that key moments are complimented by the bluesy sounds of Alabama Shakes' minimalist This Feeling and the haunting piano-led instrumental September Song, performed by Agnes Obel. Among the more commercial contributions are Frank Ocean, Sade and Elvis Presley, the latter of whom is crucially intertwined with the murder plot.
In each episode, Chloe's stunning soundtrack evokes immense emotions from the main cast, reflecting their storylines. Madeline even remarks that Leon Bridges' River is "a beautiful song" while battling her conscience after cheating on her loyal husband Ed Mackenzie (Adam Scott). Irma Thomas' Straight From The Heart is strictly associated with Kidman's character, used twice in scenes relating to her abusive husband (Alexander Skarsgard). On the rageful end of the spectrum, Jane sings along to the pain-induced "Bloody M***********g A*****e" by Martha Wainwright before having a meltdown.
Watch the Big Little Lies opening credits:
Each installment of the miniseries is sandwiched between epic anthems. Rather than an unknown instrumental, Michael Kiwanuka's 10-minute anthem, Cold Little Heart, is cut down extensively for the opening credits. It is certainly a fitting option as the lyrics could not ring more true to the central theme of false pretences: "I've been ashamed all my life/ I've been playing games, we can try and hide it/ It's all the same."
Giving weight to the importance of the soundtrack, the end credits are no rushed affair, with each episode's closing song played in full making for an anthemic finish – even if this means spanning over five minutes.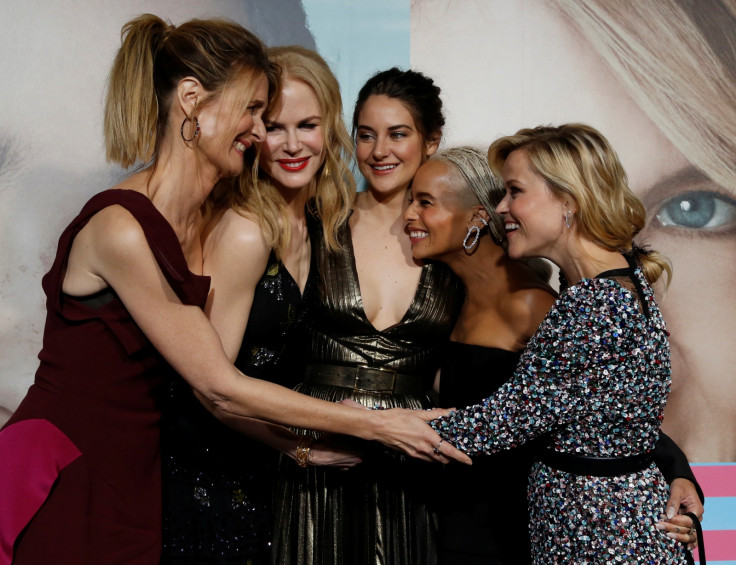 Sharing her thoughts on the soundtrack's rave reviews, music supervisor Sue Jacobs told Vulture: "It's all about tension, the whole push and pull of all of the music as a counterpoint... It's really using source as a score in a way that most people don't do, and I think that's why people are getting so excited by the music. We even got an offer for a soundtrack album, which you never get with a series. I'm the facilitator to somebody that is really masterful with how he uses the music, and that's why people I believe are curious about it."
Ultimately, no other show has accomplished quite what Big Little Lies has through its choice of music. Despite its enormous success and critical acclaim, there are currently no plans for a second season. For now, we shall continue to enjoy the magnificent soundtrack and pretend we live in Renata Klein's breathtaking glass mansion. Thanks, Chloe.
Big Little Lies' season finale airs in the UK on 24 April via Sky Atlantic at 9pm.
Big Little Lies soundtrack tracklist
1. Cold Little Heart – Michael Kiwanuka
2. Victim Of Love – Charles Bradley
3. Bloody Mother F*****g A*****e – Martha Wainwright
4. River – Leon Bridges
5. Queen Of Boredness – Kinny, Diesler
6. September Song – Agnes Obel
7. This Feeling – Alabama Shakes
8. Changes – Charles Bradley
9. Straight From The Heart – Irma Thomas
10. Nothing Arrived – Villagers
11. Don't – Zoe Kravitz
12. The Wonder Of You – Villagers
13. How's The World Treating You – Daniel Agee
14. You Can't Always Get What You Want – Ituana
Listen to the Big Little Lies soundtrack on Spotify: