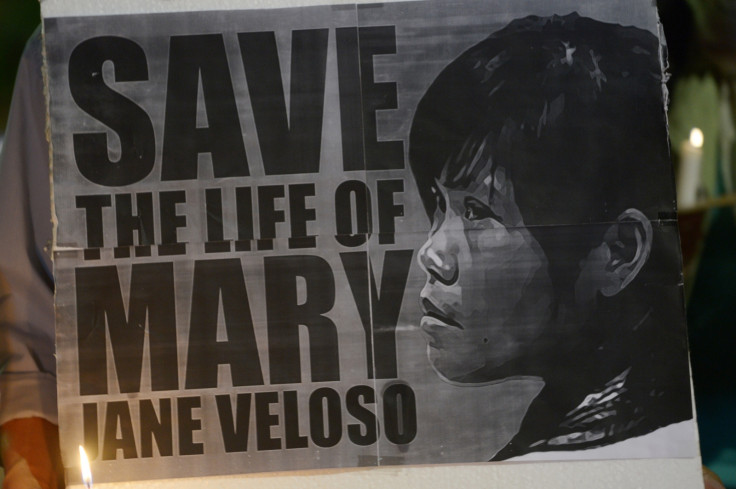 Mary Jane Veloso was walking towards the secluded execution ground on the Indonesian prison island of Nusa Kambangan when she was told she had been granted temporary reprieve. With her two sons asleep in a van near the island, Veloso had accepted she was going to be executed.
"Be proud of your mother because she died owning up to the sins of others," she told her son Mark, aged 12, days before.
Ignoring an international outcry and appeals for mercy, Indonesia executed eight men, convicted drug traffickers, shortly after midnight on Wednesday: four Nigerians, two Australians, an Indonesian and a Brazilian. Under the country's strict drug laws, the group faced capital punishment. So why was Veloso, the Filipino maid who allegedly smuggled 2.6kg of heroin into Indonesia, spared at the 11th hour?
Veloso was arrested at Yogyakarta airport, Indonesia, in April 2010, with heroin wrapped in aluminium foiled sewn into the sides of her suitcase. Painted in court as a knowing drugs courier, she was sentenced to death six months later but was spared due to Indonesia's four-year execution moratorium.
Veloso maintained her innocence throughout, as her case gained international attention over claims she unwittingly became a victim of illegal drug trafficking. Critics say poverty had made her susceptible to traffickers. Veloso was born to an impoverished family in the city of Cabanatuan, 120km north of the capital Manila, as the youngest of five. She married at 17 but the couple later separated and prior to her arrest, she worked into Dubai for six months but left after she assaulted.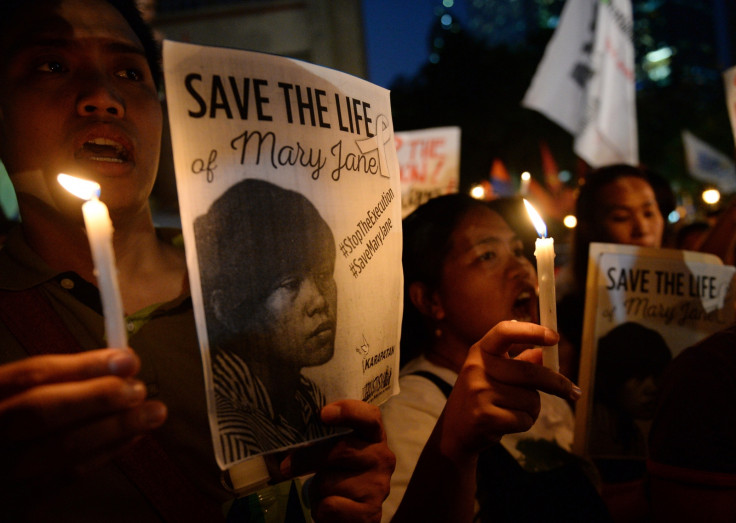 Trafficking claims
Despite interventions from the Philippines President Benigno Aquino, his Indonesian counterpart Joko Widodo confirmed the execution would go ahead – until the woman who allegedly recruited Veloso, Maria Kristina Sergio, came forward to the police.
On the day Veloso was due to be executed, Sergio went to a police precinct in Cabanatuan to seek protective custody. According to reports, she had received death threats and feared for her life. The National Bureau of Investigation had already filed illegal recruitment and human trafficking charges against Sergio and two others on connection with Veloso's case.
Sergio, 47, is the daughter of one of Veloso's godparents. According to accounts by Veloso's mother and sister, Sergio offered her a job as a maid in Malaysia in early 2010, offering her 20,000 Philippine pesos (£293), a motorcycle and a mobile phone. When she arrived in Malaysia, Sergio told Veloso the job had been taken but another position had opened up in Yogyakarta.
The pair stayed in a hotel in Kuala Lumpur for three days, before Sergio reportedly took Veloso to a shopping centre in the city of Petaling Jaya, where she was introduced to two men. They bought her clothes and a new bag, which according to reports, Veloso believed was heavy.
On 25 April 2010, Sergio and Veloso flew to Yogyakarta. When Veloso's bag set off an alarm and she was arrested, Sergio – who also goes by the name Mary Christine Gulles Pasadilla – had allegedly already slipped away. She has denied recruiting Veloso or sending her to Indonesia with the drug stash.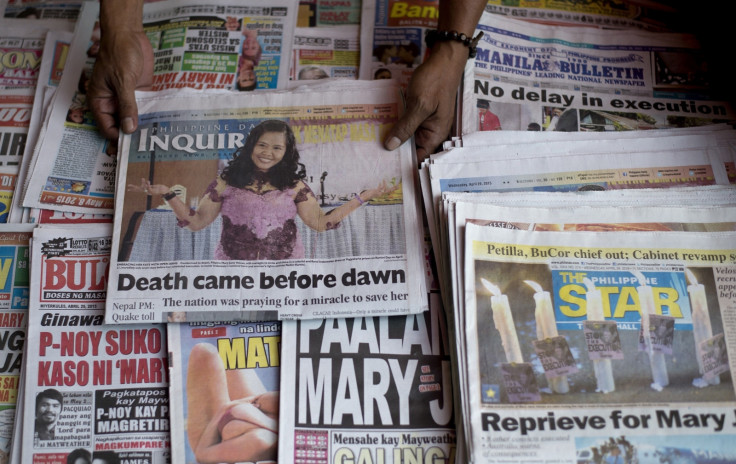 What next for Veloso?
Protesters keeping vigil outside the Indonesian embassy wept for joy, hugged and raised clenched fists in the air as news arrived that Veloso had been spared. Her family called it a "miracle" – and her sons aged six and 12, yelled: "Yes, yes! Mama will live!" The Philippine press, however, was caught out by the last-minute decision and printed front pages accusing the government of failing to protect Veloso.
Thousands worldwide celebrated her temporary reprieve, including Filipino boxer Manny Pacquiao, who has said he wants to visit Veloso after his anticipated fight against Floyd Mayweather Jr at the weekend.
Organised crime investigators have filed a human trafficking and fraud complaint against Sergio and the justice department is expected to decide shortly whether charges will be filed in court. The Veloso family's lawyers have been asking the Philippine government to investigate and arrest Sergio as early as 2010, for the information they say yielded findings crucial to their appeal.
Secretary of foreign affairs of the Philippines Albert del Rosario said the government would "pursue full investigation of those accountable for the victimisation of Mary Jane." According to reports, Veloso has now been transferred from the island of Nusa Kambangan back to her former prison in Yogyakarta and is due to meet with her family and lawyers today (29 April).
As the hashtag #MaryJaneLives began to trend on social media, President Aquino publicly thanked the Indonesian government for its temporary clemency. "We would like to acknowledge their sense of fairness in assessing new information we provided and their understanding that Mary Jane Veloso is a person who went to their country in search of a better life, better opportunity, but was taken advantage of by criminal syndicates," his spokesperson, Herminio Coloma, told the Straits Times.
But whether or not Veloso will be spared remains to be seen. Indonesian Attorney-General HM Prasetyo and President Widodo have both said her sentence is "postponed, not cancelled," saying that "even if she is discovered to be a victim of human trafficking, the fact is that she was caught bringing heroin to Indonesia."