The Democratic Republic of Congo (DRC) is at a perilous crossroads. Over the past few days, a war erupted on the streets as thousands of people turned out to demand that President Joseph Kabila respects the two-term limit set by the constitution and stands down from power when his mandate expires in December.
More than 40 people – including at least 37 demonstrators and six police officers – have been killed in the bloodshed involving machetes, gunshots, grenades and fire. Kabila no longer commands the respect of the majority of Congolese people. The public's insatiable appetite for stable institutions and a functioning justice system will not be satisfied until the president abides by the constitution which people have paid for with their blood, says Bandi Mbubi, the founder of Congo Calling.
The current president came to power in 2001 following the assassination of his father, Laurent Kabila. He went on to win disputed elections in 2006 and 2011. But as his second full term nears completion, most of the DRC's 80 million people are clamouring to experience their first peaceful transition of power – a basic and regular expectation in the West.
Following Kabila's previously contested electoral victories, people were largely able to tolerate his continued rule by keeping one eye on future presidential elections guaranteed by the constitution, which would put them on the road to peace, according to Mbubi.
After 2011, people said: "If five years is what it takes for us to then be clear that Kabila can go, then let's bite our tongue," says Mbubi. "People were prepared to forgo some of the injustices they've suffered in the hope that when it came to the crunch point there was going to be a peaceful transfer of power between the person who is now in power – President Kabila – and another person who was supposed to be elected. But because of the government's doing, we have missed that opportunity to have credible elections.
"People said: 'We can't take it anymore because if we go along with this, there's no hope for us and we'll continue to die,'" Mbubi continues. "It will give an excuse for rebel groups to form again and to say that they don't have the political platform that will allow them to put their grievances forward."
Previously in the DRC, a state of lawlessness allowed various individuals to commit atrocities on an industrial scale. Since 1998, violence and crisis has led to an estimated 5.4 million deaths without so much as a whimper from the international community.
As the stench of profit pervaded the atmosphere, international business giants pounced on the political turbulence, plundering a country often described as a geological miracle. In January, an Amnesty International report showed that children as young as seven are scavenging for rocks containing cobalt, a key component in lithium-ion rechargeable batteries used in mobile phones, tablets, computers, cars and a host of other devices.
For too long, women have borne the brunt of brutality in the DRC, where rape has frequently been used as a weapon of war. Gang rapes carried out by soldiers and militias became widespread during the second Congo war in 1998 and have carried on ever since. A 2011 study found that at the height of the conflict in 2006-2007, 48 women were raped per hour.
"It is with dismay that we are following what is going on in Kinshasa," says Dr Denis Mukwege, a world-renowned gynecological surgeon who is the founder and medical director of Panzi Hospital in Bukavu, eastern DRC. Dr Mukwege's clinic has treated over 48,000 survivors of sexual violence since 1999.
"We want to offer our most emotional condolences to all the families and to people who lost their lives while fighting for freedom, justice and their dignity. Civil society must stay united, strong and non-violent," he continues. "All methods of violence can only result in more violence. If civil society remains peaceful, victory is certain."
"Civil society must refrain from using the same methods as the oppressor to follow the path to peace that is so dear to us," urges Dr Mukwege. "Good luck."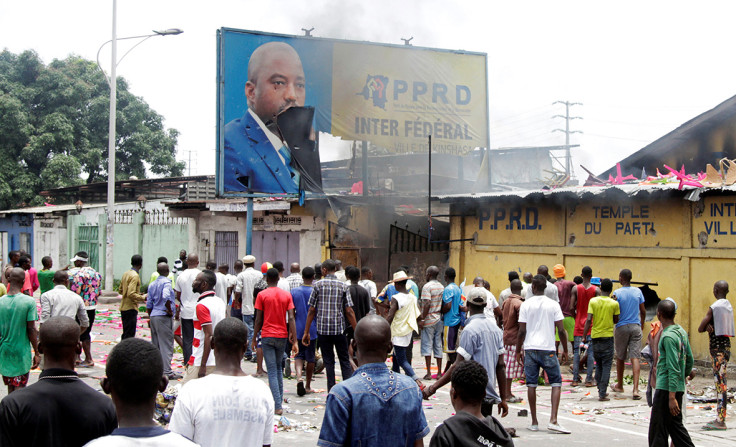 Multiple human rights groups have issued warnings over the consequences of Kabila staying in power beyond the constitutionally mandated limit of two terms. Earlier this month, Amnesty International exposed the patterns of human rights violations in order to keep Kabila in power beyond 2016.
"We are concerned by the use of institutions such as the National Intelligence Service, the justice system and security forces to crack down on those calling President Kabila to step down after his second term as required by the Congolese Constitution," Amnesty International said in a statement.
"As has already been demonstrated this week, the lack of uncertainty around the upcoming elections has resulted in death of tens of people and destruction of property around the country.
"Once again, security forces have failed to refrain from using excessive force against protesters despite prior reassurances by authorities that police unit commanders received instructions to behave in accordance with human rights standards."
If the DRC returns to its bloody past, the consequences "will be far worse simply because Kabila has lost all legitimacy to rule the country", warns Mbubi.
Speaking of illegitimate actions, opponents have alleged that Kabila has deployed military personnel disguised as law enforcement officials on the streets without declaring a state of emergency. If the claims are true, what chance do civilians stand against a force set out to crush them?
As protests got underway in Kinshasa earlier this week, the leader of opposition Engagement for Citizenship and Development (ECIDE) party, Martin Fayulu was shot in the face with a rubber bullet and also punched. Fayulu suffered severe swelling to his face and is currently in hospital. He has been able to regain some vision in his right eye since the incident.
Speaking exclusively to IBTimes UK over the telephone, Fayulu called on the president to relinquish power as per the law. "If Kabila doesn't step down on 19 December it will be a disaster because he will provoke another crisis – the crisis we want to avoid," he says.
"[The crisis] will be worse because nobody on 20 December will accept in this country that Kabila will lead. People in Congo are saying: 'We will not give Kabila a second [extra] to stay in power.'"
When Barack Obama first visited Sub-Saharan Africa as US president, he declared: "Africa doesn't need strongmen, it needs strong institutions" to cries of approval from the audience. The truth is, he's absolutely right. People in the DRC need not die as they have in Uganda, Burundi and neighbouring Republic of the Congo so that one man can continue to rule at the expense of millions.
Joseph Kabila, over to you.