The peaceful transfer of power in The Gambia has seen the country hailed as a beacon of African democracy with many urging other leaders across the continent– including those in the Democratic Republic of Congo, Rwanda, Burundi and Zimbabwe – to follow the "Gambian example" rather than clinging on to power after their constitutional term limits expire.
But analysts have pointed out that the success of the military intervention and the diplomatic talks in Gambia was due to factors to the tiny country, including the fact that the leader who eventually renounced power – Yahya Jammeh – had no political allies.
In the past few weeks, the streets of Gambia have filled with thousands of jubilant people twice: firstly when opposition leader Adama Barrow won historic presidential election held on 1 December, and secondly when Barrow was able to return home from Senegal, following the peaceful end of a political crisis.
The political standoff was sparked when Jammeh, who initially conceded defeat after ruling Gambia for more than two decades, refused to relinquish power. A foreign military intervention to remove him prompted Barrow, along with thousands of fleeing Gambians, to relocate to Senegal amid fears of an imminent war.
However, in spite of all the signs that a conflict was about to break out, week-long diplomatic talks and the deployment of Ecowas (Economic Community Of West African States ) troops resulted in Jammeh agreeing to step down and go into exile to Equatorial Guinea.
Barrow returned home along with thousands of refugees encouraged by the new leader's promise he would build a new state based on democratic principles.
Incredulity and irrepressible excitement swept across Gambia once again: It was the first time in the country's post-colonial history that an autocrat had been defeated through a democratic process.
But what does that mean for the rest of Africa?
Alex Vines, Africa expert at Chatham House, told IBTimes UK: "Jammeh had more or less upset all of the leaders [in West Africa]. He was very isolated, also internationally, and no-one had any real strategic interest in Gambia.
"So it was easier to reach a common platform pushing for him to accept election results when he changed his mind about them, than it would be in some other countries in Africa where there might be either some neighbours that would provide solidarity, or where international players might have an interest in a different outcome.
"Jammeh changed his mind, and that inconsistency also fed into a strong common platform for him to accept the election results."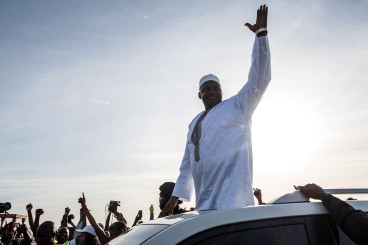 Vines pointed out that Gambia could be the latest example of a growing pattern in West Africa – with the exception of Togo – where presidents are eventually standing down after two terms in power.
"And that's very different from what is happening in central Africa, where you have changes of constitutions, and heads of states who have been in power, such as in the case of Equatorial Guinea, since 1979. And you have countries in the Horn of Africa, like Eritrea, which has never had an election. The better way is to unpack Africa and look at regional trends. "
Marloes Janson, a reader in West African anthropology at SOAS university, also believes that fears of a potential civil war played also a factor in the prompt intervention by Ecowas troops. The intervention of Senegalese troops also meant tribal violence was less likely because of mutual ties between the Jola across the two countries' borders.
"Under Jammeh, the relationships between Mandinka – the ethnic majority in The Gambia – and Jola – the ethnic minority – have deteriorated," Janson said. "Jammeh is a Jola. The Jola in the Cassamance region in Senegal have been involved in a struggle for independence since the 1980s."
In June 2016, Jammeh stirred outrage after claiming Mandinka people, estimated to make up 42% of the Gambia's population (714,000 out of 1.8m), were "enemies and foreigners." He was accused by rights groups and the UN of inciting tensions for claiming, among other things, that he would relocate "the Mandinkas where even a fly can't see them".
Janson said the situation could have "exploded" had the tribal circumstances been different. She explained the far more volatile outcome could have been possible if Jammeh had secured the loyalty of the Jola in the Cassamance.
"Some higher ranks in the Gambian army are Jola. That explains why Senegal played an important role in the intervention. Finally, there was the danger of a humanitarian crisis, with tens of thousands of Gambians fleeing to Senegal, and an economic crisis as tourism is Gambia's main source of income and tourists were evacuated because of the crisis," she concluded.
The recent political crisis was resolved peacefully in the case of Gambia. However, this does not mean that other countries across the continent will follow through.