Nokia jumped off a burning platform three years ago and into the welcoming arms of Microsoft and Windows Phone. Now, just as the software giant is about to finalise a £4.6 billion deal to acquire the Finnish smartphone maker, Nokia has thrown a spanner in the works by launching three phones which run Android and not Windows Phone.
On the surface of it, this would seem like a parting blow by a dying company whose name could soon be little more than a footnote in the history of the mobile phone.
The Nokia X, X+ and XL may seem like three budget Android smartphones but they are much more than that and could show how Google is about to lose its grip on the software it created.
Android - but not as you know it
Nokia's new phones do run Android, but this is a version of Android stripped of any of the most recognisable pieces of the operating system which you would recognise from phones like Samsung's Galaxy range.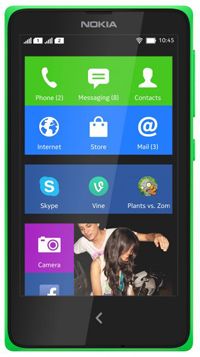 Nokia's X phones won't have access to Gmail, Google Maps, Google Search or most crucially the Google Play store, as these services (collectively known as Google Mobile Services) require a licence from Google itself.
Instead Nokia has taken the Android source code and "forked it" just as Amazon has done with its range of Kindle Fire tablets. It allows Nokia to replace the core Google apps with services from its so-to-be owner Microsoft.
This means apps like Outlook, Bing and Skype will be front-and-centre on Nokia X phones.
Outgoing Nokia CEO Stephen Elop made it clear that apps running on the Nokia X would "talk to Microsoft's cloud and not Google's."
Point the way
While Nokia's X phone may not represent a huge challenge to Samsung and other Android manufacturers, it could point the way for Microsoft once it takes control of the Nokia brand.
While it is likely to continue to build Lumia devices which run Windows Phone, this forked version of Android will provide a "feeder system for Lumia" according to Elop, and give Microsoft a quick win at the budget end of the market.
According to figures from ABI Research almost one third of all the Android smartphones shipped in the final three months of 2013 were categorised as Android Open Source Project (AOSP), meaning they didn't come with any Google services - just as the Nokia X phones would be categorised.
The vast majority of these phones are sold in China, with smartphone manufacturers - like Xiaomi - forking the Android source code, adding their own services on top.
Android schism
The Android eco-system is becoming split in two, and if Microsoft puts its weight behind the AOSP movement, it could see Google's grip on Android weakening significantly.
The advantages for Microsoft are obvious. It allows them to easily create an operating system which at once gives users access to the kind of app eco-system simply not available on Windows Phone, while continuing to support its own search, mail and cloud services.
For Google, it means that the identity of Android will become even more fragmented than it already is. While it seems to have tied the biggest Android manufacturer - Samsung - into a decade-long deal which should ensure the South Korean firm continues to use Google's services, the rest of the smartphone market is not so definitive.
It is unclear at the moment what direction Microsoft will take when it takes control of Nokia's smart devices business in the coming months. While developing two operating systems at once seems to be a strange move, the almost instant access to hundreds of thousands of apps, along with a potentially large customer base using Microsoft's services could be very attractive.