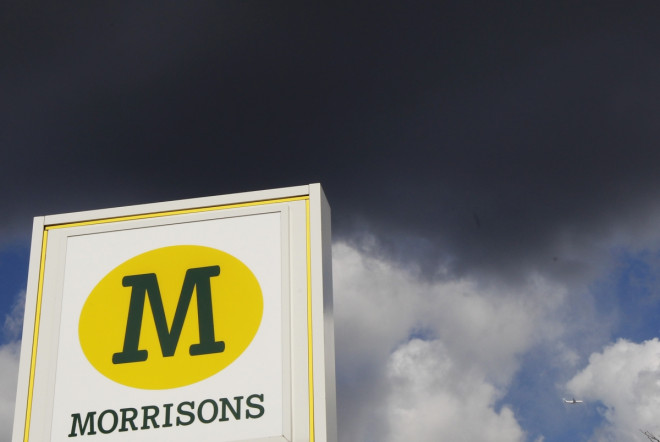 Morrisons has done phenomenally well when you consider it started out as a stall selling dairy products in Victorian-era Bradford. It now has 500 stores across the UK, employs 129,000 people and made £879m profit before tax in its 2012 financial year – but has it peaked?
Profit is set to fall in its impending results and it has been sluggish in its reaction to high growth markets in the grocery sector.
Ahead of the firm's 2013 financial results, IBTimes UK looks at some of Morrisons' problems.
A late entry to the online grocery market.
While its rivals mined the web for grocery sales, Morrisons carried on pretty much as though the internet didn't exist.
As others refined their online shopping platforms and developed an online presence, Morrisons clung to bricks and mortar.
That was until it signed a £200m deal with web grocer Ocado in May 2013.
Ocado now provides the technology and some logistical support for Morrisons so it can operate online.
This was an ideal shortcut Morrisons to the fast-growing online market. It did not have to deal with the jumbled complexities of legacy IT systems, instead licencing what it needed from a digital specialist that has honed its online sales platform.
But is it too late? It may have cut out the middle man, but it still has a steep hill to climb to be recognised as a competitor in the online grocery market.
While brand loyalty is eroding and people tend not to stick so dogmatically to one supermarket as they did before, consumers are well used to shopping at Morrisons' rivals on the web.
It will be hard to establish itself as a significant presence online so late into the game.
Morrisons needs a significant digital marketing push to establish itself in consumers' minds as a genuine internet grocery competitor.
Another late entry to the convenience market.
Perhaps Morrisons has been eating one too many of its own chicken balti pies, because it is also struggling to keep up in the ever-expanding convenience market.
Whereas Sainsburys, Tesco, Asda and the others have kept pace by establishing smaller outlets to serve the convenience market for years, Morrisons did not open its first M local store until 2011.
By the time its 2013 annual report was published, it had just 12 of these stores – though it expects to have 100 open by the end of 2013/14 and 200 by the year after.
Convenience stores are all about location. Morrisons is pinning its hopes for success on where it puts M local shops, but many of the hot spots will have already been snapped up by its sprightlier competitors.
Tired stores.
As anyone who has been to Morrisons can vouch, it's like stepping back in time.
To take my local store in Stamford Hill as an example, the aisles are cramped, the drab beige/brown colour scheme is uninviting, and the self-service tills look like they were made – badly – in the early 1990s.
Others in the market have be renovating and refurbishing their big stores. Tesco spent £1bn doing up its big shops and revitalising the brand (to questionable success) after it was hit by the horsemeat scandal and falling sales.
Many have moved to a spacious warehouse format with much larger aisles to make the shopping experience less infuriating for consumers.
Updating and expanding stores should be one of Morrisons' priorities,
A tumbling share price and disappointing results.
Since the Ocado deal was announced in May 2013, Morrisons shares have fallen 16%. Investors are concerned that this belated entry to the online and convenience markets isn't enough to solve deeper problems at Morrisons.
There are reports that the supermarket plans to offload 10% of its freehold property and reduce capital investment to pass on cash to investors. A Barclays research note thinks £1bn can be achieved by flogging freeholds.
Morrisons is expected to post falling full-year profits in its 2013 annual results due out on 13 March. The prospect of a generous share buyback or dividend would help support Morrisons' share price if its results are as disappointing as expected.
The firm had already disappointed over the key Christmas period.
It said like-for-like sales fell 5.6% in the six weeks to 5 January, excluding fuel. This drop sharpens to 7.1% including fuel sales.
Bosses blamed tough times for UK consumers, whose incomes have been in real terms decline as prices rise faster than wages, and its failure to keep up with the growing importance in the grocery market of online and convenience.
Morrisons also ploughed money into discounts via couponing, but to no significant benefit.
There may be a small light at the end of this dark tunnel, however. The squeeze on UK consumers is easing as inflation falls and wages pick up. Household finances are due to improve across 2014 and into 2015, meaning Morrisons may benefit from the likely higher consumer spending.
At the time of the Christmas results, a retail analyst at Conlumino sounded a warning alarm for Morrisons.
"Although its relative absence in the two growth channels [online and convenience] won't have helped, it is wrong to look at growing its offer in these two routes to market as a magic bullet," said Matt Piner, research director at Conlumino.
"Aldi has proved it is possible to succeed without, and Morrison's problems increasingly appear to run deeper. Consumers now appear unsure what Morrison's stands for, and what the relative advantages of shopping there are.
"In a highly competitive market, where the likes of Aldi, Waitrose and Sainsbury are brutally clear about the benefits of shopping there, that is a dangerous position for Morrison's to be."
Morrisons would probably defend itself by pointing to its focus on "fresh" produce under its Market Street advertising campaign.
This tries – via the medium of Ant & Dec – to paint the supermarket chain as some kind of festival of nostalgia for the days when people bought apples off the back of horsecarts and fish straight off the boat.
But with profit falling and like-for-like sales down heavily over Christmas, it suggests the Market Street campaign has been less than fresh and is probably past its sell-by date.