Two years ago, Google put on one of the most impressive live demonstrations of new technology we've ever seen.
It saw one of Sergey Brin's friends jump from a plane during the keynote of Google I/O 2012 and livestream his view to the watching millions from what was then called Project Glass.
Once the skydiver landed on the roof of the Moscone Center, the feed switched to bikers also wearing Glass, who launched off the side of the building using ramps, followed by yet another Glass wearer who abseiled down the side of the building.
The demonstration may have been flashy and completely disassociated with real life, but it grabbed the public's attention and put Google Glass firmly on the map.
Fast forward two years and at the 2014 Google I/O keynote - which lasted almost three hours - not only was there no specific update to Google Glass, it was not even mentioned nor did any of the dozen or so presenters on stage wear the headset.
Android, Android and Android
Google says that there is nothing to be read into this, that Google I/O was all about Android and that is what the search giant was focusing on.
That is all well and good, but unless I'm very much mistaken, Google Glass also runs Android just like the smartphones, tablets and smartwatches which were highlighted throughout the keynote last night.
Look at pictures of the developers in attendance (below) at the keynote last night and the one thing you will notice is that many of them are wearing Google Glass, and likely developing apps for it.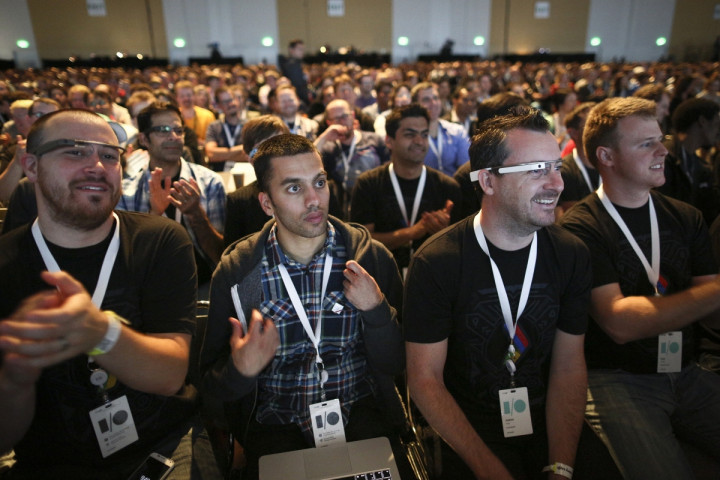 Google made a large play about its new design language - Material Design - which will see a unified look for apps across mobile, web, desktop and wearables.
Android Wear and the smartwatches running it from LG, Motorola and Samsung were all front-and-centre during the keynote with all presenters wearing one of them at all times.
So why wasn't anyone wearing Google Glass at the same time?
The headset has come a long way in the two years since the skydiving demonstration. In April last year Google launched the Explorer edition, a beta version of Glass for the public which costs $1,500 and which was designed for early adopters and developers looking for create apps for it.
The Explorer edition was available in limited supply until last month when Google put it on sale generally in the US, and just this week it made it available for the first time outside its home country when it launched Glass in the UK costing £1,000.
However despite all the progress there has also been a lot of negative press for the controversial headset mostly based around privacy issues with many people worried about the camera on Glass secretly recording them.
Yet, despite all this negative press, despite Google wanting to focus on Android and not hardware, it remains a mystery as to why no one from Google was wearing the headset during any part of the keynote.
Concerns
Surely it would have just served as a vote of confidence from within the company itself for the product dreamt up in the company's Google X division.
Earlier this year confirmed Glasshole Robert Scoble raised similar concerns when he was watching Google CEO giving a talk on television:
"Larry Page is on stage at TED right now. I'm at home watching. He is not wearing Google Glass. This fits the new narrative that's going on in my head: that Google doesn't know how to stick with a product."
Many hoped Google I/O would finally bring a release date for the consumer version of Glass, but it looks like Google is ready to play the long game with Glass, not feeling it needs to constantly push the headset,