UK bookmaker William Hill is discussing a merger with Canadian betting company Amaya, owner of PokerStars, the world's largest online poker website. This could potentially create a new global betting powerhouse worth £4.6bn ($5.6bn, €5.1bn) at current share prices (Chart 1).
Just two months ago, William Hill rejected a £3bn joint takeover offer from two smaller UK betting rivals, 888 Holdings and Rank.
The tie-up between William Hill and Amaya, with William Hill to absorb Amaya and list new shares in London, would consolidate William Hill's current position as the second-largest listed betting company in the UK after the recently-merged Paddypower Betfair.
This deal is very much a defensive deal, coming after both William Hill and Amaya have suffered difficulties, resulting in lower profits in recent years (Chart 2).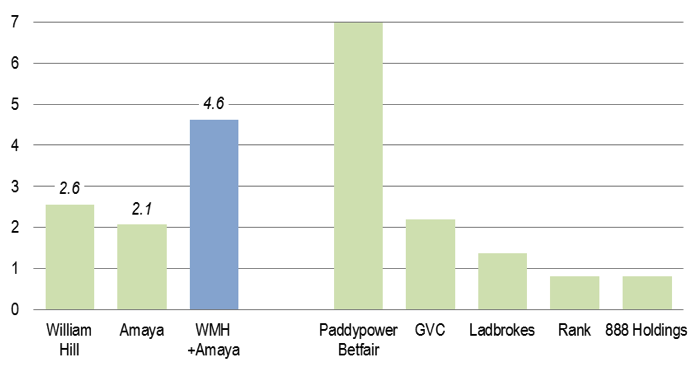 This merger would certainly boost William Hill's exposure to global online gambling markets, and diversify away from their traditional bookmaking business, which is suffering a slow and steady decline.
Amaya has also seen a decline in its fortunes since the heady days of 2014, when it acquired the two online poker sites PokerStars.com and FullTiltPoker.com for a combined $4.9 billion. Today, at its current share price of CAD 23.21 (Chart 3) the company is worth just $2.56 billion.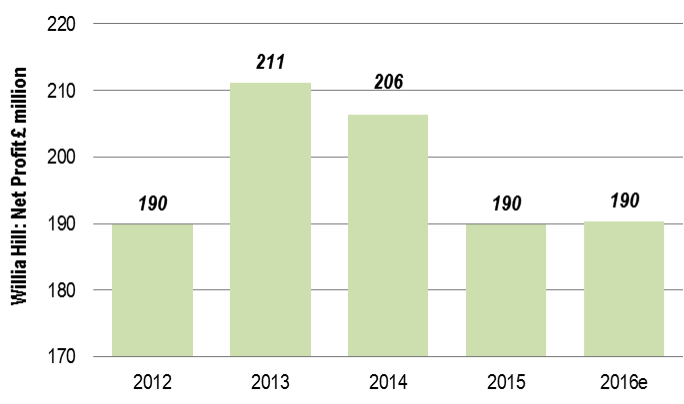 Risks and rewards of William Hill today
Personally, I am always cautious over these types of mergers: two weak companies combined rarely create one strong company.
This merger would address some of the problems William Hill has in its declining bookmaking business by adding potential growth from online gambling, but is not a straightforward cure.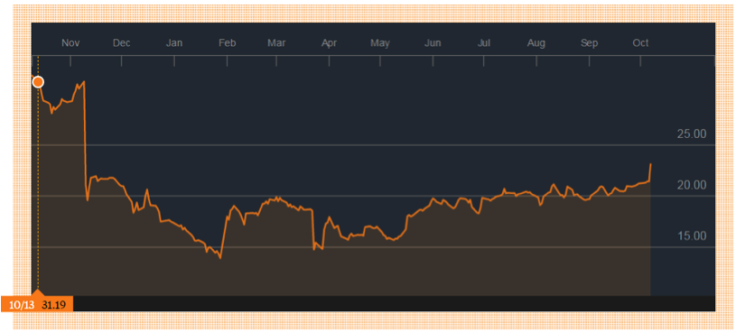 Bear in mind that these two companies may not get hitched after all, so William Hill also has the risk of being left at the wedding altar a second time by potential suitors.
On the positive side, this announcement of merger discussions between Amaya and William Hill may flush out a competing bid from one of the UK online gambling players such as GVC Holdings, which has performed very well this year (Chart 4) in sharp contrast to William Hill.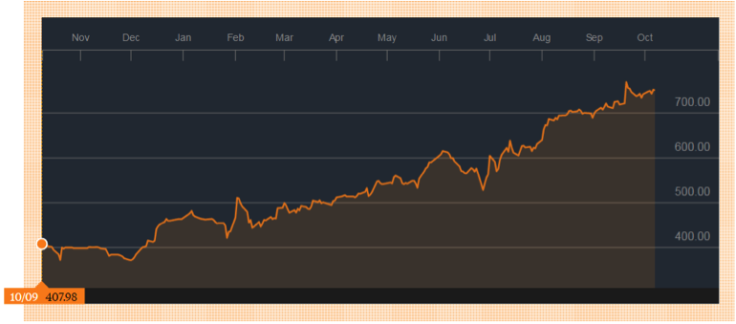 Online gambling is certainly a growth market
GVC has been particularly successful as it has managed to surf the wave of online gambling popularity worldwide: the global online gambling market is estimated by Statista to be worth over $50 billion per year by 2017, growing at an estimated 8% per year (Chart 5).
So the desire of William Hill to get bigger in this market makes a lot of sense. Whether Amaya is the best partner for such an expansion is another question.
William Hill a good investment, or not?
William Hill (WMH) is a relatively cheap share when judged on valuation measures such as price/earnings (12x), and offers further potential upside in the near-term should another betting company such as GVC bid for it in the wake of these merger talks.
In the meantime, investors have the comfort of receiving an annual dividend yield of 4.4%, which is a relatively generous income stream. On balance then, a risky investment but one that will tempt value hunters.