Sir Bradley Wiggins branded disgraced Lance Armstrong a "lying bastard" for cheating him out of a Tour de France podium finish four years ago.
Britain's Olympic hero and 2012 Tour winner was kept off the podium in the 2009 event, which Armstrong won. Armstrong was last year stripped of his seven Tour titles for using performance enhancing drugs, which he finally admitted to during a TV confessional after years of denial.
Armstrong claimed that he was clean after 2005, but Wiggins, who was knighted in the New Year Honours List for his 2012 successes, said he struggles to take his former rival seriously.
Wiggins also spoke of his delight at knowing he will not face looking his child in the eyes and confessing to being a cheat.
"What upset me the most was [Armstrong talking] about 2009-10 - I thought you lying b*****d," said Wiggins, who recalled being puzzled by differences in Armstrong's performance during the race.
"I can still remember going toe to toe with him and watching the man I saw on the top of Verbier in 2009 to the man I saw on the top of Ventoux a week later when we were in doping control together - it wasn't the same bike rider," said Wiggins.
"You only have to watch the videos of how the guy was riding. I don't believe anything that comes out of his mouth any more."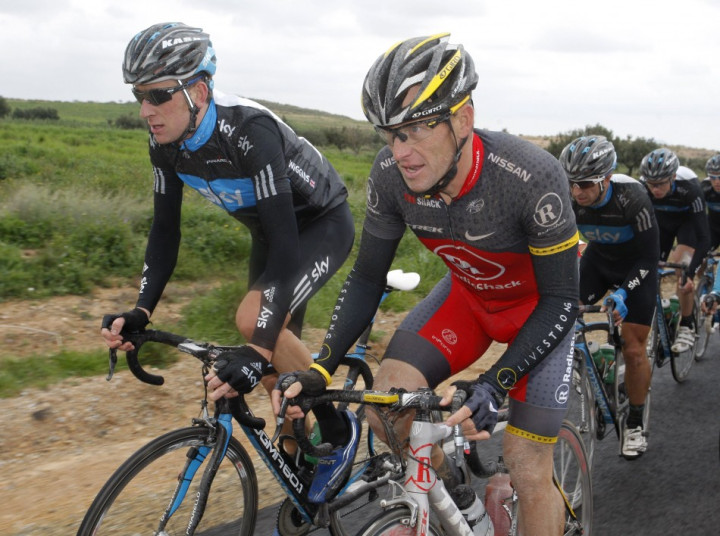 Wiggins admitted it was difficult to watch Armstrong bury his own reputation for good by confessing to Oprah Winfrey in a TV confessional.
"Part of me didn't want to watch [the interview], the fan in me didn't want that perception of him to be broken as this amazing athlete. Then I had to watch it - I watched it with my son - so those initial questions, the yes/no answers, just watching him suddenly cave in after all those years of lying so convincingly.... it was a lot of anger, a lot of sadness and slightly emotional.
"It was difficult to watch - my wife couldn't watch it, she walked out of the room. It was heartbreaking in some respects for the sport, but then the anger kicks in and you start thinking what a f***ing a***hole.
"It's very difficult - then I have to explain to my son what it's all about. He's won the same race your dad's won? But by the end I had the best feeling in the world when [Armstrong] starts welling up about his 13-year-old son having to ask what's this all about.
"I never have to have that conversation with my own son - his father has won the Tour clean. There was this element of being quite smug about the whole thing to be honest. Then I got quite 'you deserve everything you get' about it, and feeling no sympathy whatsoever."