Whistleblowing website WikiLeaks has released an archive of 21,075 "verified" emails linked to the election campaign of French president Emmanuel Macron, previously leaked by unknown hackers on 5 May earlier this year, 48 hours before citizens went to the polls.
The emails range from 20 March 2009 to 24 April 2017, WikiLeaks said in a statement sent via email on Monday 31 July. The controversial anti-secrecy website said that a full archive of "71,848 emails with 26,506 attachments from 4,493 unique senders" had been provided for context.

They are now published online in a searchable format.
On Friday 5 May, two days before Macron's landslide victory in the election, hackers leaked roughly 9GB of material allegedly stolen from campaign staffers.
Under the name "EmLeaks", the trove first appeared on PasteBin and caused an immediate stir online.
It was immediately branded a "massive and co-ordinated" attack from Macron's team, with the politician's representatives quick to say the files were likely fake.
A statement read: "Intervening in the last hour of the official campaign, this operation is obviously a democratic destabilisation, as has already been seen in the United States during the last presidential campaign."
Yet again, speculation immediately spiked about the potential influence of Russia.
In March 2017, Japanese cybersecurity firm Trend Micro claimed that Macron's campaign had been targeted by a Russia-linked hacking unit called APT28, also known as Fancy Bear. It said the aim was to break into email accounts using sophisticated – and persistent – phishing tactics.
The same group was linked to the hack at the US Democratic National Committee (DNC) and the leaking of documents from the fake Twitter persona, Guccifer 2.0, throughout 2016.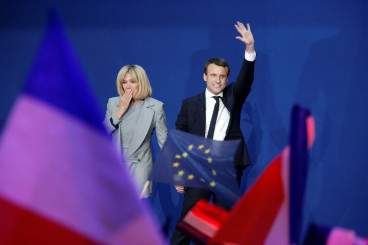 Vitali Kremez, a cybersecurity expert, told Reuters in May: "If indeed driven by Moscow, this leak appears to be a significant escalation [...] expanding the approach and scope of effort from simple espionage efforts towards more direct attempts to sway the outcome."
The website's founder, Julian Assange, has long-denied receiving leaks of sensitive material via the Kremlin or any "state actors".
Last year, Assange published thousands of emails from Hillary Clinton and John Podesta.
WikiLeaks said it had managed to verify 21,075 emails but said that "based on statistical sampling the overwheling (sic) majority of the rest of the emails" were authentic. On 1 June, the French government said that, upon analysis, it had found no links to Russian hackers.
"[The hack] was so generic and simple that it could have been practically anyone," said cybersecurity chief Guillaume Poupard, while speaking to the Associated Press (AP).
Declassified US intelligence – the assessment of the NSA, FBI and CIA – warned in January 2017 that Moscow-linked hackers would continue to conduct "influence efforts worldwide" in the future following a slew of successful cyberattacks across the US, France and Germany.