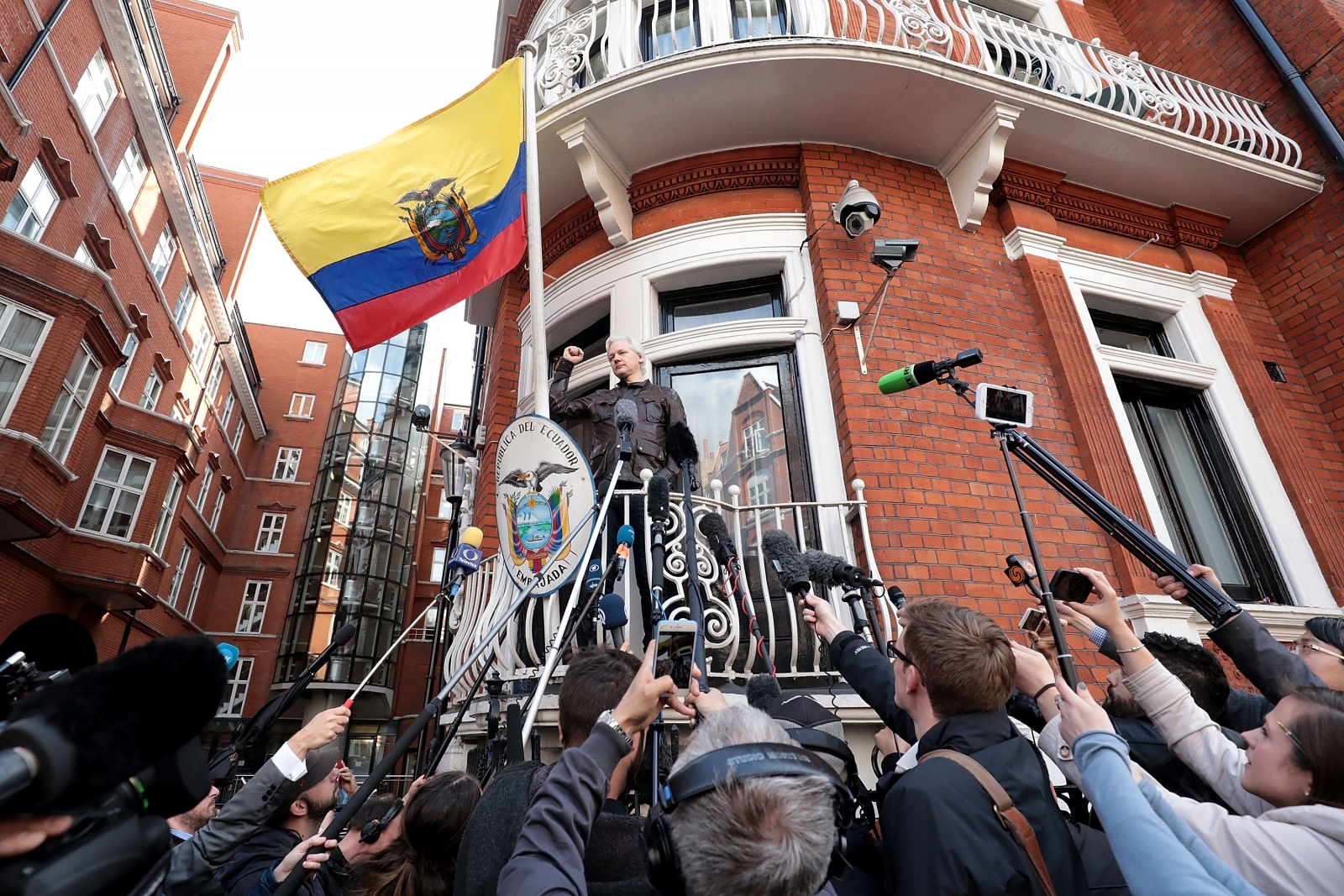 Julian Assange, the founder of whistleblowing website WikiLeaks, could potentially walk free from the Ecuadorian embassy today (26 January) following a fresh court appeal.
Reuters reported on Friday that Assange's legal representatives were taking the case to Westminster Magistrates' Court to request that an outstanding arrest warrant, linked to Assange allegedly breaching bail conditions back in 2012, be immediately dropped.
During the hearing, the prosecution said Assange's argument was "strange and untenable". A decision in the case is expected to be made in early February.
The WikiLeaks chief, 46, who is reportedly in ill health following to a nearly 6-year long stint in the Knightsbridge embassy, was previously granted political asylum.
He fears the US seeks his extradition and arrest for leaking secrets. In May last year, Swedish prosecutors announced they were dropping an investigation into allegations of rape, a claim that Assange denies.
A spokesperson for the Crown Prosecution Service told Reuters Friday: "He is seeking to have the warrant of arrest discontinued because the Swedes have confirmed that the extradition warrant is no longer live.
"He is seeking that therefore the warrant of arrest should be taken out as well." Asked if Assange could walk, the spokesperson said "hypothetically yes, that would be our interpretation."
On Friday, Assange, recently granted Ecuadorian citizenship, tweeted: "Asylum is a parallel legal process. Everyone has the right to apply for asylum if they have reasonable fears of persecution. If you win your asylum case, let alone UN rulings, reasonableness is confirmed."
British police have said the WikiLeaks chief would be arrested should he step outside the embassy, despite a UN ruling in February 2016 that found he was being "arbitrarily detained".
The UK government was unsympathetic to the decision, rubbishing the UN panel's findings.
Most recently, it refused a request from Ecuador to grant Assange diplomatic status that could have allowed him to exit the confines of the embassy. "Ecuador knows that the way to resolve this issue is for Julian Assange to leave the embassy to face justice" the Foreign Office said.
WikiLeaks became embroiled in scandal in 2016 by leaking documents pilfered from the US Democratic Party. It later published files taken from the CIA, exposing covert hacking tactics.