WikiLeaks founder Julian Assange teases he may run for UK parliament in June election
'[I'm] seriously considering how much fun it might be,' Assange said.
WikiLeaks founder Julian Assange tweeted that he may run for the UK parliament in the upcoming snap general election in June. In a tweet on Wednesday (19 April), the 45-year-old asked his followers on Twitter whether or not he should run for election.
"Should I run in the UK general election? The government has detained me without charge for seven years," Assange tweeted alongside a poll with 48% voters saying: "Yes. Do it! That's be fun." Another 31% voted, "Yes. Mock them globally", while 16% voted, "No. Way bigger fish".
"Since I am not sentenced (or even charged) with a crime and am an Australian citizen I can run for UK parliament. Haha," Assange wrote in a separate tweet. He also included a link to the Representation of People's Act 1983 that states a convicted person cannot vote at any parliamentary or local election whilst in prison.
When asked by Fairfax if he was serious about the idea, Assange confirmed that he was.
"[I'm] seriously considering how much fun it might be to slap the powder off their stuck-up, class-bound noses," Assange said, The Sydney Morning Herald reports.
Assange has been residing at the Ecuadorian Embassy in London since June 2012 to avoid extradition to the US where he could face espionage charges over the publication of thousands of classified documents given to WikiLeaks by Chelsea Manning. He currently faces charges in Sweden over sexual assault allegations.
Last year, he was interviewed by Swedish prosecutors inside the Ecuadorian embassy. Assange, who has long contended that the Swedish investigation was a pretext for the US to extradite him, told Fairfax that he did not seek asylum at the embassy to avoid being extradited to Sweden.
"I did not seek to avoid extradition [to] Sweden, I sought to avoid extradition from UK or Sweden," he said.
Assange, who has denied the rape charges, is also wanted in Britain for violating the terms of his house arrest and will be arrested if he tries to leave the embassy.
Although British MPs are not required to attend parliament in person, Assange would not be able to cast vote in person at Westminster as he could be arrested if he stepped out of the Ecuadorean embassy.
To run for parliament in the UK, one must be 18 years and above and has to be a British citizen or citizen of a Commonwealth country or the Republic of Ireland. As a citizen of Australia, Assange is eligible.
While a candidate does need authorisation to stand for a specific party, they can describe themselves as independents and contest the elections. He would also have to pay a £500 ($850) deposit when submitting the nomination papers which is refundable if he wins 5% of the vote and must be nominated by ten people in his electorate.
According to UK's 1981 Representation of the People Act, a person found guilty of one or more offences, whether within the UK or elsewhere, and "sentenced or ordered to be imprisoned or detained indefinitely or for more than one year" is disqualified for membership of the House of Commons. A person "unlawfully at large" when he would otherwise be detained would be disqualified as well.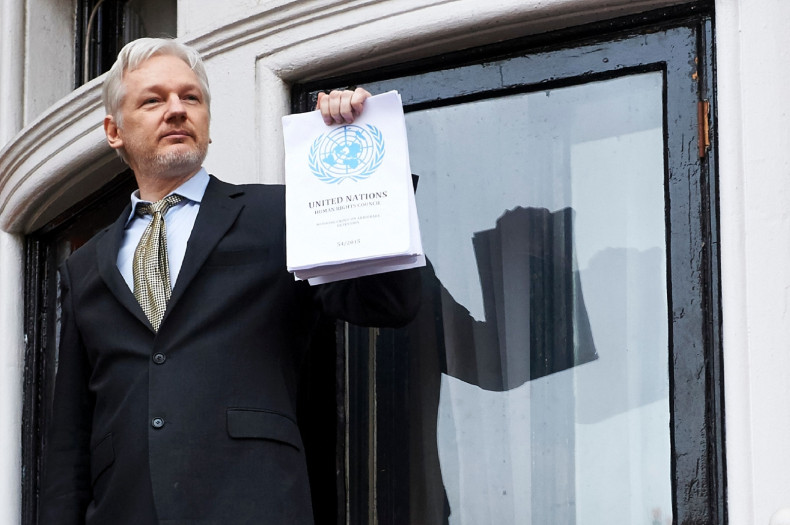 In February 2016, the UN Working Group on Arbitrary Detention concluded that Assange's time holed up in the Ecuadorian embassy amounted to "arbitrary detention" by the UK and Sweden. In November, a UN panel rejected Britain's request to review the ruling, renewing Assange's request to be set free.
Back in 2013, Assange did run for election to the Australian Senate as a candidate for the WikiLeaks Party but lost, picking up just 0.62% of the national vote and 1.18% of the primary vote in Victoria where he was the lead candidate.