Disgraced US Army soldier Chelsea Manning, who is serving jail sentence over espionage charges, could be placed in solitary confinement following her attempt to commit suicide in prison. The transgender soldier was reportedly notified by the Army on Thursday (28 July) that her conduct was under investigation.
Manning, who was born male – but identifies herself as female – was sentenced to 35 years in prison in 2013 for leaking secret files to WikiLeaks. On 5 July, she reportedly attempted to kill herself and was subsequently rushed to a hospital.
The Army notice of investigation sent to Manning listed three administrative offences that led to the investigations including, "resisting the force cell move team, prohibited property, and conduct which threatens", according to American Civil Liberties Union (ACLU).
The former intelligence analyst dictated the notice to one of her supporters and a transcript was later posted online by the union. Although the notice did not explicitly mention her suicide attempt, she was told that the investigation was triggered by her 5 July action that led to her hospitalisation.
If convicted of attempting suicide in prison, Manning could be awarded indefinite solitary confinement, in addition to other punishments – including reclassification into maximum security and an additional nine years in medium security, ACLU said. Manning has not yet responded to the charges, the union's staff lawyer Chase Strangio said.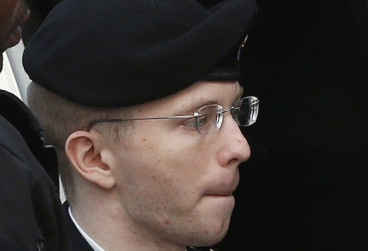 Earlier in July it was confirmed that Manning did try to take her own life, but was taken to hospital after prison authorities found her in an unconscious state. Strangio denounced her action as "unconscionable" and said that punishing her for trying to end her "distressed" life would be like punishing her for her pain. The ACLU accused the army of continuing to deny Chelsea "access to basic health care, including inadequate medical treatment after her suicide attempt".
"It is deeply troubling that Chelsea is now being subjected to an investigation and possible punishment for her attempt to take her life. The government has long been aware of Chelsea's distress associated with the denial of medical care related to her gender transition and yet delayed and denied the treatment recognized as necessary. While Chelsea is suffering the darkest depression she has experienced since her arrest, the government is taking actions to punish her for that pain," Strangio said in a statement.
Manning is currently under medical observation while in confinement at the Disciplinary Barracks at Fort Leavenworth, Kansas, Strangio added. She was accused of leaking more than 700,000 documents, videos, diplomatic cables and battlefield accounts to WikiLeaks in a case that was branded one of the biggest military espionage cases in US history.