The Smith and Wesson Model 2 Army revolver carried by Wild Bill Hickok when he was shot dead at a poker table in Deadwood could fetch $500,000 at auction this year (£321,000).
The gun did not save the life of the most famous gunfighter in the Wild West, who was shot in the back of the head by Jack 'Crooked Nose' McCall.
Hickok, who called himself the fastest draw in the west, was 39 when he died.
He was taking part in a poker game and holding what's known as the "dead man's hand", a pair of black aces, two black eights and an unknown card.
The gun was taken by the sheriff of Deadwood from Hickok's body as he lay on the floor of Nuttal & Mann's Saloon.
It was used to repay some of Wild Bill's debts and has been in the owner's family ever since.
The Smith and Wesson was a highly prized firearm because the cylinder could be replaced in seconds and it could still fire even if it had been soaked in water.
The gun would normally be worth just $2,000, but the unique story and provenance attached to Hickok's gun pushes up its expected price 250-fold.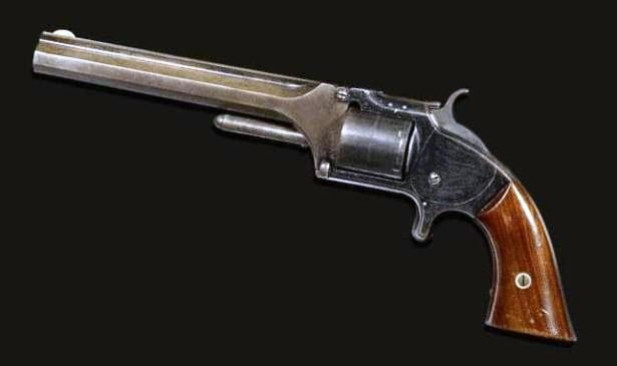 "Wild Bill Hickok was one of the most iconic figures of the Wild West, noted as the best quick-draw shooter of this time," Paul Carella, a Bonhams' arms and armour expert, told The Times.
"He was a stagecoach driver, a lawman, a scout - he was everything that epitomised the Wild West.
"He had moved to Deadwood to find his fortune in the gold rush and also to make some money gambling. Ironically, he died at the poker table."
The gunfighter was born to English parents in 1837 and was already skilled as a marksman by the time he was 12.
He took the name Wild Bill after a deadly shootout in 1861. Anecdotal evidence says that Hickok, armed with a pistol, rifle and a Bowie knife, killed nine outlaws and was shot 11 times himself.
Safety was important to Wild Bill, and he took the sensible precaution of always sitting with his back to the wall.
However, on the day of his death, his playing companion refused to change places. Hickok never had time to draw his gun or see his killer, who approached him from behind.
McCall shouted: "Damn you! Take that!" and shot him in the head, killing him instantly.
The bullet emerged through Hickok's right cheek, striking Captain Massie, another player, in the left wrist.
Jack McCall, a buffalo hunter, said that he killed Hickok as revenge for the murder of his brother.