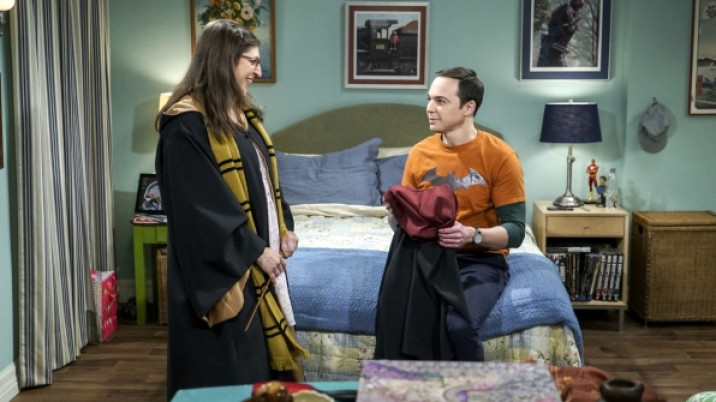 Big Bang Theory season 10 returns with the midseason finale chapter this Thursday, where Bernadette and Howard Wolowitz will finally have their baby and Sheldon Cooper gives a big birthday surprise to Amy Farrah Fowler.
Click here to watch the premiere episode via live stream online. You can also click here to watch it online (only in the US).
Episode 11 titled, The Birthday Synchronicity, will air on 15 December, at 8pm EST on CBS Network. Actors Melissa Rauch and Simon Helberg, who play Bernadette and Howard, preview the episode where the baby arrives in a promo video. Rauch says, "I am ready to go, ready to pop at any moment. It's the first Big Bang birth." Helberg adds, "Bodies coming out of bodies, it's like science-fiction."
Speaking about the rest of the gang, Melissa says, "The day that Bernadette goes into labour, they are just on call, ready to go to the hospital. I think that's what will happen when the baby comes, they will be the support system that they have always been."
"I think it adds another layer of something like — how is Sheldon going to react to a baby? How are the guys going to react?" says actor Kunal Nayyar, who plays Rajesh Koothrappali, and adds that the baby's arrival will change the dynamics of the show.
Jim Parsons and Mayim Bialik, who play Sheldon and Amy, also spoke about their annual coitus tradition. Parsons says, "It's Amy's birthday and you know what that means." Bialik adds, "In addition to this baby episode, this episode is a big episode for us because it's our annual coitus... attempt!"
According to a leaked report, Amy and Sheldon will have their annual coitus, following an interruption for the baby's arrival. The official synopsis for episode 11 reads as follows: