Pregnant Kate Middleton delivered a baby blunder in Grimsby by reportedly letting slip the sex of her unborn child.
If reports are confirmed then England will one day have another Her Majesty on the throne.
Kate's reported slip of the tongue came during a visit to the Lincolnshire fishing port during a walkabout. About 2,000 wellwishers had gathered.
Diane Burton handed the Duchess of Cambridge a white teddy bear as a gift and another royal watcher, Sandra Cook, who was standing next to Burton, said she heard Kate say: "Thank you, I will take that for my d---."
Prince William and Kate are due to become parents in July.
Cook said: "I leant over and said to her: 'You were going to say daughter, weren't you?' She said: 'No! We don't know!' I said: "Oh I think you do,' to which she replied 'We're not telling.'"
The duchess, whose baby bump was on display beneath a thick brown coat, hurriedly moved on to meet other Grimsby residents.
A royal spokesman told IBTimes UK: "We shall not be commenting on the sex of the baby."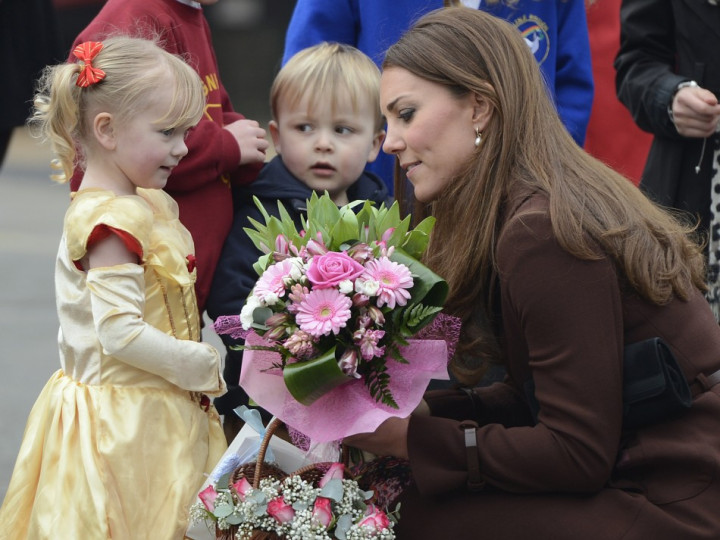 In the absence of more information, only Kate's words can be used for weighing up truth. "We don't know" and "we're not telling" are very different statements, fuelling conjecture that Kate was being sincere in her reply to Burton before she caught herself and made an inconsistent qualification when put on the spot by Cook.
Former fisherman John Vincent hailed Kate, whom he guided through a replica village street with its own pub.
"It's been fantastic, a great honour. She's a great lady," he said.
"She was very knowledgeable and asked some very good questions. We had a bit of a laugh going round too.
"I wished her all the best with her pregnancy and asked her to give my regards to William and Harry and bring them down here."
Pupil Jasmine Grierson, 15, said: "She was a lot more normal than I expected and easy to talk to."
Kate Middleton Pregnancy: Grimsby Visit that May Have Revealed Gender of Royal Baby [PHOTOS]
Kate Middleton:The Baby's Been Kicking, Duchess Tells Grimsby Well-Wishers [VIDEO]