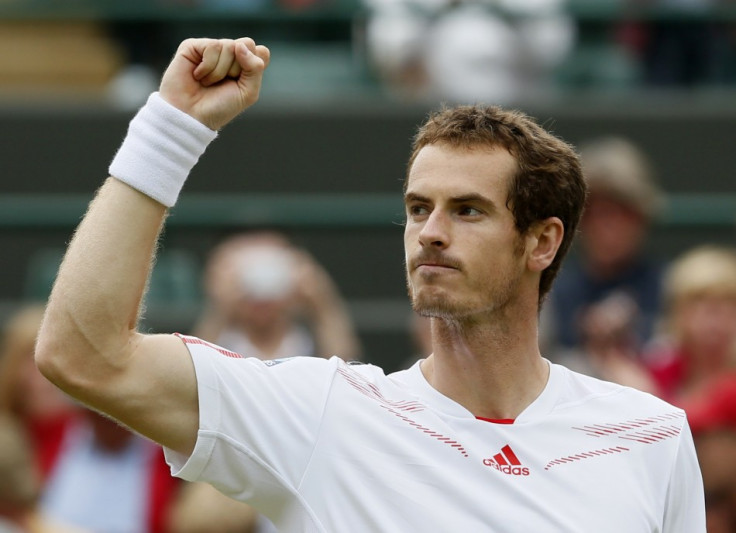 This year's Wimbledon has been full of surprises but action on Day Eight went mostly as expected. Tuesday saw all four of the ladies' quarter finals and five of the men's fourth round matches, which were halted by rain on Monday. The only higher seed to fall on the day was the defending champion Petra Kvitova but it was not much of a shock considering that she lost to four-time Wimbledon winner Serena Williams. The tournament may have already lost elite players like Rafael Nadal, Maria Sharapova and Kim Clijsters but there are still plenty of compelling matchups left. Let's review the ones that went down on Tuesday and also take a look at the ones coming up on Wednesday.
Day 8 round-up:
Fourth seed Andy Murray and 31st seed Florian Mayer found time in between the recurring showers to wrap up their suspended matches and reach the last eight. The Scot reached the quarters for the fifth successive year by beating the 16th seed Marin Cilic 7-5, 6-2, 6-3, while Mayer got past 18th seed Richard Gasquet 6-3, 6-1, 3-6, 6-2.
Seventh seed David Ferrer reached his first Wimbledon quarter by beating ninth seed Juan Martin del Potro 6-3, 6-2, 6-3 under the comfort of Centre Court's closed roof, while American qualifier Brian Baker's remarkable run ended with a 6-1, 7-6 (4), 6-3 loss to 27th seed Philipp Kohlschreiber. Fifth seed Jo-Wilfried Tsonga also booked a place in the last eight by overcoming a one-set deficit and an injury scare to cruise past 10th seed Mardy Fish 4-6, 7-6 (4), 6-4, 6-4.
In the ladies' quarter finals, sixth seed Williams beat defending champion Kvitova 6-3, 7-5 to reach the Wimbledon semi for the eighth time. With her dominant performance on Tuesday, Williams looks poised to win her fifth Wimbledon title. The American will now face third seed Radwanska, who fought hard to beat 17th seed Mario Kirilenko 7-5, 4-6, 7-5 to reach the last four.
Second seed Victoria Azarenka also reached semis, by getting past Tamira Paszek of Austria 6-3, 7-6. The Belarusian will meet eighth seeded German Angelique Kerber, who reached the last four by taking the final four games to edge compatriot Sabine Lisicki 6-3, 6-7 (7), 7-5.
Day 9 preview:
Men's quarter finals:
Roger Federer (SUI)[3] v Mikhail Youzhny (RUS)[26] on Centre Court
There's no question on who is the favourite for this one. Federer has beaten Youzhny 13 times, while the Russian has never beaten the Swiss master. Any hope of an upset rests with the uncertainty regarding the extent of Federer's back injury.
Andy Murray (GBR)[4] v David Ferrer (ESP)[7] on Centre Court
This should be the toughest fight of the day. In 10 matches between the two, each has won five - which includes one victory each in two Grand Slam meetings. However, despite his fine performances so far, Ferrer's game is not ideal for grass as it is to other surfaces. And considering the crowd support Murray will get on Centre Court, the Brit remains the slight favourite to win this one.
Novak Djokovic (SRB)[1] v Florian Mayer (GER)[31] on Court 1
This should be an easy one for the world number one. Mayer has never got past the quarters in any tournament and has never beaten Djokovic. The Serbian should win this one in straight sets and reach the semis to set up a much-anticipated meeting with Federer.
Jo-Wilfried Tsonga (FRA)[5] v Philipp Kohlschreiber (GER)[27] on Court 1
Kohlschreiber has been playing very well recently, though his opposition has not been than great so far. However, Tsonga has improved tremendously in the past few years and looks determined to take advantage of this draw. The fifth seed has not lost a set to the German in their last four meetings and is the favourite to book a place in the last four to meet either Murray or Ferrer.
Where to watch live:
You can follow all the action live, from 12 pm to 3.25 pm BST and from 5.50 pm to 8 pm BST, on BBC2. Live action will also be available from 1.45 pm to 6 pm BST on BBC 1. For country specific and broadcasting details and times, check out the BBC television programming Web site. You can also follow the matches live on Wimbledon's official Web site. Catch the highlights of Day Eight from 8 pm to 9 pm BST on BBC 2.