Window Phone 8.1 Update Looks More Like Windows Phone 9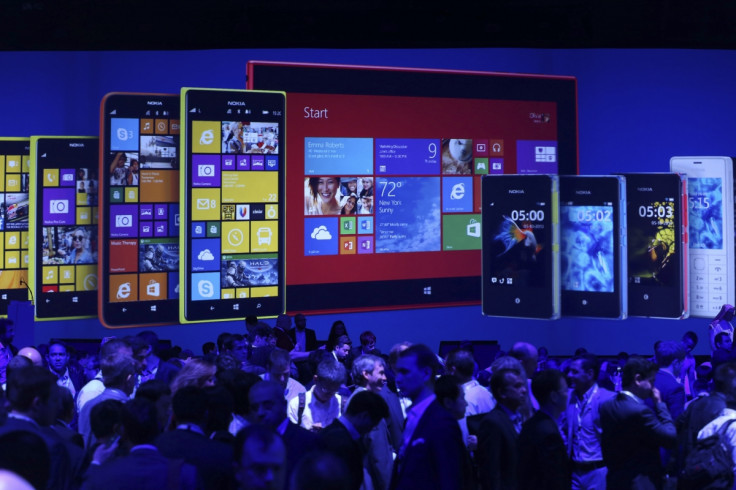 Microsoft is preparing a major update to its smartphone operating system with Windows Phone 8 bringing notification centre, Cortana personal assistant and elements of Windows RT.
Build, Microsoft's annual developer conference, is taking place in April and is likelty to be one of the most important for the company yet.
Not only is it expected to have just completed the acquisition of Nokia, it will be the first Build conference for Satya Nadella as Microsoft's new CEO and it comes at a tipping point for the company which is looking to move from the world of traditional PCs to one where mobile dominates.
To that end it will be launching Windows Phone 8.1 to developers at Build, and based on the leaks which have emerged ahead of the release, the update makes this version look more like Windows Phone 9 than a minor .1 update.
Here, we take a look at the new features Microsoft is adding to the Windows Phone 8.1 update and see if it can close the gap on Google's Android and Apple's iOS:
---
Notification Centre
---
Something which has been missing ever since Microsoft launched Windows Phone 7 a couple of years ago, a notification centre where you can see updates from across the system is finally coming with 8.1.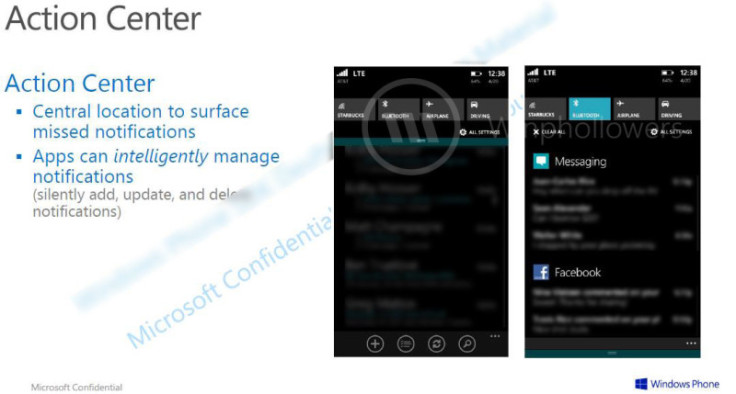 Leaked screenshots of what the so-called "Action Center " will look like emerged just last weekend and show a system very similar to that available on Android and iOS, letting you view and manage your notifications in one place.
It will be accessed using a swipe from the top of the screen (again like iOS and Android) and will display quick access buttons to options like Wi-Fi, Bluetooth, Airplane mode etc.
---
Merging of Windows Phone and Windows RT
---
Courtesy of leaks from developers on Reddit who were given the Software Developer Kit (SDK) for Windows Phone 8.1 this week, we have seen some evidence of what has long been suspected – that Microsoft will seek to merge Windows Phone with the tablet-optimised Windows RT.
The SDK mentions support for Universal Apps with templates to build apps which will work in the Windows Store as well as the Windows Phone Store, using shared code. It is unclear if this is a move which heralds the end of RT (which has been an unmitigated disaster for Microsoft) or if it is aimed at tempting more developers to create apps for Microsoft's mobile platforms.
---
Cortana Personal Assistant
---
Not included in the SDK released to developers this week, Cortana - which is Microsoft's answer to Siri – is expected to make its debut at Build in April.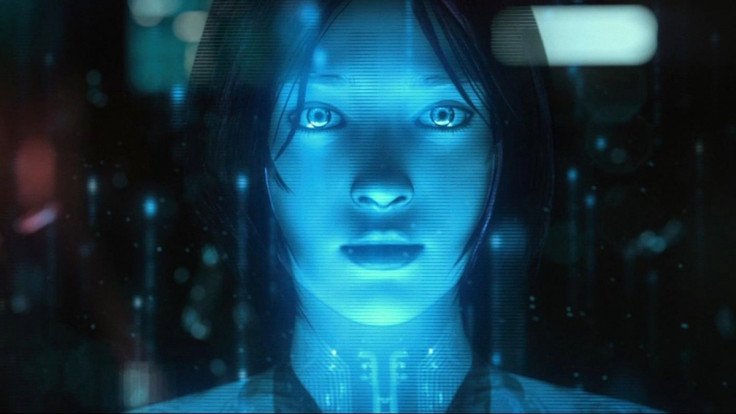 Cortana from Halo
Microsoft
To be powered by FourSquare, in which Microsoft has made a $15 million investment, Cortana is named after the character found in the company's hit Xbox game Halo.
It is expected that Cortana will be fed data from contacts, calendar, calls, weather and battery status to respond to a wide range of commands - similar to Apple's Siri or the voice activated assistant on Motorola's Moto X smartphone.
---
On Screen Buttons
---
A leaked screenshot from renowned tipster @Evleaks last month revealed that Microsoft was working on replacing the physical Back, Home and Search buttons on phones running Windows Phone with on-screen buttons which will allow more scope for smartphone designers.

The buttons will appear along the bottom of the screen but users will be able to swipe them away when there not required.
---
SD Card Support
---
A new option called Storage Sense will allow users to install apps to SD cards, meaning phones with limited built-in storage will benefit.
---
New Camera UI with Burst Camera Mode
---
Microsoft has given the Windows Phone 8.1 in-built camera app a polish with the top menu giving users access to lenses, flash, front/rear cameras and gallery, while the bottom menu bar now allows users swap between single image capture, video and a new burst shooting mode.
---
Separate Music and Video Apps
---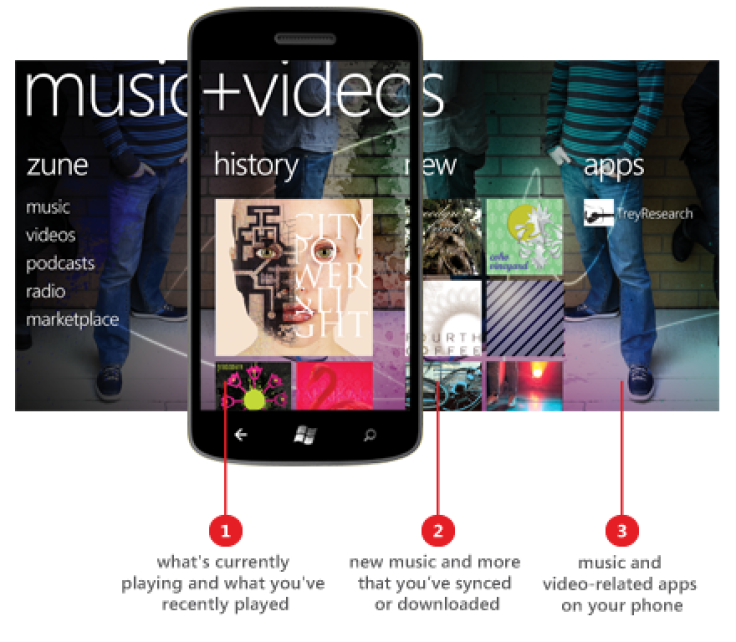 This move has been flagged for some time but the leaks from developers this week confirm that Microsoft has removed the old Music+Video app and replaced it with two new apps. There are also reports that Microsoft is about to launch a new podcast app, but there are doubts as to whether this will be available everywhere.
---
Moving Away from Facebook
---
In recent years most mobile (and some desktop) operating systems have looked to integrate Facebook and Twitter deeply into the software, allowing you share and update your social networks from anywhere within the system.
Microsoft was no different but it now looks to be moving away from Facebook with Windows Phone 8.1, removing any Facebook account option in the update and removing the integration with the Photos app too.
Of course this could just be a glitch in the pre-release software the developers have got their hands on and Facebook will remain front-and centre when Windows 8.1 is finally revealed in a couple of months' time.
---
SkyDrive becomes OneDrive
---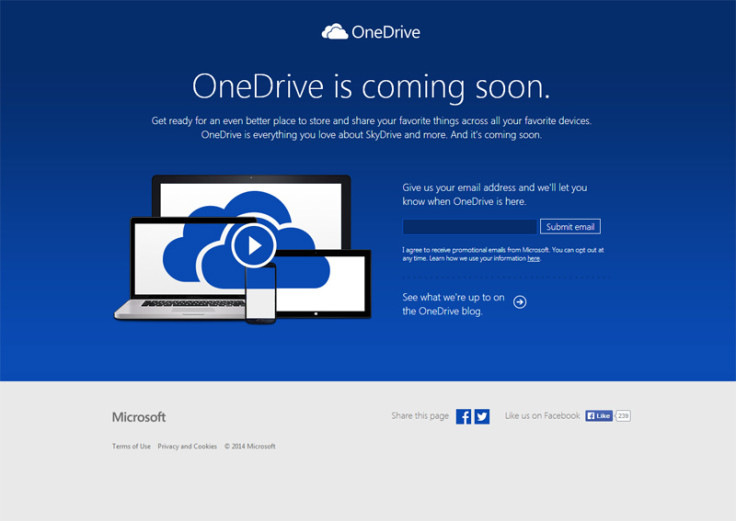 Last month Microsoft revealed it would be renaming its cloud storage service SkyDrive as OneDrive after it lost a legal battle with UK broadcaster BSkyB over the name. And so as part of the roll out of the new name, the SDK shows that SkyDrive has been replaced with OneDrive throughout Windows Phone 8.1.
---
iCloud support
---
Developers have also spotted a new iCloud option in Windows Phone 8.1, which suggests that users will be able to sync their contacts, calendar and email with their iPad, iPhone or MacBook.
We are likely to see many more new features and details on the ones we already know about before Build 2014, but from what we've seen so far, it looks like Microsoft is making a big push to bring major changes to its mobile software as the battle for smartphone market share heats up.
© Copyright IBTimes 2023. All rights reserved.