Microsoft has updated its App Studio to let you develop Window 10 apps without using any code. The new update is aimed to ease Windows 10 app development.
The updated Windows App Studio does not require Visual Studio for building new apps. Instead, it works with any web browser such as Chrome, Firefox, Microsoft Edge or Internet Explorer to let you create new apps. There are also visualised tools that enable app development without requiring any code.
You just need to sign in using your Microsoft account after visiting the Windows App Studio site. The site offers you web app and content templates and then brings sections to add content directly from an RSS feed or HTML snippet in addition to web sources including YouTube, Flickr, Bing, Facebook, Instagram and Twitter.
Once you've selected your app content, the updated App Studio has a themes option that allows you to add a hero image, background colours and adjust the text, plus there is also an option to let you add Live Tiles. App Studio also allows you access to publish your app to Windows Phone Store or Windows Store using Dev Center.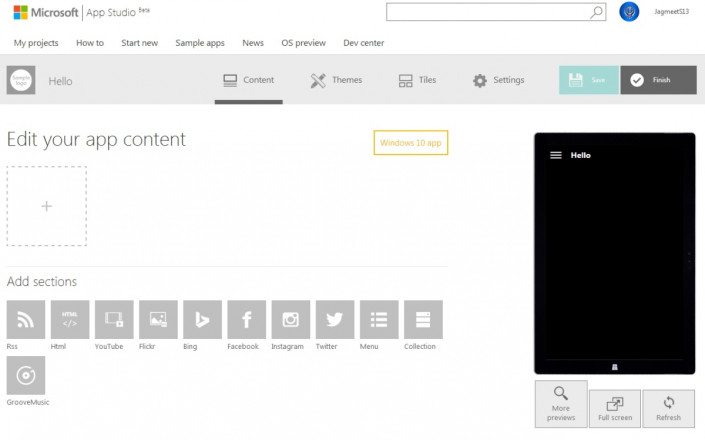 The update also lets you create screenshots of your apps before uploading them to an app store. Microsoft has provided a full-screen simulator within the updated Windows App Studio that lets you see every part of your apps on a web browser before publishing them on the app store. There is also a Windows App Studio Collection app that offers real-time management for all your app collections.
Apps developed through the updated Windows App Studio not only run on PCs but also accessible on mobile devices, Raspberry Pi 2s and some Internet of Things (IoT) devices. This comes through the Universal Windows app approach that the software giant adopted following the release of Windows 10.
Microsoft has already claimed that more than 110 million devices have been upgraded to Windows 10, covering 8% of the total PC market. The company said the new update would help expand more devices through easing its app development. Moreover, this would turn some Windows 10 users into app developers.