The Lumia camera app, which comes with a faster and more intuitive camera experience, will reportedly be available for devices powered by the Windows 10 for Phones operating system.
Twitter user Jesse Leskinen has managed to unearth a new camera beta app from the Windows Phone Store. The beta version of the camera app is for internal use by Microsoft. Leskinen has also found the AppX file and side loaded it on his Samsung Ativ S.
"For now this seems to be just the Lumia camera app with no apparent GUI changes. This could be only for Lumias, but I think this will be for all phones as a version of this is also found on Windows 10 Technical Preview. Does not have any fancy camera options, but that's because my poor Samsung does not support them," Leskinen has been quoted as saying to Windows Central.
Another point is that the camera beta has not been updated since October as per the Windows Phone Store listing, which indicates a new version of this could be added in the Windows 10 for Phones.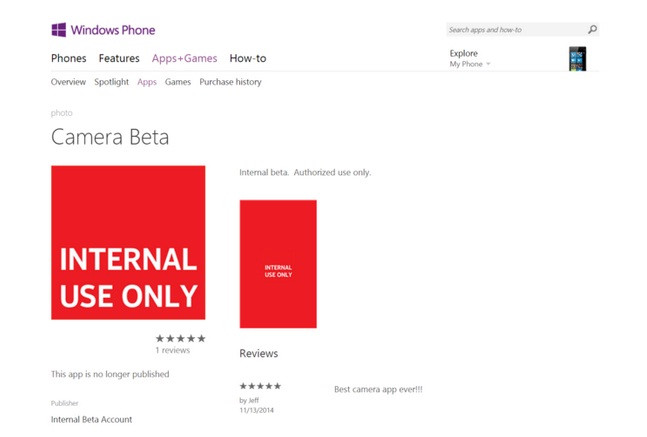 Besides, he has shared a photo using the app which suggests that it features a similar Lumia camera app experience. But some of the new features of Lumia Denim such as Rich Capture are not present. The camera app appears to have listed Human Interface Devices (HID) Bluetooth support, but it is not clear as to the usability of this feature in the camera app.
Leskinen further tweeted that Microsoft is looking to replace the stock camera apps in Windows Phone and Windows running devices with the new Lumia camera version.