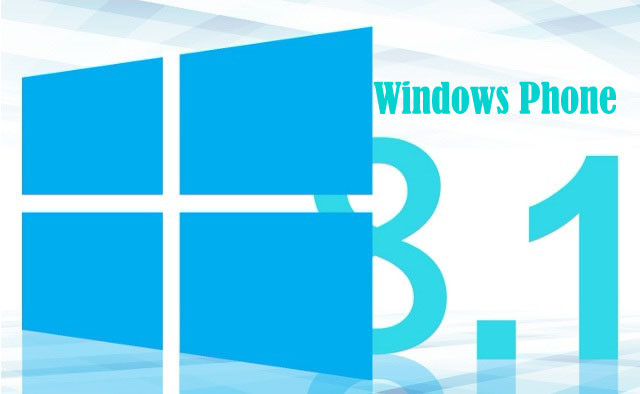 The latest Windows Phone Outlook report for the month of November 2014 seems to be in Windows Phone 8.1's favour, considering the fact that smartphones running the latter operating system have managed to overtake devices running the older Windows Phone 8 and the Windows Phone 7.X series combined.
Windows Phone 8.1 dominates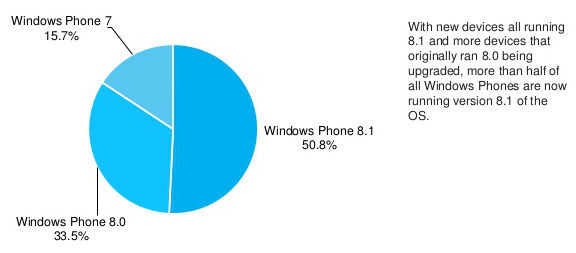 Microsoft's Windows Phone 8.1 is now the dominant OS within Windows devices across the world. Windows Phone 8.1 smartphones now account for nearly 51% of all Windows smartphones throughout the world.
These statistics, made public by Adduplex (a Windows-based cross-promotion network for applications), also indicate that various newer devices (Non-Lumia smartphones) are gaining in popularity. These 'other' devices could potentially end the dominance of the Microsoft Lumia 520 (Microsoft's most-popular Lumia).
However, in November 2014 (till 24 November), the Lumia 520 was still the most popular Lumia in the world, but its share reduced to 26.3% this month, compared to the near 31% user base that the smartphone procured in July 2014.
Lumia 520's share was 26.9% during October 2014.
In totality, the Lumia 52xx series of affordable smartphones are still popular among the masses. The Lumia 521 racked up 3.9% share in November 2014.
Rise of Lumia 630, Lumia 635
In yet another major development, the Lumia 630 has risen from 6.4% in October, to a considerably better 7.1% in November 2014.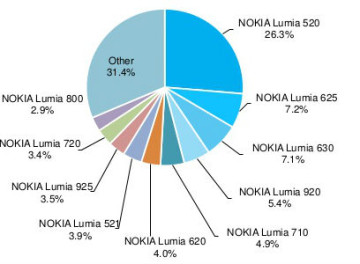 According to Adduplex, the Microsoft Lumia 630 and its successor, the Lumia 635 are the most preferred 2014 Lumia smartphones in the world. In the US, both the smartphones account for nearly 18.1% market share to take the second place behind the Lumia 520 and the Lumia 521 combined that account for a total of 34% of the market share (and user preference) among Microsoft Lumias.
Other Lumias viz Lumia 920, Lumia 925, Lumia 710, Lumia 720 and the Lumia 800 remain unchanged.
Windows Phone 8 manufacturers trend
US:

In November, erstwhile Nokia, whose Devices and Services business has now been taken over by Microsoft, continued to be numero uno in terms of manufacturing hardware for Windows Phone 8 OS. Smartphones coming out from the Microsoft/Nokia stable account for 95% of the total Windows Phone 8/8.1 smartphones worldwide.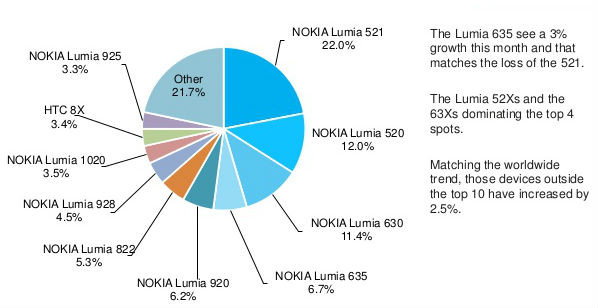 Taiwan-based HTC is a distant second, with 3.11% Windows Phone 8/8.1 smartphones, followed by Samsung (1.1.4%), Huawei (0.62%) and others (0.14%).
In the US, major wireless service providers (Windows Phone 8.x operators), AT&T and T-Mobile have witnessed a downfall in terms of market share, whereas Verizon and Cricket have reported a growth of 1.5%.
In November, Verizon accounted providing service for 16.4% of Windows Phone smartphones, whereas AT&T's share stands at 29.7% and Cricket's at 18.5%.
T-Mobile accounts for 19.3% market share with respect to hosting Windows Phones, in the US.
Also, in the US, the older Windows Phone 8 OS is still popular, with 47.5% share, in comparison to the Windows Phone 8.1 that accounts running within 46.6% of Windows Phones in the country.
This trend could be due to the fact that major wireless carriers in US have been slow in supplying newer OS updates to respective users.
Europe: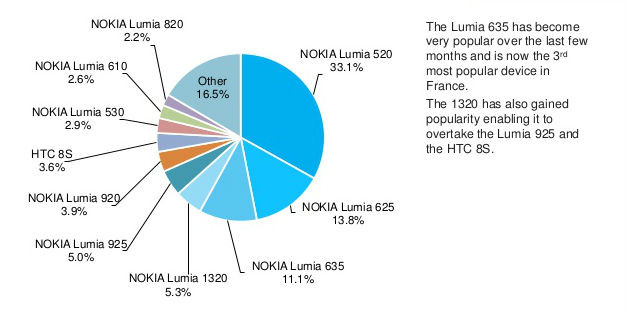 Moving on to Europe, in France, Lumia 635 has made significant inroads and is now the third most popular Windows Phone device in the country. Microsoft's Lumia 520 still dominates French Windows Phone devices, with a 33.15% share, followed by 'others' (other Windows Phone manufacturers) that account for a 16.5% share.
However, the situation is different in Russia, where devices by 'other' manufacturers continue to dominate, and account for 33.35% share, in comparison to a paltry 14.9% user base racked up by the Lumia 520.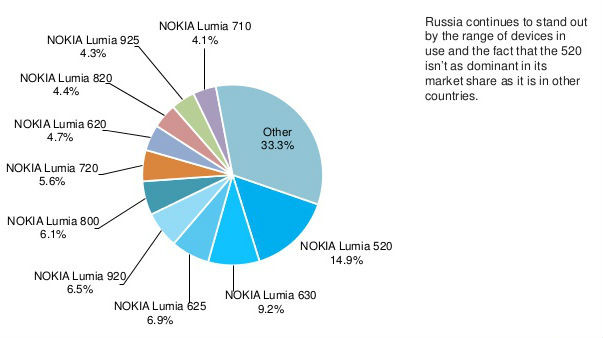 The Lumia 630 accounts for 9.2% of Windows Phone devices in Russia, the Lumia 800 6.1%, Lumia 720 5.6%, Lumia 920 6.5%, Lumia 925 4.3% and the Lumia 710 4.1% market share.
Newer Windows Phones on the way
According to the Adduplex report, Windows Phone loyalists across the world can expect newer Lumia smartphones to be launched shortly.
These devices are manufactured by Microsoft and bear model numbers: RM-1069, RM-1070 and the RM 1071. These smartphones are expected to be low-end 'budget' devices.
Newer mid-range devices expected to be launched soon are: the 5in Microsoft RM-1072 and the RM-1075.
Yet another newer device, the Microsoft RM-1078 is expected to be a Sprint exclusive in the US.
Newer high-end devices that have surfaced are: Microsoft RM-1062, RM-1063, RM-1064 and the RM-1065 that are most likely to be launched in the US, Finland and certain countries in Asia.