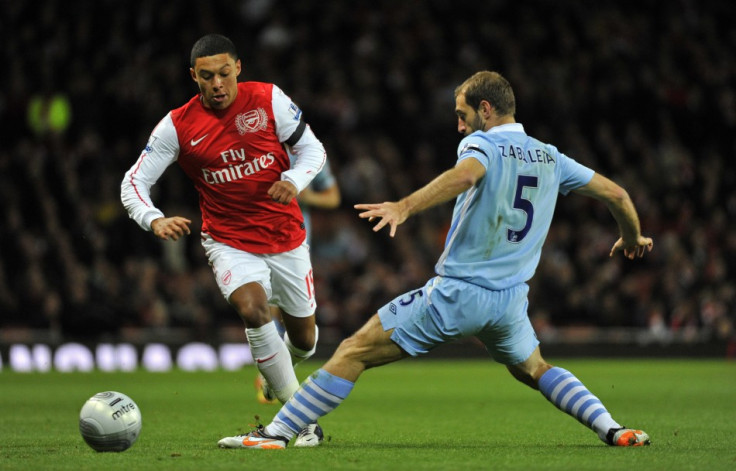 Arsene Wenger has insisted that Alex Oxlade-Chamberlain will play a big part in the Arsenal squad this season, with the Gunners manager maintaining that the winger will be given a chance to shine before January comes to an end.
Chamberlain signed for the Gunners in the summer for a fee of around £15 million, and it appeared to be a big risk bringing in the inexperienced 18 year old, who had played in League One at the highest level of his career.
But the risk seems to have paid off so far, with Chamberlain settling into the Premier League well, and displaying abilities remniscent of a young Theo Walcott.
And while Chamberlain has so far only made seven appearances this season, Wenger believes he will have a big impact on the squad as they aim to challenge for a top four spot.
"He is very close now and he will be used in the next six months for sure," Wenger told the official Arsenal website. "He is working on [his defensive side], his urgency and his committed level as well.
"When you are a young, talented player you have to experience that talent is good, but that commitment at the top level is highly needed too. He is an intelligent boy, he understands that, and I am very happy with him. I am confident that in the next few weeks he will play."
Chamberlain had been connected with a possible move away from Arsenal over the last couple of weeks, but the starlet maintained on his twitter that he is happy at the Emirates, despite receiving limited game time.
"Just to confirm, any rumours about me wanting to leave are completely false, couldn't be happier at Arsenal," he wrote.
The youngster had a dream start to the season with the Gunners, scoring within two games, and in his third an all important goal against Olympiakos on his Champions League debut.
As Walcott continues to star alongside Robin van Persie, Wenger has found little opportunity to give Chamberlain a proper go on the pitch, but the England Under 21 international has been assured that his patience will pay off.
Meanwhile, Wenger is on the lookout for defenders in the January transfer window to make up for the loss of Bacary Sagna, Carl Jenkinson, Kieran Gibbs and Andre Santos. And the Arsenal manager said that the club will accept nothing but the best players, despite desperately needing to find more depth at the back before January comes to an end.
"All over the world we have our eyes and we look for good [players]," Wenger said.
"It is very simple in a situation like that. You might take a player who doesn't play at all somewhere, who is not necessarily fit quicker than a player who is injured. Or you take a young, potential player who has not made it somewhere.
"A player who plays anywhere in the world at the moment will not be available on loan, it doesn't exist. It can only be a guy who doesn't play or a promising player who has not yet made it completely who you could take advantage of.
"That is why it is not an easy situation. You have to consider that a guy who has not played for two months is not necessarily back quicker than Bacary Sagna or another player who is just coming back from injury."