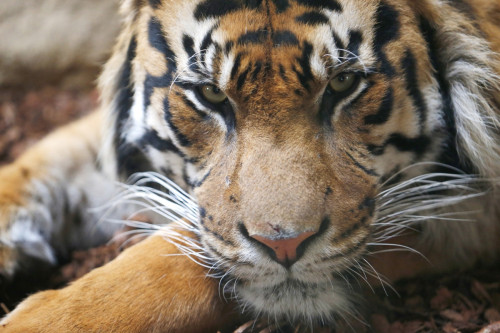 A woman having sex with a tiger was among a vast trove of deviant sex act images discovered on a man's computer, a court was told.
Adrian Heath, 46, was charged with 11 offences relating to hundreds of thousands of pornographic images on his hard drive.
The image of a woman having sexual intercourse with the endangered tiger was the most bizarre find. The human participant in the act evidently had the eye 'for' the tiger – to misquote the Rocky song by rock band Survivor.
But the sick image was by no means the most disturbing item which police claim they found in Heath's possession.
Heath faces charges at Lewes Crown Court of making thousands of indecent images and videos of children, featuring titles such as Asia Kids (Cambodian Girls) and Asia Kids Cambodian Little Girls Part 1.
Police claim they found 432,059 pictures belonging to grade one on the scale measuring indecent child images. There were 29 images at level five – the most serious, along with more than 1,000 belonging to the levels in between.
The Crawley News reported Heath appeared hunched in the dock at Crawley Magistrates Court at a earlier hearing.
He faces nine counts of making indecent images of children, one charge of having a prohibited image of a child and one count of having an extreme pornographic image – the woman and the tiger.