While women around the world have been marching today in protest at President Trump and in defence of the rights of women, some of Hollywood's biggest female stars also took to the streets to raise their voices.
Just a day after Donald Trump was sworn in as President, Oscar winners Julia Roberts and Charlize Theron, Jessica Chastain, Scarlett Johhanson, Emma Watson, Ashley Judd, Bella Thorne, sixties star Cher, models Chrissy Teigen and Padma Lakshmi and comedians Amy Schumer and Lena Dunham protested the President's stand on abortion, diversity and climate change.
Mad Max actress Charlize Theron marched in Utah where she is currently attending the Sundance Film Festival. Wearing a white cap and grey scarf she raised a large banner in the streets of the small town of Park City. Moved perhaps by the enormity of the moment and the sense of dismay that the Trump presidency has evoked in so many, she wiped away her tears as she marched onwards.
Flanked by friends and bodyguards wearing a pink p**** hat Julia Roberts and her daughter Hazel joined over 400,000 women to march on Washington DC . The Pretty Women actress has been a staunch Hillary Clinton supporter and attended fundraisers for her in New York City last year.
Outspoken TV host Chelsea Handler, Beauty and the Beast actress Emma Watson, Chloe Moretz Jessica Chastain and Shake It Up TV star Bella Thorne were also seen chanting with fists raised as they marched through snowfall.
Comedienne Amy Schumer walked with her friends in DC wearing a bright orange NASA suit adorned with badges that read NOPE and Commander. The actress also wore a matching Wear Orange sweat band to create awareness for gun violence to the march in opposition to Trump who has been a supporter of the NRA.
While her husband John Legend was marching in Utah, Chrissy Teigen made her presence felt in DC. The model has been vocal on social media decrying the Trump's inauguration, which she called 'sickening'. She even slammed First Lady Melania Trump for her copycat Jackie Kennedy look for the ceremony.
Wearing a black shirt that read Stronger Together Girls star Lena Dunham walked with Amy Poehler and shared a photo from the march.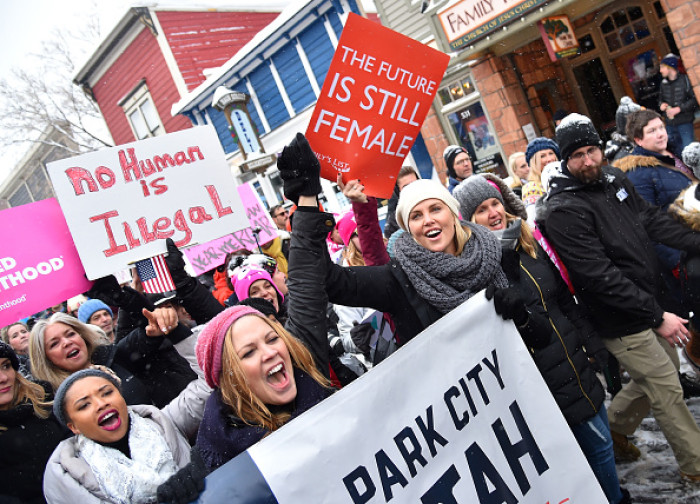 She had earlier expressed her disbelief at the US election result saying: "As horrifying as I found Donald Trump's rhetoric, as hideous as I found his racism and xenophobia, as threatening to basic decency as I found his demagogue persona, I never truly believed he could win."
Top Chef host Padma Lakshmi, was accompanied by the father of her child, Adam Dell and their daughter Krishna as she wielded a placard which read "GIRLS RIGHTS ARE HUMAN RIGHTS".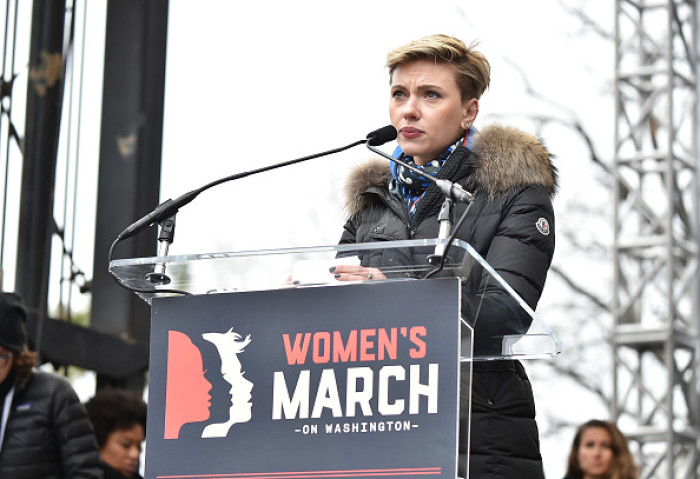 Singer Cher, who famously said she wanted to move to 'another planet' if Trump was elected President joined the march on DC.
The I Got You Babe singer told Mario Lopez at Extra in October: "I'm horrified. With every fibre of my real self I could not imagine a world where there was a President Trump. I don't know how other people cannot see he really is unhinged."
Captain America actress Scarlett Johansson and actress Ashley Judd took to the podium at DC to condemn the president. Refusing to hold back, in a rousing speech Judd compared Trump to Adolph Hitler and mocked his orange hue.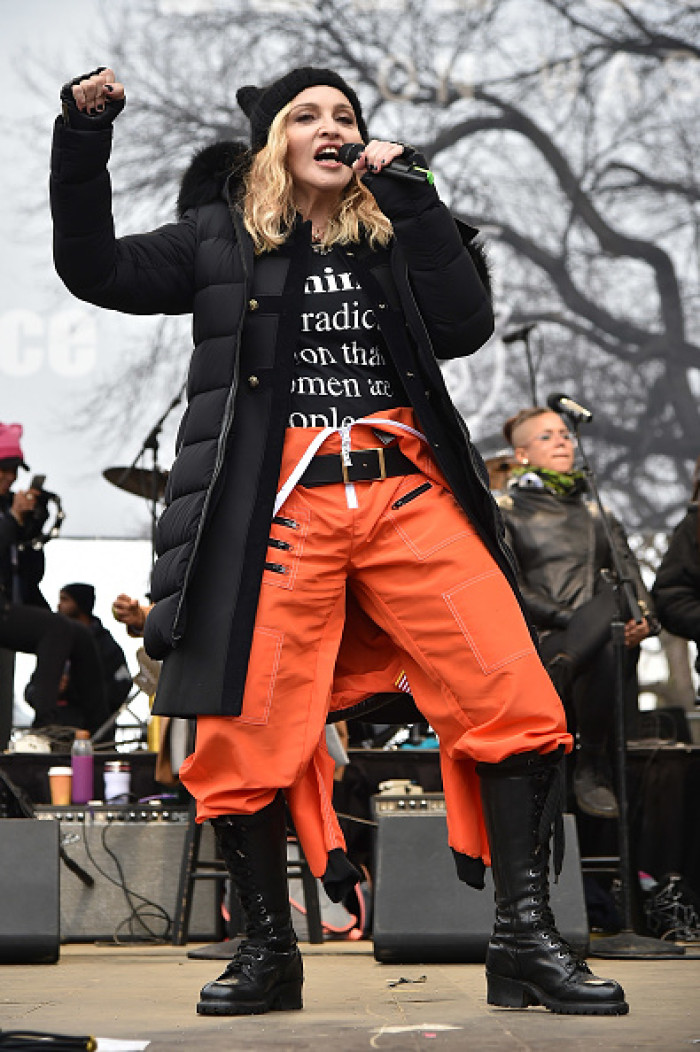 Madonna too hit out at Trump in an angry rant. Taking to the stage the mother-of-four said: "Welcome to the revolution of love, to the rebellion, to our refusal as women to accept this new age of tyranny, where not just women are in danger but all marginalized people, where being uniquely different right now might truly be considered a crime.
"It took this horrific moment of darkness to wake us the f*** up.' Madonna also told Trump to 'suck a d***."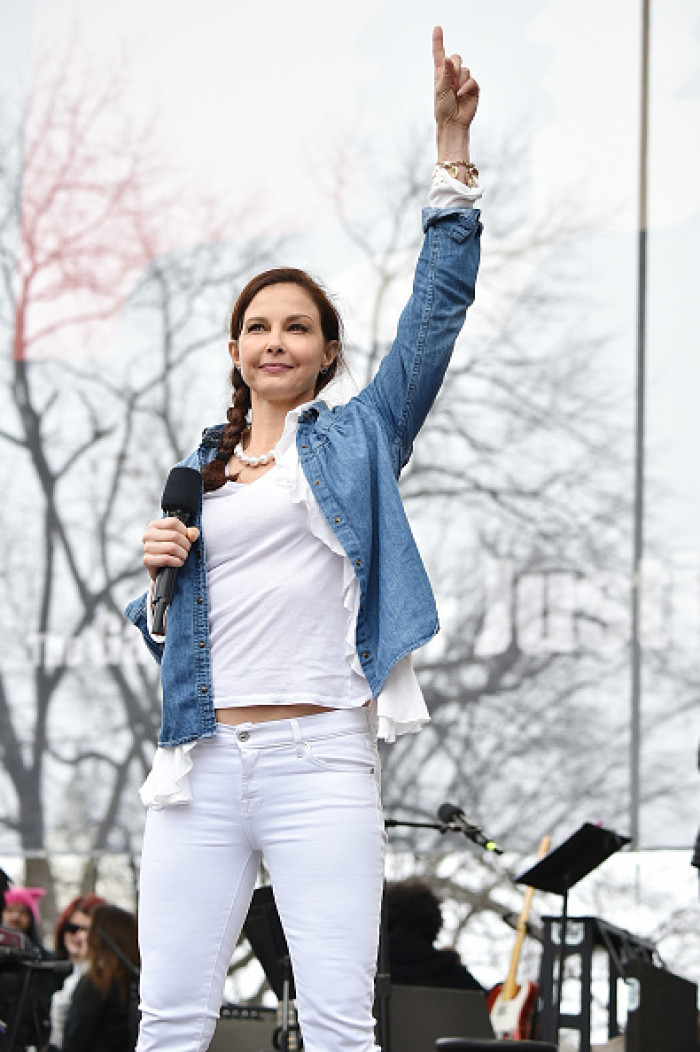 Crowds of around 200,000 had been expected in Washington D.C. for the march, but at least double the number turned up to defend women's rights.
Despite organisers of the march not mentioning Donald Trump's name in their mission statement, they did say the march was intended to send a strong message to the new government that women's rights are human rights.
In the UK a crowd of demonstrators took to the streets in London to join the women's march on 21 January, one of 673 events held across the world calling for the protection of women's rights.
Donald Trump was sworn in as the 45th President of the United States on Friday (20 January) .