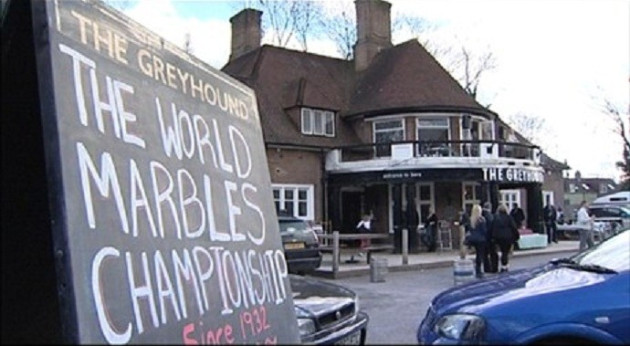 England has defeated Germany at a sport involving balls at last - marbles.
The win is unlikely to undo decades of hurt over football. But when it comes to using small balls, England is officially the best.
The nation has the Black Dog Boozers of Northgate to thank for giving a smidgeon of pride back to Blighty after they were crowned World Marbles Champions.
They saw off competition from defending champions MC Erzgebirge for the title in West Sussex.
Teams travelled from all over the world to take part.
The competition was a rare taste of success for a British team against the Germans in ball game and Black Dog Boozers only had a short trip to toast their success - the competition took place in front of a pub.
Could marbles now become the new national sport for England, following the pain of a string of pastings inflicted by Germany in crunch football matches?
The event has a long heritage, with the first competition taking place in the year Sir Francis Drake defeated the Spanish Amada for Queen Elizabeth in 1588.
It has been at its current location outside the Greyhound pub in Crawley for the last 80 years.
But there are fears about continuing to hold the World Marbles Championship there.
Organiser Sam McCarthy-Fox told the West Sussex Gazette: "We hope to put it on again next year. It is one of those things where the landlord is leaving in April and we are a bit worried what will happen when someone else takes over.
"A couple of years ago it was stopped but we are hoping that it will continue for many many years to come."