The man claiming to have the largest penis in the world has been exposed as a fake.
Roberto Esquivel Cabrera, 52, claimed to have a whopping 18.9in organ, which catapulted him to international stardom after he brandished it in front of the adoring media.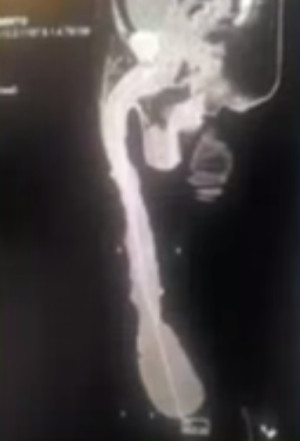 But a doctor now says that Cabrera's record-breaking member is little more than a "very large foreskin".
The Mexican's true penis length is between six and seven inches, according to radiologist, Dr Jesus Pablo Gil Muro, who analysed the controversial body part.
"When he came here to do a CT scan, my first impression was that it was a unique and unusual case. I had never seen a patient like Roberto," Muro told Barcroft TV.
"But the penis itself is about 16 to 18cm from the pubis. So, it doesn't go all the way through the foreskin. The rest of the tissue found there is just foreskin, blood vessels, and some inflammation of the skin," he added.
The revelation will send shockwaves through the international community of large-penis owners. Chief among them is American Johan Falcon, who boasts a 13.38in member, and was demoted to World Number Two when Cabrera arrived on the scene a few years ago.
Falcon has long been critical of his Mexican rival, publicly accusing him of using weights to stretch his foreskin – today, it appears that Falcon's claim has been proved by science.
It will be a huge blow to Cabrera, who has built his entire social identity out of being the man with the biggest penis in the world. He is reduced to a life of benefit handouts because his penis prevents him from working.
He has reportedly refused a doctor's advice to have a circumcision that would allow him to have a normal sex life and greatly reduce the health risks incumbent upon a man with an enormous, swollen foreskin.
The doctor added: "He was obsessed with the penis length. He began with this enlargement since he was a teenager, wrapping some bands around his penis with some weights and trying to stretch it."
Cabrera's dreams may now be in tatters as are the plans to make him a porn star.
A man referring to himself as 'The YouPorn Guy' told TheLadBible: "We would fly him over to Prague and he can come see our doctors and nurses at our FakeHospital.com.
"We would make the scene quite comical, and would get a female doctor and two or three nurses all trying to have a go on it.
"He would have the time of his life. Everyone would want to see the scene for sure, whether they would get off on it is another matter."