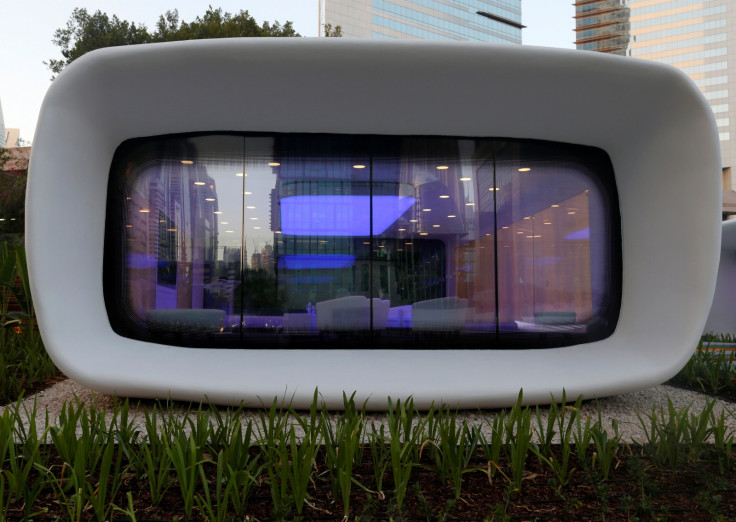 The world's first fully functional 3D printed office has been unveiled in Dubai. The prototype structure, shaped like a giant TV, is also cost and energy efficient and was built, or rather printed, in just 17 days. A special cement mixture was used to develop the structure, which has been dubbed the "Office of the Future".
The 2,700 square feet, one storied office will be home to the Dubai Future Foundation and has enough space to incorporate a small management office, space for employees and two multi-functional areas for hosting workshops and exhibitions. The office was developed using a massive 3D printer – 20ft tall, 12ft in length and 40ft in width – which has an automated robotic feature that implemented the printing process, the Gulf News reported.
The UAE government said in a statement: "The initiative comes as part of Dubai 3-D Printing Strategy, which is a unique global initiative aimed to harness this promising technology for the service of humanity and promote the status of the UAE and Dubai as a leading global centre of 3-D printing by 2030. The strategy focuses on three main sectors: construction, medical products, and consumer products."
"The main challenge is the printing was done offsite. So, in the future, with the current Dubai 3D Printing Strategy, what we will do is print onsite. We aim to create a market for 3D printing. So we're expecting factories and technology providers here locally in Dubai to match the local demand," said Saif Al Aleeli, CEO of Dubai Future Foundation.
"We have witnessed some attempts in different countries of 3D printed buildings but we noted that they are not functional. When I say functional, they should have MEP, air-conditioning, lighting, so it's an actual functioning building that you can use," he explained.
The office was inaugurated by Sheikh Mohammed Bin Rashid Al Maktoum on 23 May and is part of Dubai's 3D Printing Strategy, which is expected to see the city roll-out additional next-gen tech projects.